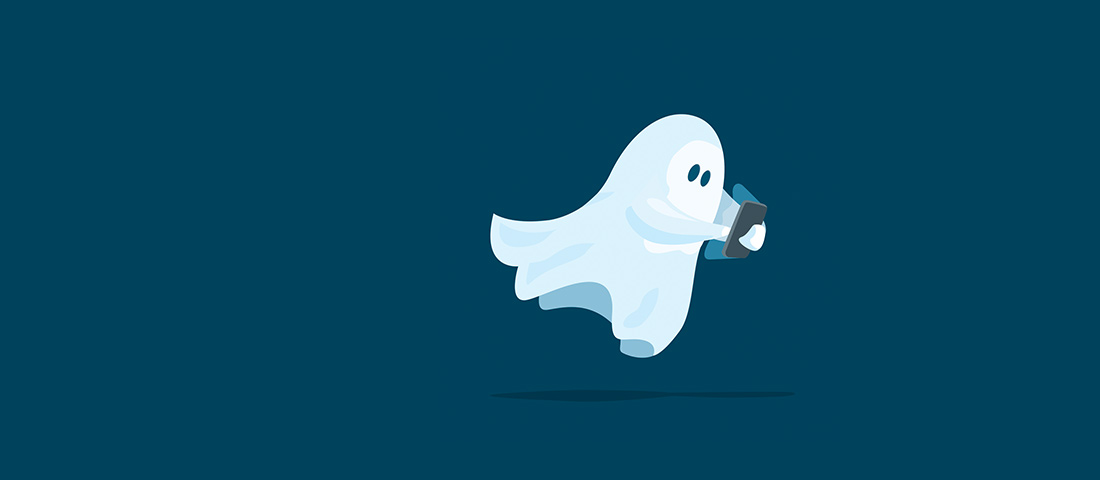 Alles wat je moet weten om een Snapchat geofilter voor je event te maken
In the Netherlands Snapchat has 1.9 million active users, in Belgium 1 million. This means that event organizers can no longer afford to ignore this platform.
The easiest way to use Snapchat for your event? Create a Snapchat geofilter for your visitors. It takes less than an hour of your time and less than € 100, – of your budget to attract the attention of visitors and to show advertisements to new ticket buyers. Here you will find everything you need to know about these Snapchat geofilters.
What are Snapchat geofilters?
Snapchat geofilters are graphics (or 'filters') for Snapchat photos that can only be used in certain locations. For example, most cities have geofilters with the name of the city and a famous landmark, but Snapchat also creates filters for cultural events. We give you some examples of self-designed Snapchat geofilters that you can edit for your event (see below how to do that).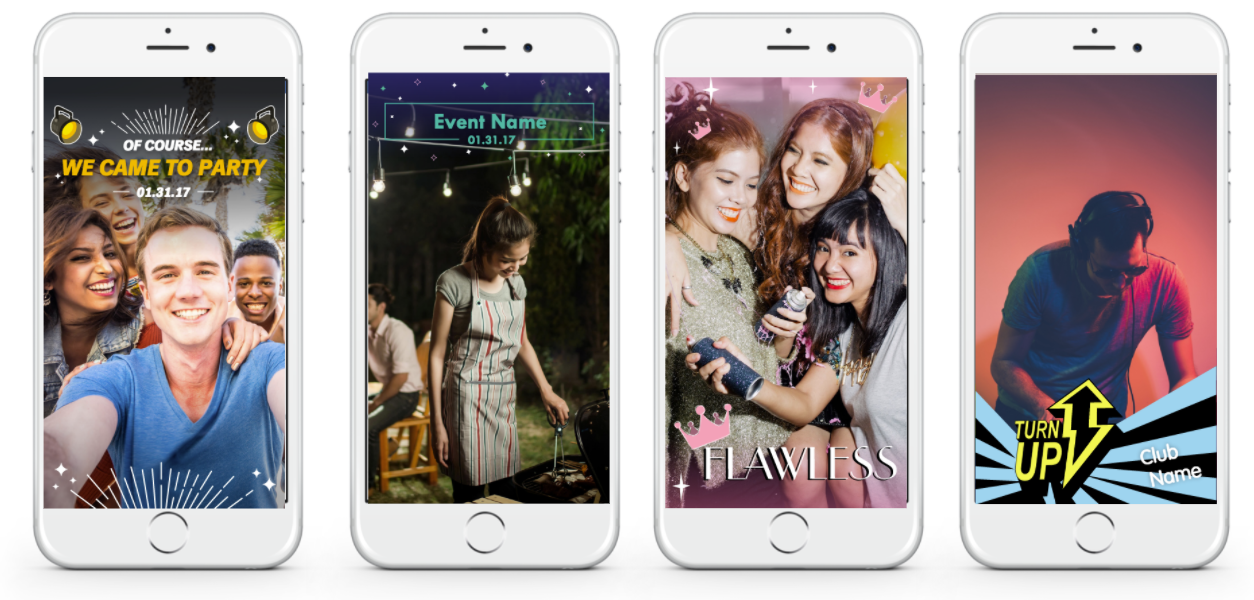 There are two types of on-demand geofilters: for people and for companies. If you are organizing a professional event, you must choose a business geofilter.
All visitors who are physically on your event area can place the filter over their Snapchat photos and videos. You do not need to follow your event on Snapchat for that. This means that you benefit from a wide distribution without extra effort. And although geofilters do cost money, they are very affordable: usually no more than € 10 per location per hour.
You can quickly and easily create original geofilters for your event. You do not have to be active on Snapchat to create a geofilter for visitors, you only need an account. You can create an account by downloading the app,  here  for iOS or  here  for Android.
Create an on-demand Snapchat geofilter
You can create an on-demand geofilter for your event in three easy steps. Choose or upload your design, choose the physical location where the filter should be visible and then send the design for approval to Snapchat. Your filter will be reviewed within a few business days. Below we explain the steps and the different options for you. You can complete all these steps on the  Snapchat website for on-demand geofilters .
Step 1. Design your on-demand Snapchat geofilter
You have two options when designing your geofilter: you can upload your own design or use and edit one of the online templates of Snapchat.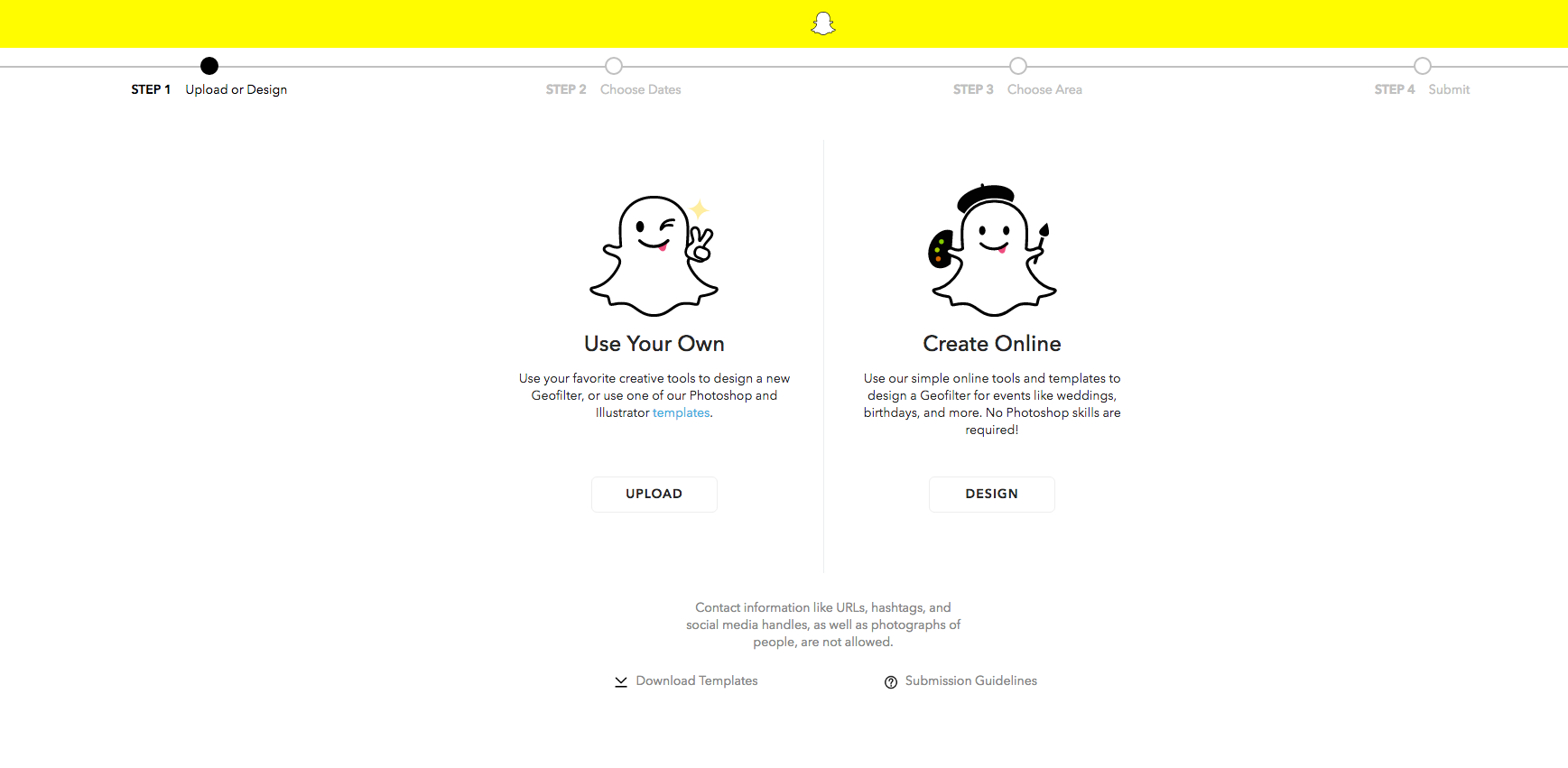 Most event organizers want to upload their own design. Photoshop or Illustrator templates can be used for this. This way you can add the logo of your brand, or other elements that are specific to your event. Here are some guidelines for creating your Snapchat geofilter:
Include the name and logo of your company or event in your design

Only cover 25% of the screen (above or below)

Files must be 1080 px wide and 1920 px high

Save your filter as a PNG file with a transparent background

Files must be less than 300KB
And of course, make sure that you do not include information in your design that does not comply with the guidelines of Snapchat , such as contact information, URLs, hashtags or social media accounts.
If you can not design your own filter because of your deadline or budget, Snapchat also has a number of good online templates that you can quickly change by adding the name of your event, for example.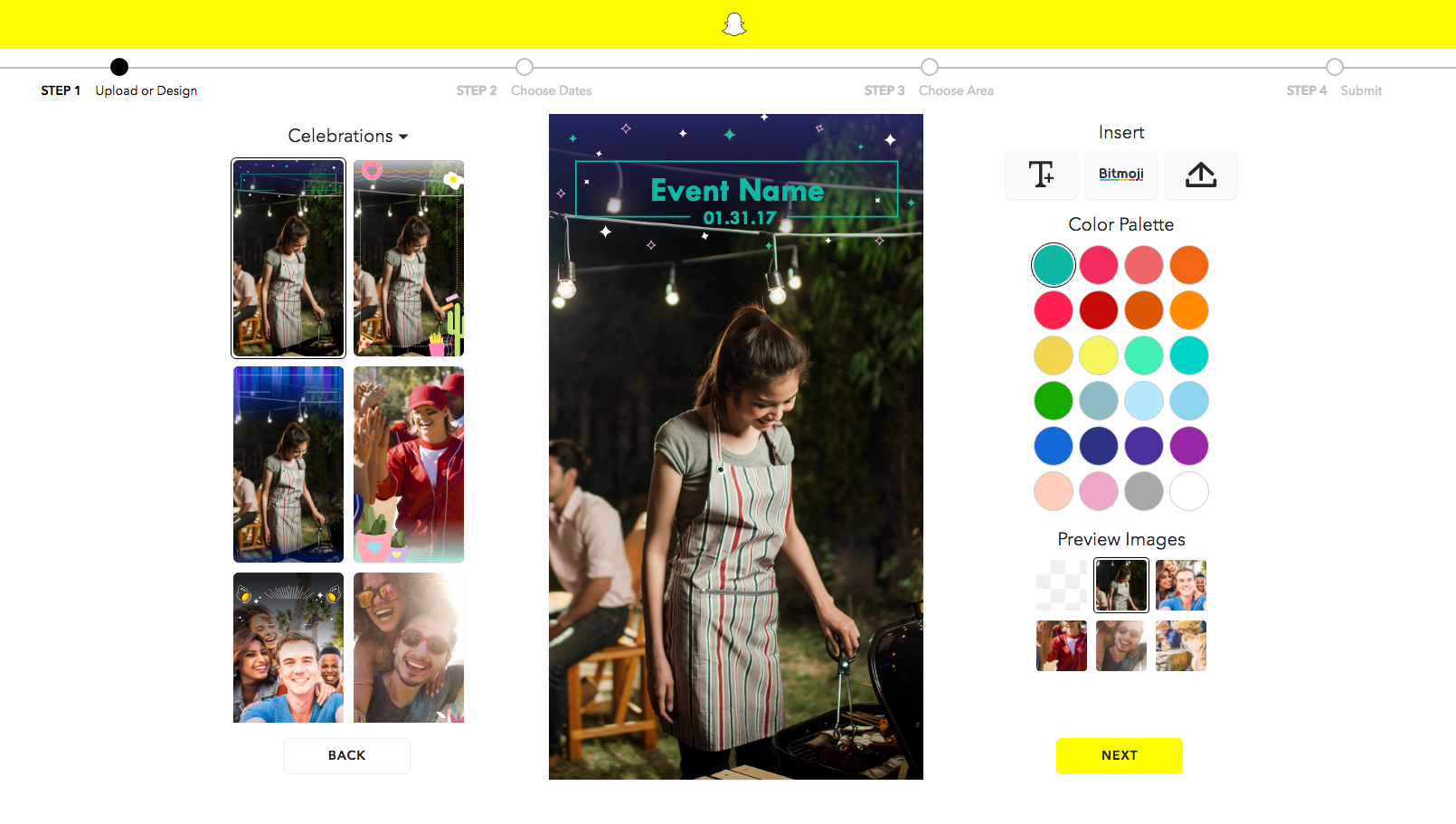 Step 2. Choose a time and set a geofence for your geofilter
You will then be asked to select the date and time at which your geofilter must be active. You can set the date and duration of your event here. It is a good idea to add one or two extra hours before and after your event as a buffer. The maximum date range for this type of geofilter is 30 days. Count on about € 10, – to -15, – per hour per location in which the geofilter is active.
If you organize a recurring event or you own a location, you can buy a geofilter at a discount for long-term use. The price of an annual subscription can vary from € 1000 to € 10,000 depending on your location. With such a subscription you can adjust the creative element for each event and you can benefit from benefits such as additional reports and discounts.
Once you have selected the timing of your geofilter, it's time to define your geofence: the physical location where the geofilter will be active. Here too it is a good idea to take the borders generously, since mobile location services can be inaccurate. You do not want visitors on your event site not to access your geofilter because their phone thinks they are on the other side of the road. To avoid this, consider adding the areas around your location to your filter.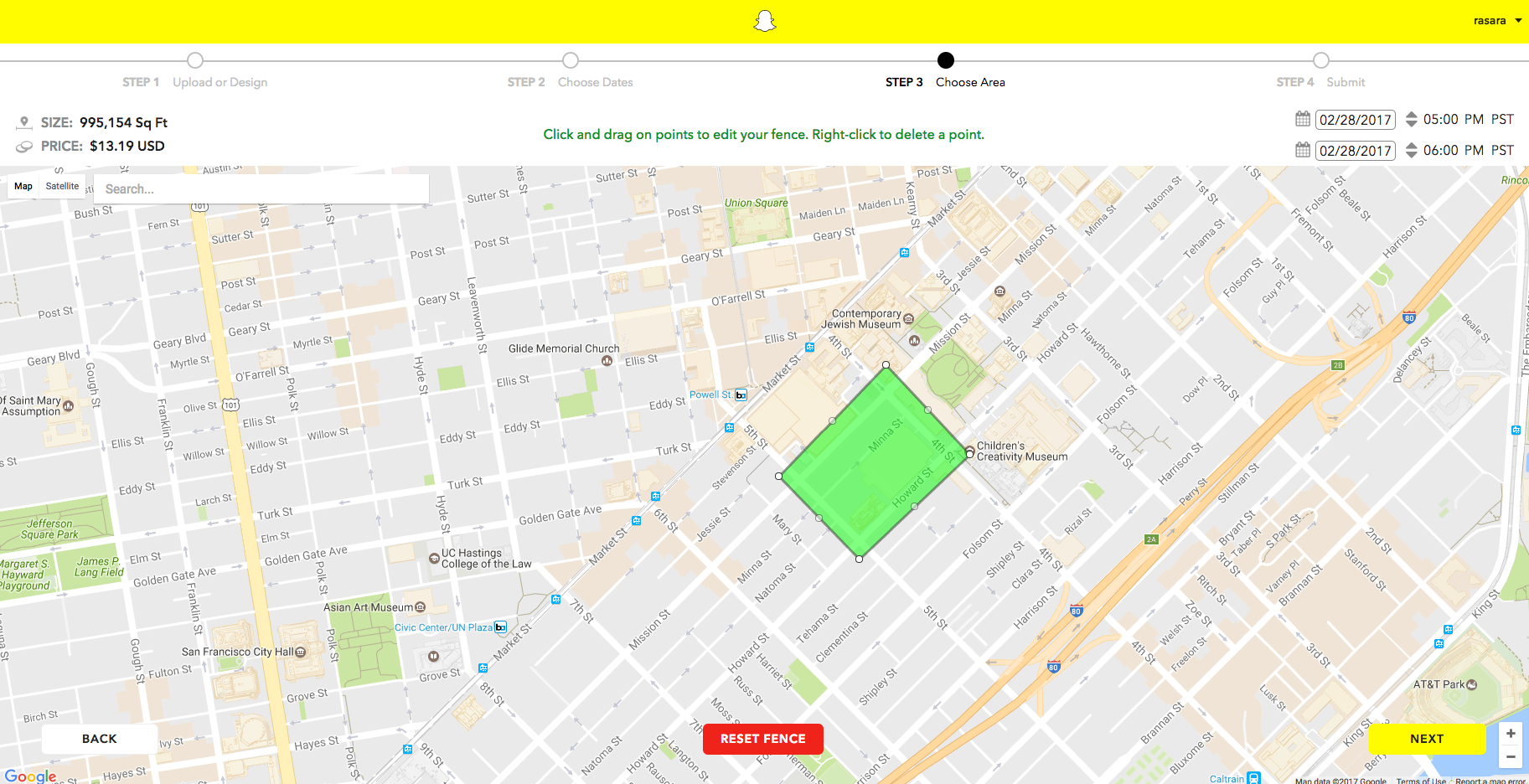 Step 3. Send and buy geofilter
Finally, you must confirm the details, agree to the terms of service and pay. Snapchat evaluates geofilters within one working day after submission, but you can submit your filter at least one week before the event. If for any reason the filter is not approved (which Snapchat would give a reason for), you have enough time to edit it.
There is no limit to the number of geofilters you can make for your event, so do this as often as you like. Large events often have multiple filter options that visitors can choose from, but for smaller events one filter is usually fine.
How visitors use Snapchat geofilters during the event
When visitors sit on Snapchat, they automatically see your geofilter as one of the options to edit their photos or videos. If they then send this Snap to their friends or add them to their Stories, the viewers will also see your geofilter. That way you can spread the brand awareness much further than just among your visitors.
Geofilters are incredibly popular: photos with Snapchat filters often appear on other social media because they add creative value to the photo. For extra promotion you can promote the Snapchat filter on signs on your event, next to the signs on which you promote your other social media accounts.
After the event, you can view your statistics to find out exactly how many people have viewed and used your geofilter. You can see what your investment return is and discover how you can do better next time.
Do you want to know more about using social media for your event? Then read our extensive guide with everything you need to know about social media .