- POSTPONED - Symposium: Decision making with AI in industry
Description
This symposium has been postponed until further notice.
- New date to be determined -
---
Eindhoven University of Technology will open its doors to everyone interested in artificial intelligence for decision making in industry. The symposium includes presentations from industrial players and TU/e researchers, as well as poster sessions to link practitioners to researchers.
Artificial Intelligence (AI) and machine learning have matured rapidly in recent years, and the potential for industrial applications is enormous: AI-based systems can detect patterns and events and ensure that appropriate actions are automatically initiated, thus ensuring that company assets are used optimally to cater to ever more demanding customers. Companies see this potential of AI, and many believe that their future operations should include AI solutions.
The next step is translating this general ambition into concrete cases where the development of AI systems can optimize company decision making: Only by combining knowledge about industrial problems with knowledge from the AI domain one can arrive at industrial-strength applications that truly fulfill the promise of AI in industry. Eindhoven Artificial Intelligence Systems Institute (EAISI) and European supply chain forum (ESCF) connect people and enable the initiation of multi-disciplinary AI projects together with industry.
SPEAKERS





PROGRAM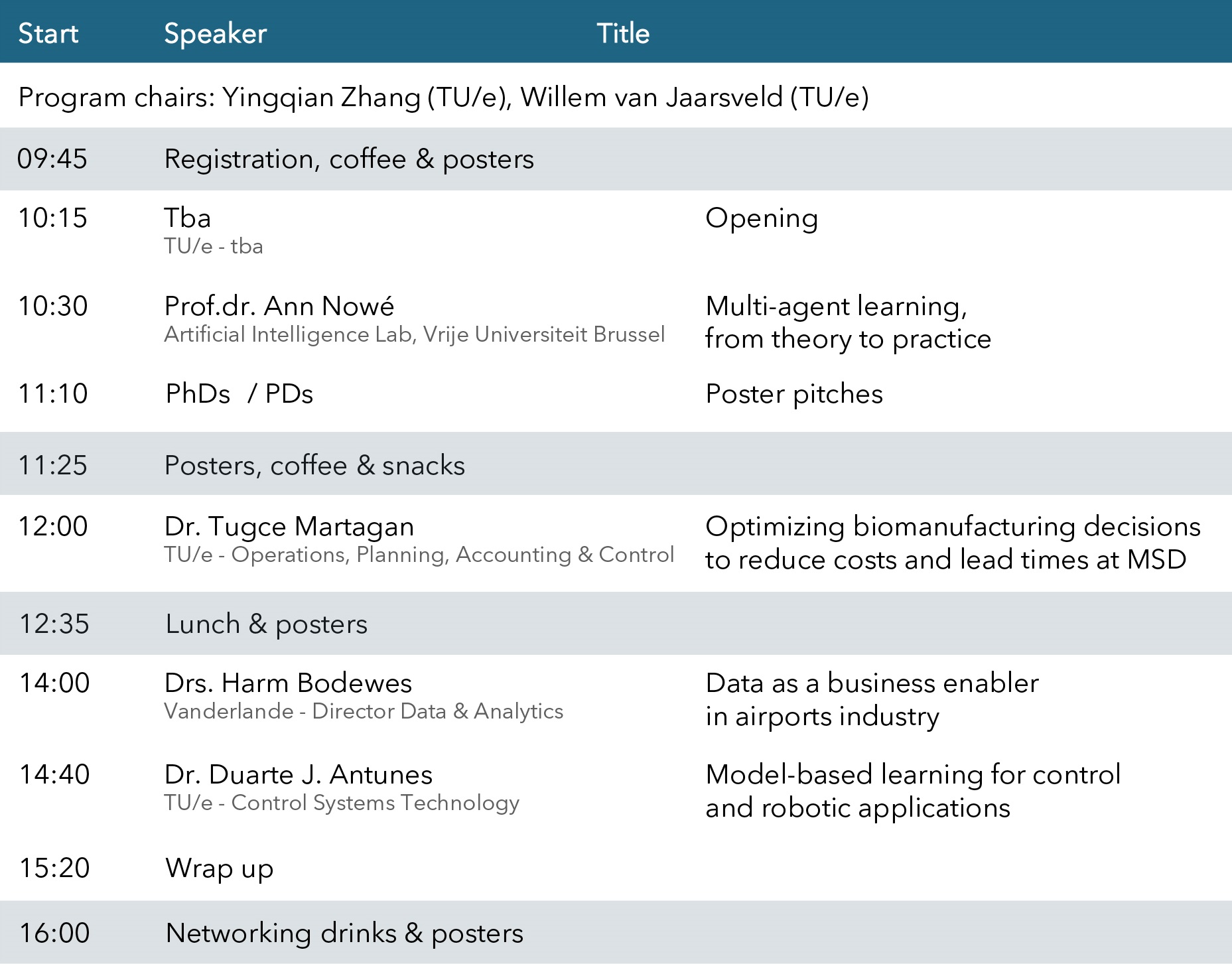 Visit Tue.nl for all abstracts and biographies.
---
For registrees, attending this symposium is free of charge. However, we have to charge € 25 for no-shows (to cover costs of drinks, lunch and snacks that are not consumed).
Please note that a professional photographer will take pictures of the audience during the lectures and the poster sessions. By registering for this event you agree to these photos being taken and the possibility of those images being used on our website to give a general impression of the day.
---
LOCATION
TU/e Auditorium - Senaatszaal
Groene Loper 1
5612 AZ Eindhoven