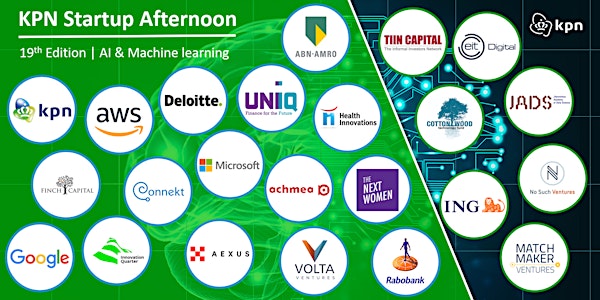 19th KPN Startup Afternoon | AI & Machine Learning edition
Get ready to speed date with well-known corporates, investors & Startups! AI & Machine learning edition, but open to all industries.
About this event
On behalf of the teams of KPN Liaison and KPN Ventures, we welcome you again to our 19th KPN Startup Afternoon.
Update: subscriptions for the speed dates are closed, since the limit has reached. We're sorry for the inconvenience.
You can still order tickets for the plenary session about AI & Machine Learning
The program of the event
15:00 - 15:10 Plenary opening
15:10 - 15:55 Plenary lecture
15:55 - 16:00 Break
16:00 - 16:20 -> 1st round of speed dates
16:25 - 16:45 -> 2nd round of speed dates
16:50 - 17:10 -> 3d round of speed dates
17:15 - 17:35 -> 4th round of speed dates
17:40 - 18:00 -> 5th round of speed dates
18:00 End of the Online Startup Evening
AI & Machine learning edition
The theme of this edition is AI & Machine Learning. The request from large companies to develop themselves is increasing. Also, more and more startups and scaleups integrate AI & Machine Learning in their solutions.
Therefore, we dedicate this edition to this topic. We want to explore how KPN is working on this topic, and how this creates new possibilities to work together with innovative companies.
Of course, this event is open to every company from every industry. So whether you are a tech company using AI & ML, or operate in another non-technical industry. We welcome everybody to discuss about this topic, and to speed date with corporates, investors, startups, and scaleups.
Plenary opening + speed dating rounds
We will start the event with a plenary opening, this time about AI & Machine Learning. Of course, we'll try our best to make it an interesting and informative session
After this, you'll get the opportunity to speed date with KPN, and with other well-known corporates, and investors. So far we can announce the following companies:
ABN Amro, Achmea, Aexus, AWS, Connekt, Cottonwood, Deloitte, EIT Digital, Health Innovations, Finch Capital, Google, ING, Innovation Quarter, JADS, Match Maker Ventures, Microsoft, No Such Ventures, Rabobank, The Next Women, TIIN Capital, Uniiq & Volta Ventures
Lastly, we'll give you the opportunity to also connect with interesting companies before and after the event, by using the networking app 'Swapcard'
Interested? Get your ticket on this webpage and join our event!*
*The deadline for the speed dates is March 5th 2021
Tickets for the plenary part are open until the last day of the event.
We hope you'll join our online version of the 19th KPN Startup evening!
If you can't attend our event but ordered a ticket, please inform us via kpnscaleups@kpn.com at least one week in advance.
We love Innovation, we love Startups & Scaleups!