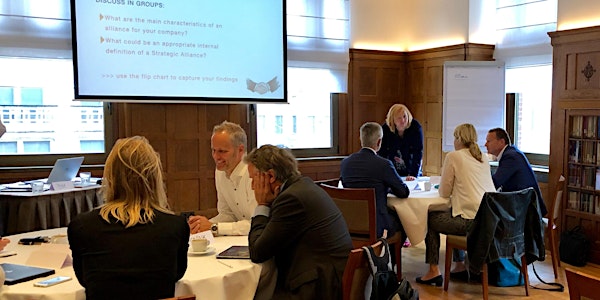 2-Day Alliances & Partnerships Masterclass
When and where
Location
Hotel Landgoed Ehzerwold Ehzerallee 14 7218 BS Almen Netherlands
Description
A guide to increased alliance results
In this two-day Alliance Masterclass you will learn to apply the skills and tools that will help you to create and manage healthy alliances & partnerships with increased results.
In 2 days you will:
Learn about Alliances & Partnerships and how to apply them to your business for increased results

Learn how the Alliance Lifecycle can be a guide in creating and managing healthy Alliances & Partnerships

Apply the learnings to your Alliances & Partnerships situations

Discover how to assess and select the right partner

Work through case studies to discover different solutions for your situation

Learn from, and network with, your classmates

Learn the essential roles in Alliances and Partnerships

Discover the key alliance successfactors
This masterclass is based on the skills and competencies determined by the Association of Strategic Alliance Professionals (ASAP) as critical to the success of collaborative business relationships.
The course is for you, as an alliance and business manager, when you are involved in the process of creating and managing alliances. Previous participants included amongst others Directors and VP's of Alliances, General Managers, Operation Managers, Alliance Managers, Marketing Managers and Business Owners.
---
Outline Alliance Masterclass
The Alliance Masterclass is a two-day residential program, which includes lunches, networking dinner on the first day, one night at the hotel and breakfast. During these two days we will cover topics like:
What are Alliances?

Alliance specific strategy

Partner analysis and selection

Building trust & creating value

Operational planning

Alliance structuring & Governance

Launching & Management

Transform, Innovate, Exit
This outline covers the full alliance lifecycle. Within the two days there is ample room for extensive discussion to dive deeper into those topics that are relevant to your situation. Throughout the days we will not only discuss tools and best practices but especially also culture and behavior, the so-called soft elements of alliances. During the masterclass, we review the theory and best practices of alliance management. We will work some case scenarios based on actual alliances, to challenge you in your thinking and enable discusssions with the other participants. We will integrate discussion of your alliances as much as possible, so that you can apply the learnings immediately for improved results.

---
If you can't make it to this class and would like to stay informed about upcoming Alliance Masterclasses, then click here to be added to the mailing list.
---
Tools provided:
Scenarios - The course is built around scenario based learning. We will review concepts and tools, and much of the learning comes from interaction with your teammates in solving the issues presented in these actual alliance scenarios. Scenarios represent multiple industry examples, but the learnings are applicable across all industries and alliance types.

Additionally to working with scenarios, we will disscuss how to apply the learnings of the Masterclass to your current alliances.

Worksheets and templates - many tools are provided within the context of the masterclass materials.

eBooks:

The 4-step guide to successful partner selection

25 tips for successful partnerships and alliances

Successful partnerships and strategic alliances
---
Very useful training – makes alliance managers of every level of experience think about how to do things better and with more systematic reflection. -- Michael Kaschke - Alliance Director Reckitt Benckiser
---
Instructors:

This Alliance Masterclass will be facilitated by Anoop Nathwani (UK) and Peter Simoons (NL).
Anoop Nathwani is a Senior Alliances and Partnerships professional, with over 20 years of professional experience in this area. He has extensive experience in developing and driving groundbreaking, transformational, innovative strategic business development initiatives through the establishment & development of global strategic alliances.
His experience spans a number of industry verticals, and particularly 15 years in the Telecommunications sector with companies such as Vodafone, Hutchison, and Nokia. Anoop worked both at a strategy/thought leadership level, as well as at an operational and execution level. He is also a co-author of a published strategy paper on the impact of motivations on Alliances, a topic that has not been covered before.
Anoop is the current President of ASAP UK (ASAP is the only professional body in the world for Strategic Alliance Professionals).
As an Executive Coach, specializing in business collaboration through Strategic Alliances, Partnerships, and Teamwork, Peter Simoons works with business and alliance leaders to help them consistently improve their collaborative results.
Peter guides his clients in setting up, and restructuring, alliances & partnerships, educates alliance teams, (re)builds teams and boards, and coaches teams, and business and alliance leaders.
Peter's experience includes decades of working with international teams in partnerships and new business development. His clients include organizations such as Airbus Defence & Space, DSM, Reckitt Benckiser, MedinCell, Royal Philips, Micro Focus, World Waternet, Siemens Building Technologies, ABN AMRO, DSM-Niaga, and Maastricht University.
Peter is a Certified Strategic Alliance Professional (CSAP) and a Certified Coach in the Marshall Goldsmith Stakeholder Centered Coaching and Stakeholder Centered TEAM Coaching methodologies.
---
Think about whether you really have set yourself up for success with your alliances. Do all stakeholders follow a clearly defined path? This workshop helps a lot to professionalize the Alliances team and create a common framework for everybody to use. -- Tobias Nittel - Director Alliances SAS Institute