2018 Embassy of Dutch Creativity | IAA "What's coming next?" with Euronews
Description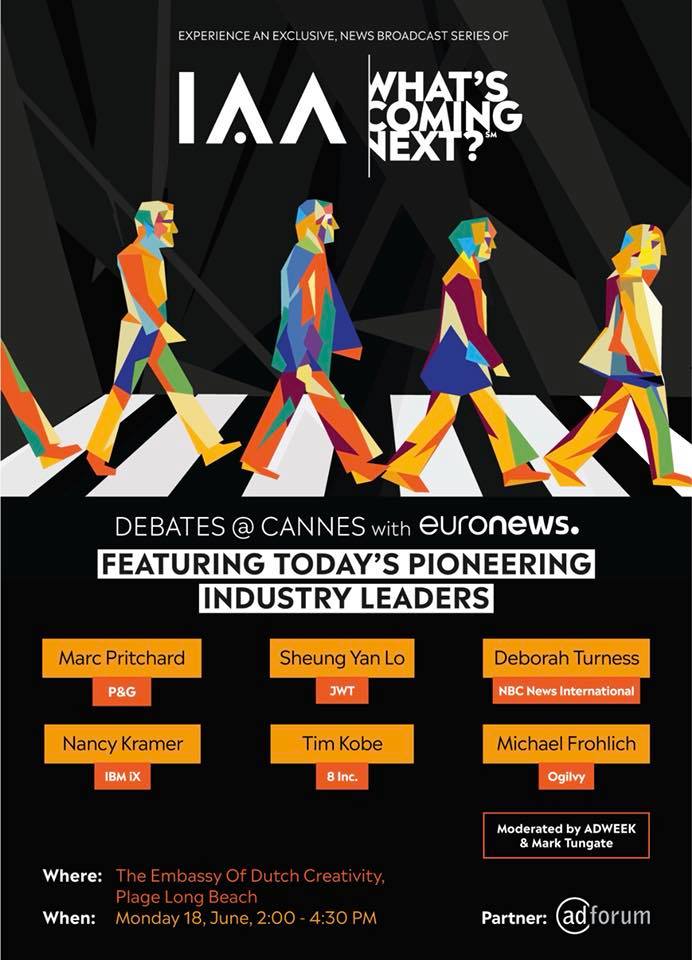 Monday 18th of June
02.00 P.M. – 05.30 P.M.
IAA's What's coming next? with Euronews
Hosted by: IAA Global
IAA and Euronews welcome you at the Embassy of Dutch Creativity for a session full of inspiration.
1. Adweek will have a Q&A with Marc Pritchard (P&G)
2. Adweek in conversation with Sheung Yan Lo (JWT). Lo SheungYan (Ma Yan) is officially a "legend" of Asian advertising. He has won every award under the sun, including the first Grand Prix from Cannes in mainland China. He rose to be the chief creative officer of Asia Pacific. And is considered to be the emperor of Chinese creativity.
3. Mark Tungate (writer and editorial director Epica) will moderate the session "the new frontier of consumer experience" with Tim Kobe | Eight + Nancy Kramer | IBM + TheNextWeb | Boris Veldhuijzen van Zanten
4. Mark Tungate will moderate the session "the future of storytelling". On stage Deborah Turness, President of NBC News International + Sami Basut | JWT Instanbul + Michael Frohlich | Ogilvy + Stephen Tisdalle | State St.
The events are invitation only. You can register as a guest. Please, provide us with your business e-mail upon registration. Your registration is only complete after receiving a confirmation e-mail. This confirmation together with your identification will give you entrance to the Embassy of Dutch Creativity.