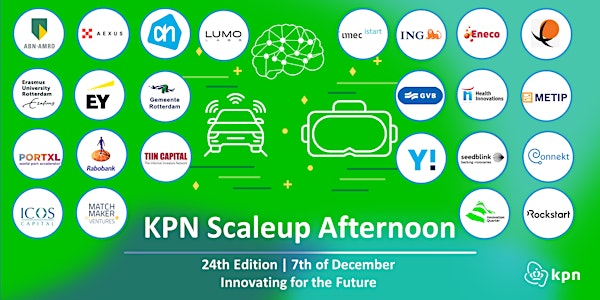 24th KPN Scaleup Afternoon - Innovating for the Future
Get ready to speed date with well-known corporates, investors, startups and scaleups
When and where
Location
Wilhelminakade 123 123 Wilhelminakade 3072 AP Rotterdam Netherlands
About this event
On behalf of the teams of KPN Liaison, we welcome you again to our 24th KPN Scaleup Afternoon.
The event will be hosted on the 7th of December 2022.
The program of the event
14:45 - 15:00 Walk in
15:00 - 15:10 Plenary opening (only if live present)
15:10 - 15:15 Getting ready for speed dates
15:15 - 15:35 1st round of speed dates
15:40 - 16:00 2nd round of speed dates
16:00 - 16:15 Break
16:15 - 16:35 3rd round of speed dates
16:40 - 17:00 4th round of speed dates
17:00 - 18:00 Network drink
Speed dating information
We will start the event with a plenary opening. Of course, we'll try our best to make it an interesting and informative session.
After this, you'll get the opportunity to speed date with KPN, and with other well-known corporates, and investors. Startups & scaleups can indicate with which of the companies they would like to speed date during the ticketing process (Please be aware that we do our best to take your preference into account, but we have limited speed date spots and a selection has to be made).
The following 1) KPN departments 2) corporates and 3) investors will be present:
1) KPN (for startups & scaleups looking for cooperation's with-, or investments from KPN):
• KPN Ventures aims to build value-creating partnerships with innovative European technology companies, accelerating innovation and growth by providing access to capital, industry expertise, technical infrastructure, professional network and channels to customers. They focus on early growth-stage investments, series A and B, in European high growth companies with a minimum recurring revenue of 0.5 million. Also they are looking for investments in industries IoT, Connected Home, Digital Health, Cyber Security, Networking Technology, Data & Analytics and Cloud Computing.
• KPN Liaison Management is looking for win-win partnerships with scaleups who offer solutions to challenges that KPN is looking answers for, such as 5G solutions, telco network optimization tools, call center solutions and more. They are looking for cooperation, POC's, fresh point of view in all industries.
• KPN D&A Looking for new trends in data. Focussing on AI / Machine learning, Statistics, Feature Engineering, Data-Driven Marketing, Automation and Customer Journey modeling.
• KPN IoT is looking for any parties that are interested in connecting their products and/or services, using smart devices to make a sustainable impact. Whether it's in robotics, specific healthtech solutions or environmental monitoring.
• KPN's engineering department is looking for data experts who can help optimize the algorithm of the planningstool of fieldservice tickets
• KPN Retail is looking voor a communication platform to facilitate the communication of a select group of KPN employees and external parties.
• KPN Wholesale is interested in solutions providing identity and fraud prevention.
[More to be announced]
2) Corporates (for startups & scaleups looking for cooperations, Proof of Concepts, or sharing knowledge).
Albert Heijn is looking for innovative retail scaleups to share knowledge, get a fresh point of view or start a Proof of Concept. Focus areas are connected store and connectivity, shelf availibility, sensors and product packing, image recognition, IoT and new paying methods in the customer journey.
Connekt is active in smart mobility and sustainable logistics and is looking for scaleups in this category. Think of scaleups that processes data, stimulate autonomous vehicles, traffic management and everything else related to mobility and logistics.
Erasmus University Rotterdam is looking for companies wanting to collaborate with academia in terms of research, sponsoring, guest lectures, etc in various industries. They focus on social entrepreneurship, mobility solutions and future/ sustainable business models.
EY is an accounting and tax firm, who supports fast growing companies with accounting and tax related issues. They are looking for fast growing companies who want to professionalize their company to cooperate with or to share knowledge with in all industries.
GVB (Gemeentevervoerbedrijf Amsterdam) is looking for Marketing Automation Campaiging- and Customer Loyalty tools. Their focus is on making public transport more accessible for the travellers in Amsterdam, with upcoming ways of travel like www.ovpay.nl and Mobility as a Service. They would like to be in contact with parties that can help them on this.
ING is looking for companies who can mean something for the financial sector. One of their focus industries are technological enablers, containing data analytics, AI and blockchain. Their second focus area is strategy, so sustainability, customer experience and personalisation. Next they focus on value space meaning digital assests, open finance and embedded finance. They are looking for scaleups with more than 10 FTE in their early stage, growth or maturity phase. They have a slight preference for European/Dutch companies and can offer POCs or cooperation.
Match-Maker Ventures is looking to further scale scaleups with paying customers in telco and banking industries. Their business model is aimed to help in business development by opening up their extensive telco and banking network and working end-to-end.
METIP is looking for cooperation, sharing knowledge, or a fresh point of view in the marine, maritime and offshore industries. They favor maritime drone solutions.
PortXL is looking for cooperation in the industries of maritime, logistics, green or renewable energy. They prefer scaleups in the growth or maturity phase who want to join their 2023 program."
Rabobank is looking for cooperation with scaleups with software or services to grow a better world in terms agri, food and sustainability. Other focus areas are remote sensing, solutions for the energy transition, in the housing sector, and fintech.
Gemeente Rotterdam - Rotterdam Smart City [ Challenge to be announced ]
Yes!Delft supports tech startups, both hardware and software, that want to build tomorrow's leading firms. They offer full-life cycle support through their set of services, to help entrepreneurs achieve success at every moment of their startup stage.
3) Investors (for startups & scaleups looking for investments).
ABN AMRO is a financial institution who is focusing on matching companies to informal investors; solely looking for investment opportunities in Dutch companies, with with scalable businesses and a capital needed up to 2 million.
Aexus focusses on business development outsourcing for innovative international tech solutions; looking for cooperation, POC's, sharing knowledge and a fresh point of view. Their focus industries are IoT, Health, Cyber Security, AI, AR and 5G.
Eneco Ventures invests in startups and scaleups in Series A rounds who are active in North-Western Europe and accelerate the energy transition.
Enterprise Solutions is looking for deep tech companies. They can help you with either an investment, cooperation or to share knowledge.
Health Innovations invests in startups with a digital health proposition beyond seed phase. They are looking for investments, sharing knowledge & broadening their network.
ICOS Capital is looking for startups and scaleups in the food and chemical area. They are looking for solutions for an improved climate (carbon capture, hydrogen usage and storage), smart materials (alternative raw materials for plant-based food usage) and biosurfactants in cleaning products. They are also interested in smart industrial tooling and smart tools that gather and process information at the same time.
Imec.istart.nl offers Dutch tech startups pre-seed funding between 100.000 and up to 250.000 euro per startup. Next to this startups join an accelerator program that runs for 12 to 18 months, and are offered tailored support to succeed and grow globally. Imec.istart often operates as the first formal investor of a startup. The program just recently launched, but can count on many years of experience and is powered by the business support of Novel-T.
InnovationQuarter is looking for investment opportunities with start-ups and scale-ups in the industries of Maritime & Harbor, Horticulture, Aerospace, Life Sciences & Health, High Tech Systems & Materials, Energy, Circular, ICT and Cybersecurity, and are established in Zuid-Holland.
Lumo Labs is looking for investment opportunities with pre- or early seed startups preferably based in the Netherlands. They focus on software startups in AI, Big data, Blockchain, IoT and/or VR/AR who meanwhile are working towards the SDGs of Good Health & Wellbeing, Quality Education and/or Sustainable Cities & Communities.
Rockstart has an accelerator programme for start ups in the industries of digital health, energy, emerging tech and agrifood. They offer a network, acces to expertise industry knowledge, acces to market and to capital.
Seedblink is a co-investment platform for technology startups based and active in the European Union. They make the market for equity funding accessible and help technology entrepreneurs to grow in Europe.
TIIN Capital is interested in seed, early stage and growth companies in the European cybersecurtiy industry whom are looking for an investment.
Interested? Get your ticket on this webpage and join our event*
*The deadline for the speed dates is November 24th, 2022
Tickets for the plenary part are open until the last day of the event.
We hope you'll join our 24th KPN Scaleup Afternoon!
If you can't attend our event but ordered a ticket, please cancel your registration in eventbrite inform us via kpnscaleups@kpn.com at least one week in advance. If you want your data to be removed from our systems please email: kpnscaleups@kpn.com
We love Innovation, We love Startups & Scaleups!