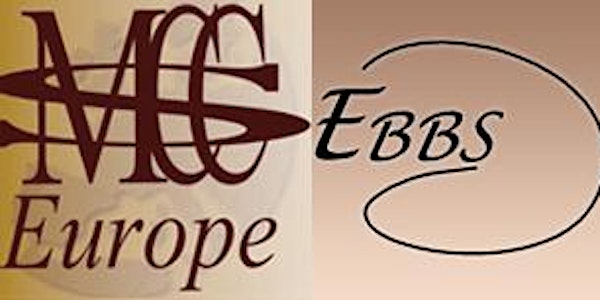 7th EMCCS-FENS Satellite Meeting and 1st EBBS-EMCCS Joint Meeting
When and where
Location
Copenhagen Ole Maaløes Vej 5. DK-2200 Copenhagen N, Denmark Denmark
Description
This is a joint meeting of two European societies that are members of FENS: the European Molecular and Cellular Cognition Society (EMCCS) and the European Brain and Behaviour Society (EBBS).
YOU MUST REGISTER AT THIS SITE TO ATTEND THIS MEETING (registration to the FENS Forum does not grant access to this Satellite event!) WE ALSO KINDLY ASK EMCCS AND MCCS MEMBERS TO CONFIRM THEIR REGISTRATION HERE BY LOGIN AT WWW.EMCCS.ORG

In order the cover the expenses related to the organization we will have to charge an small fee (50 EUR for regular members; 25 EUR for pregraduate and Ph.D. students). The purpose of the registration fees is to cover the costs of coffee breaks and poster sessions. Lunch is not included in this price.
Deadlines
- Registration opens on FEBRUARY 5, 2016.
- Abstract submission closes on JUNE 10, 2016. Please submit your abstract early, specially if you would like to be selected for oral presentation or travel grant.
- Registration closes on JUNE 26, 2016.

About our Societies
The European Molecular and Cellular Cognition Society is an international association whose purpose is to advance the understanding of the molecular, cellular and network mechanisms that underlie cognitive function, and to promote education and public understanding of studies and findings in the field, including implications to health and society. We aim to reach these objectives by bringing together scientists of various backgrounds and by facilitating the integration of research between different disciplines.
More information about the goals and structure of the Society, as well as about previous meetings organized by us or our sister societies (MCCS and MCCS-Asia) can be found at: http://www.emccs.org
Since FENS 2004 in Lisbon, EMCCS has organized a satellite meeting previous to the FENS meeting. This year we introduce the important novelty of coordinating this satellite event with the European Brain and Behaviour Society (EBBS), of which purpose is the exchange of information between European scientists interested in the relationship of brain mechanisms and behaviour. The EBBS organizes a General Meeting every two years. In addition, topic-centered workshops are held.
The meeting will survey recent discoveries in the fields of molecular and cellular cognition with special emphasis on behavioral neuroscience. As in previous occasions, the meeting will be 2-day long. It will start in the afternoon of Thursday, June 30th and will continue with lectures until the evening of Friday, July 1st. There will be a "Wine and Cheese" and posters session in Thursday evening. There will be 27 oral presentations including 8 speakers chosen from submitted abstracts.
Detailed Program (Updated on June 22nd, 2016):
Program in pdf format: http://emccs.org/pdfs/Detailed-copenhagen.pdf

Thursday, June 30th, 2016
14:30 Welcome: Angel Barco (President of EMCCS, UMH-CSIC, Spain) and Shira Knafo (EBBS, UPV/EHU-CSIC, Spain)
Session 1: MOLECULAR AND CELLULAR MECHANISMS OF LEARNING AND MEMORY I.
Chair: Isabelle Mansuy (ETH Zurich, Switzerland)
14:40-15:05 - Clive Bramham (University of Bergen, Norway), "The Arc of synaptic memory".
15:05-15:30 – Marek Rajman (Gerhard Schratt's lab, University of Marburg, Germany), "A post-transcriptional program coordinates homeostatic synaptic downscaling".
15:30-15:55 - Christos Gkogkas (University of Edinburg, UK), "Regulation of protein synthesis in the CNS".
15:55-16:10 – Konstantin Anokhin (National Research Center "Kurchatov Institute", Moscow, Russia), "Maps from GAPs: large-scale imaging of memory traces by recombinant immediate-early gene technology".
16:10- 16:40 Break
Session 2: MOLECULAR AND CELLULAR MECHANISMS OF LEARNING AND MEMORY II.
Chair: Steven Kushner (Erasmus University, The Netherlands)
16:40-17:05 – Camilla Bellone (University of Geneve, Geneve, Switzerland), "SHANK3 controls maturation of social reward circuits in the VTA".
17:05-17:30 - Pico Caroni (FMI, Basel, Switzerland), "Assembling and Consolidating Memories".
17:30-17:55 - Helmut Kessels (Netherlands Inst. for Neurosci., The Netherlands), "Synaptic plasticity through the activation of AMPA-receptor subunit GluA3".
17:55-18:10 – Emma Cahill (University of Cambridge, Cambridge, UK), "Signalling pathways in the amygdala engaged by the reactivation of a fear memory".
18:10-18:25 – Asami Oguro-Ando (University Medical Center Utrecht, Utrecht, The Netherlands), "CNTN4, a risk gene for autism spectrum disorders, affects fear conditioning and hippocampal neuronal morphology".
18:25 - 20:30 "Wine and Cheese" Poster Session

Friday, July 1st, 2016
Session 3: BRAIN CIRCUITS AND BEHAVIOR.
Chair: Kobi Rosenblum (Haifa U., Israel)
09:00-09:25 - Pedro Bekinschtein (Universidad de Buenos Aires, Argentina), "Molecular mechanisms underlying pattern separation in the medial temporal lobe".
09:25-09:50 - Inbal Goshen (HU Jerusalem, Israel), "Illuminating Memory: An optogenetic approach to study the role of neurons and glia in memory acquisition and recall".
09:50-10:15 - Christophe Mulle (CNRS- Université Bordeaux 2 (France), " Plasticity of CA3 circuits in relation with one-trial memory".
10:15-10:40 - Inbal Israely (Champalimaud, Portugal) "Structural correlates of changes in synaptic efficacy".
10:40-10:55– Jennifer Tudor (University of Pennsylvania, Philadelphia, USA), "Restoration of protein synthesis rescues memory impairment due to sleep deprivation".
10:55 - 11:30 Break
Session 4: NEURODEGENERATIVE AND NEURODEVELOPMENTAL DISORDERS.
Chair: Shira Knafo (UPV/EHU-CSIC, Spain)
11:30-11:55 - Maiken Nedergaard (University of Copenhagen, Denmark), "The Glymphatic System".
11:55-12:20 - Ype Elgersma (University of Rotterdam, The Netherlands), "Neuro-developmental disorders. From basic mechanisms to clinical trials".
12:20-12:35 – Alejandro Medrano-Fernández (Instituto de Neurociencias, Alicante, Spain), "Temporal impact of Kdm5c loss in X-linked intellectual disability".
12:35 - 13:00 General Assembly of EMCCS
13:00- 14:30 Lunch
Session 5: PSYCHIATRIC DISORDERS AND COGNITION I.
Chair: Harm J Krugers(Universiteit van Amsterdam, The Netherlands)
14:30-14:55 – Johannes Gräff (Brain Mind Institute, Lausanne, Switzerland), "An allele-specific chromatin loop associated with Alzheimer's disease".
14:55-15:20 - Shira Knafo (UPV/EHU-CSIC, Spain), "Bidirectional control of sociability with genetic tools".
15:20-15:45 - Ki Ann Goosens (McGovern Institute for Brain Research at MIT, USA), "Ghrelin: a new metabolic link between stress and fear".
15:45-16:00 – Eva Benito-Garagorri (DZNE, Gottingen, Germany), "BET proteins in learning and memory".
16:00-16:15 – Luis Garcia-Rabaneda (CIMA, Pamplona, Spain), "Unmasking the roles of the juvenile NMDA receptor subunit GluN3A: a behavioral approach".
16:15 - 16:45 Break
Session 6: PSYCHIATRIC DISORDERS AND COGNITION II.
Chair: Jocelyne Caboche (CNRS-UPMC, France)
16:45-17:10 - Claudia Buß (Institut für Medizinische Psychologie, Berlin, Germany), "Developmental Programming of Risk for Psychiatric Disorders".
17:10-17:35 - Tim Bussey (Cambridge University, UK), "Bridging the translational divide: Touchscreens unmask cognitive phenotypes in mouse models of neuropsychiatric disease"
17:35-18:00 - Harm J Krugers (Universiteit van Amsterdam, The Netherlands), "Stress, synapses and memory formation".
18:00-18:25 - Carmen Sandi (BMI, Lausanne, Switzerland), "Role of brain bioenergetics in anxiety and social behaviors".
18:25-18:40 – Pierre Vincent (UPMC, Paris, France), "A novel class of antipsychotic candidate drug, which target the type 10 phosphodiesterase, reveal an unexpected imbalance in cAMP/PKA signaling between D1 and D2 spiny neurons in the striatum".
18:40-18:55 – Cristina Marquez (Instituto de Neurociencias, Alicante, Spain), "To help or not to help? Behavioral mechanisms of pro-social choice in rats".
18:55-19:00 Concluding remarks: Angel Barco (EMCCS) & Shira Knafo (EBBS)