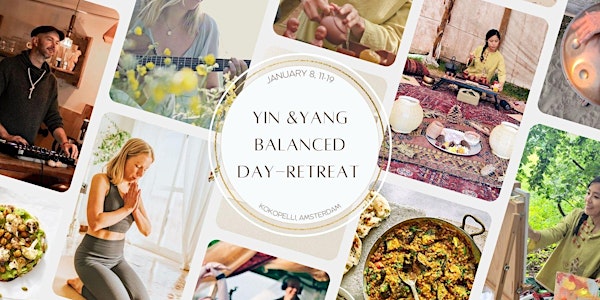 A Yin/Yang (Balanced & Mindful & Detoxing) New Year Retreat
You are invited to a co-created Yin/Yang Balanced New Year Day-Retreat in the heart of Amsterdam, mindfully and ecstatically
When and where
Location
Kokopelli 12 Warmoesstraat 1012 JD Amsterdam Netherlands
Refund Policy
Contact the organizer to request a refund.
Eventbrite's fee is nonrefundable.
About this event
You are invited on January 8th (Sunday) to embrace a mindful start of the New Year and learn how to integrate Yin and Yang balance into your daily life, starting from our co-created day-retreat with passionate and talented facilitators sharing what they love and inspiring each other - Ecstatic Dance DJ Leela, Yoga Teacher and Musician Joëtta, Artist and Tea Master Leila and hearty Chef from Tasty Talks. It's at a unique location (Kokopelli) in the heart of the city, overlooking the Amsterdam canals. 
If you've ever thought about adding both mindfulness and ecstatic energy in harmony into your life, there's no better time than the New Year, the New Start, feeling the power of authenticity, creativity, co-creation, joyfulness and support collectively. It's time to slow down while still feeling the aliveness of life. It's all about the balance.
You will relax, meditate, release, practice yoga, dance, make art, eat delicious home-made vegan food mindfully made with heart by our Chef (who will be present with us sharing the love via food as well), socialise, learn how to live mindfully and ecstatically, and set up intentions together intuitively through singing and writing. 
Program Agenda:
11:10 - Doors open
11:30 - Opening circle - all together
12:00 - Mindful Tea Ceremony with handpan - by DJ Leela & Leila (Yin) 
13:00 - Lunch + cultural and inspirational story behind the food by the Chef from Tasty Talks, with home-made vegan dishes (Yin and Yang)
14:00 - Yin Yoga & Sound Journey concert - by Joëtta (Yin)
15:30 - Ecstatic Dance & Co-created Arts - by DJ Leela & Leila (Yang)
17:30 - Intuitive Singing and Writing (with NY intention setting together) - by Joëtta and Leila (Yin and Yang)
18:00 - Closing circle 
- Live DJ throughout the day and events by DJ Leela
- Healthy snacks and small bites throughout the event - by our Chef
- There's no have-to-do, as we aim for a free space for expressions
- We like to keep it a smaller, intimate group, so the spots are limited
Book the ticket: the link
Early bird price (until Dec 15): 75 euros
If you have financial difficulties, feel free to reach out for discounts.
This retreat is perfect for anyone looking for a more balanced start of the year and interested in ancient wisdom of Yin/Yang, Yoga and Tea. As well as the power of Arts and Co-creation. Instead of planing rationally on what to achieve in the new year, we will together try to be our authentic selves and open the intuitive and creative space for what possibly will come in the New Year. We wish you will feel calm, ecstatic and inspired to take on the year ahead.
Our Facilitators:
DJ Leela is an Ecstatic Dance/Journey DJ and handpan musician who played in many global ecstatic hubs (e.g. Odessa and Eagle's Nest). His passion for life is through awareness and love for being our authentic selves. He does this by DJ-ing, not so much one style of music, but by brewing a variety of musical-tastes into one meltingpot, fine-tuning in the moment + adjusting to specific wishes in the here-and-now. His handpan is a structural companion during these journeys, which creates a mellow and welcoming atmosphere. He envisions a transparent and as true-as-humanly-possible world, hence, his artist-identity as Leela. (In Sanskrit: In our daily experience, embracing the dance of life with a hint of playfulness, including the waves of bright and dark matters).
Leila is a visual artist offering intuitive art workshops and Ecstatic Arts (with her partner DJ Leela), as well as a 'tea host' for mindful & ancient Tea Ceremonies. She also has passion for healing via plant medicine and plant-based living. You can often find her facilitating ceremonies/journeys and co-creating a safe place with other mindful practices. She has a mixed background of both from the East and the West, with years of experiences in the business world as well. She practices the way of balance, Taoism and ISTA - and felt drawn to bridge her vision connecting both sides (reality and spirituality; Light and Shadow). She loves sharing her vision to exchange our own gifts, and integrating the ancient wisdom into a mindful yet grounded lifestyle.
Joëtta is an Amsterdam-based musician and yoga teacher. She believes in the healing and transformative power of both music and yoga, and loves combining yoga and meditation with live music. Joëtta released her EP 'Narrative' in 2021 and is working on new music. Learn more and connect with Joëtta on Instagram @joetta.zoetelief. Listen to Joëtta's music on Spotify.
At Tasty Talks food community, we believe that food has a unique power to unite people, enable deep conversations and connect us to our roots. Our mission is to dig deeper into cultural cuisines and help people share the warmth of hospitality and eating together, make friends and discover culinary treasures like a community. Our Chefs and Hosts are looking forward to sharing love and togetherness with you through unique food experiences.
For reference and more details, check out our facilitators' IG pages:
@djleelaamsterdam
@joetta.zoetelief
@leilarts_teaceremony
@leilarts_ecstaticarts
@tasty.talks
Much love,
Leila, DJ Leila, Joetta, Tasty Talks