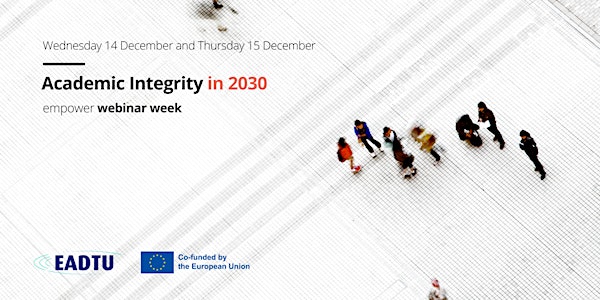 Academic Integrity in 2030 | Webinar Week
Empower webinar week: Academic Integrity in 2030
About this event
Recently, several new approaches have been developed to ensure rigorous academic assessment. Still, Higher Education Institutes are reporting a steady rise in cases of academic misconduct, in the form plagiarism, impersonation and the use of so-called 'essay mills'.
In this webinar week, EADTU will extrapolate current trends by asking what academic integrity will look like in 2030.
What technologies can be used to detect and 'remedy' academic misconduct? How will such technologies affect responsibilities, values and the process of assessment? What are universities doing to stimulate academic integrity in the near future? Are there ways to avoid invasive proctoring and ensure integrity and trust?
This webinar week is open to all. Participants will be invited to actively contribute to the sessions.
Programme
Wednesday 14 December | Academic Integrity in 2030 | 14:00 - 15:30 CET
Anticipating the impact of emerging technologies within academic assessment, Eamon Costello (Dublin City University) and Klaus-Dieter Rossade (Open University UK) will present four assessment scenarios. All scenarios will be plausible descriptions of the near future, backed by existing research on the topic. Participants will be invited to reflect on the scenarios.
Thursday 15 December | Academic Integrity as a matter of Trust, not a tick-box exercise | 14:00 - 15:30 CET
Trust is central to universities (and beyond). Students need to trust their teachers and peers so that they can ask questions, offer answers, take risks and welcome feedback. Trust in the institution, including trust in assessments is also essential to ensure their reputation and the value of the degrees awarded. The go-to solution to ensure academic integrity in online exams has been ed tech solutions such as plagiarism detection software or online proctoring services. However, their efficacy is questionable and, rather than the promised security and confidence, they imply suspicion and mistrust of students. How can we create quality online exams while fostering academic integrity?
We will use a design thinking process to imagine together how we can foster academic integrity and trust at each level of the university (institutional, programmes and courses, assessment). Moderated by Henrietta Carbonel (UniDistance Suisse) and Klaus-Dieter Rossade (Open University UK).
Disclaimer
Funded by the European Union. Views and opinions expressed are however those of the author(s) only and do not necessarily reflect those of the European Union or the European Education and Culture Executive Agency (EACEA). Neither the European Union nor EACEA can be held responsible for them.