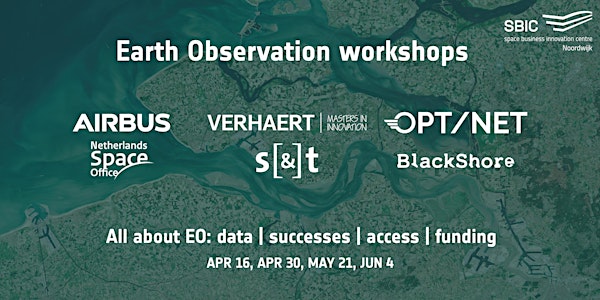 Access EO Data Workshop
Access EO Data Workshop - Introduction to Open Satellite Data Portal by NSO and Introduction to Sobloo and UP42 by Airbus
Date and time
Fri, 21 May 2021 01:00 - 04:00 PDT
About this event
Access EO Data Workshop
Date: 21 May 2021
Time: 10:00 - 13:00
This EO workshop will consist of an Introduction to Open Satellite Data Portal, given by The Netherlands Space Office, and of an Introduction to Sobloo and UP42, provided by Airbus.
a. Introduction to Open Satellite Data Portal by NSO
The Netherlands Space Office (NSO) is the space agency of the government of the Netherlands. The quantity and quality of satellite data is increasing rapidly. This creates opportunities for developers and for governments. In this workshop you will be taken into the spatial world of satellite data. Kathelijne Beenen, advisor satellite application at NSO, uses examples to show what is already possible in practice and how you can make smart use of satellite data provided in the satellite data portal.
b. Introduction to Sobloo and UP42 by Airbus
Airbus is a global leader in aeronautics, space and related services. Airbus Defence and Space is a leader in European space business and an international pioneer in Earth observation services.
The presentation will be given by experts from Airbus Defence and Space: Ludovic Augé, Dias Sobloo Project and Product Manager, and Diego Pozo Morillas, Dias Sobloo Production Manager.
Sobloo is one of the five Data and Information Access Services (DIAS) online platforms, that allow users to discover, manipulate, process and download Copernicus data and information. This Copernicus DIAS platform was launched by Airbus in cooperation with their partners Orange Business Services and Capgemini.
Outline of the workshop:
Journey through Sobloo : presentation, overview of the main features and interfaces
3 examples of Copernicus data usage
Going beyond : Airbus DS' digital ecosystem : respective positioning of Sobloo + OneAtlas + UP42
Focus on UP42
2 Sobloo desktops will be available to participants for a free trial after the presentation.
Earth Observation workshops
SBIC Noordwijk, together with experts from the space industry, will host four specialized Earth Observation (EO) workshops aimed at entrepreneurs and other space enthusiasts. Every week, you'll get closer to knowing everything you need to know about earth observation.
You can join any number of workshops, but you need to register for them separately.
16 April – EO Data and Services
Get to know and understand the different types of earth observation data and services, and how they can be accessed and used
30 April – Success Stories
Learn from multiple founders how they developed and deployed Copernicus-enabled services and applications
21 May – Access to EO Data
a. Introduction to Open Satellite Data Portal (by Netherlands Space Office)
b. Introduction to Sobloo and UP42 (by Airbus)
4 June – EO Funding Programs
Discover all the possibilities to fund your earth observation business.
About the organiser
Space Business Innovation Centre Noordwijk supports startups which use space technologies by offering access to an international network, tools, knowledge and finance.