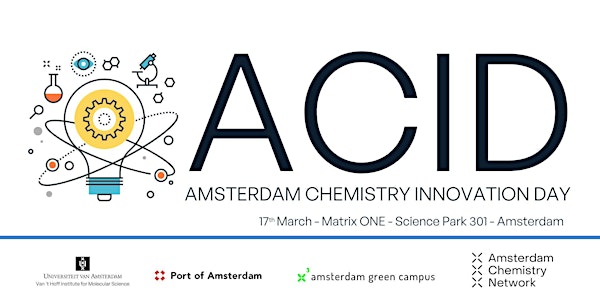 ACID 2023 - Amsterdam Chemistry Innovation Day
ACID is the annual event the Amsterdam Chemistry community of industry and research meet-up to discuss innovation in the field.
By Amsterdam Chemistry Network
Location
Science Park 301 Science Park 301 1012 WX Amsterdam Netherlands
About this event
We are excited to announce that the upcoming Amsterdam Chemistry Innovation Day (ACID) will take place on March 17th at Matrix ONE - Science Park 301 - Amsterdam. This premier annual gathering brings together leading experts in the field of chemistry to discuss the latest innovations and future trends.
In the morning (9.00-12.00), we will be hosting a job market specifically for students with a background in chemistry or life sciences, providing a unique opportunity for them to connect with industry and business professionals.
In the afternoon (13.00-19.00), we have an esteemed line-up of speakers and panel discussions featuring industry leaders and professors. This is an excellent opportunity to hear from experts in the field and network with your peers.
ACID attracts every year a diverse crowd of experts from industry and businesses as well as professors and researchers. Join ACID and meet your colleagues and peers with a shared interest in the field of Chemistry.
Registration is free of charge!
Afternoon Program
12:00 - Registration and Lunch (Poster Session)
13:00 - Welcome by Froukje Jansen
13:10 - Prof. Dr. Wim Noorduin - Self Organizing Matter Group Leader at AMOLF
13:40 - Marcel Galjee - Managing Director HyCC
14:10 - Coffee Break (Poster Session)
15:00 - First Round Parallel Sessions:
1A - "Dream and reality in the Energy Transition"
1B - "Innovation in biocatalysis and drug discovery"
16:10 - Second Round Parallel Sessions:
2A - "Closing the N and P cycles: towards a circular production and use of fertilizers"
2B - "University applied Science and SME collaboration to accelerate energy and material transitions"
17:10 - Closing Ceremony by Froukje Jansen
17:30 - Dinner and Networking
Date: Friday, 17th March 2023
Hour:[GMT AMSTERDAM]
- Career Fair: 9:00-12:00
- Conference: 13:00-19:00
Venue: Matrix ONE - Science Park 301- Amsterdam
Language: English
_________________________________________________
CAREER FAIR
From 9:00 to 12:00 - Companies and students can use this opportunity to present themselves, gather useful information, and start forming a solid network of contacts.
From scientific journals to biofuel multinationals, from medical foundations to industries in the painting and plastic industry, from innovative startups to established corporates: discover the world of Chemistry and Life Sciences beyond academia!
YOU CAN EXPECT...
JOB MARKET
During four hours, companies and students will have an excellent opportunity to know each other and discuss various career opportunities
MATCHMAKING
We seek the perfect match between companies and students to create connections. That is why we are inviting the best employers in the market, limiting the presence of recruiting companies. Companies and students can meet face-to-face and meet their future potential employers or employee. We aim for organizations willing to share job and internship openings and talk openly about them with visitors.
COMPANIES PITCHING
Four companies will be selected to pitch their company culture, with a 20-minute presentation in a reserved space adjacent to the market. This is your moment to shine! Share goals, values and attitudes that make your company unique.
More information and registration here
ACID is free of charge, but a register is required.
Agenda
12:00 PM - 7:00 PM
ACID 2023
About the organizer
Disclaimer: We often take pictures and photos during the event, they will be posted on the ACN website and social media channels. If you have any questions or concerns, please send an email to info@acnetwork.nl