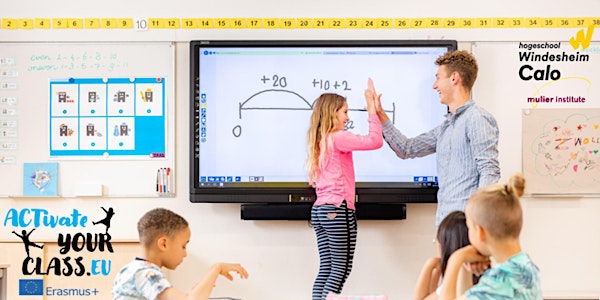 ACTivate International Congress for Physically Active Learning
Location
Christelijke Hogeschool Windesheim
2 Campus
8017 CA Zwolle (Netherlands)
Netherlands
Refund policy
Refunds up to 30 days before event
Eventbrite's fee is nonrefundable.
Welcome! Register for this unique congress focused on innovations, challenges and solutions concerning physically active learning.
About this event
The International Congress for Physically Active Learning will include:
Inspirational workshops for researchers, policy makers and educators to understand how to embed physically active learning in schools and national policy
Exclusive insights into research, policy and practice perspectives that make physically active learning a success
Opportunity for teachers to participate in the #ACTivateyourclass challenge
A first look at the new Dutch physically active learning platform
Inspiring exhibits with materials and methods for physically active learning
Access to the new ACTivate e-learning modules for physically active learning
The sessions in this congress will be a combination of research, policy and practice. In addition to practical workshops, we will share the newest insights into the Erasmus+ project ACTivate.
What is ACTivate? The exciting ACTivate Erasmus+ project co-creates, with teachers and other school stakeholders, an innovative European-wide open access physically active learning teacher training curriculum, web portal and free to access online CPD modules. After 18 months, the project team from six European countries can now share the new European physically active learning (PAL) teacher training curriculum and provide some early insights into the free to access teacher training modules that will launch in early 2022.
The congress will take place over the course of two days. Registration closes on the 1st of April, 2022.
Please note, this is the registration page for international attendees. For more information (in Dutch) and registration for people from the Netherlands, please visit: https://www.windesheim.nl/agenda/2022/april/activate
April 12th
The Tuesday programme is relevant for researchers, educators and policymakers and will focus on the development of the field of physically active learning.
We will start off Tuesday morning with an optional social programme, where we will visit local elementary schools to have a first hand look at PAL in the Dutch setting.
The afternoon session provides a foundation for the role that PAL has played in international research and takes a closer look at the field's future. Where did we start, what are we doing now and where are we going? Following a recap on the history of PAL and insights from PAL research and teacher educator pioneers, we will co-produce a strategic plan for the next five-to-ten years on how PAL can develop for the future.
All sessions will be conducted in English.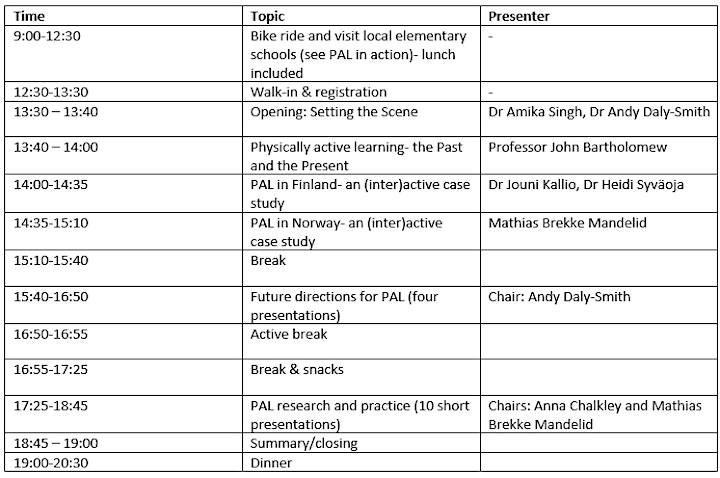 April 13th: Morning
The Wednesday morning programme is relevant for researchers, educators and policymakers and will provide you with the newest insights into the development of physically active learning programmes. Within the ACTivate project, six European countries have worked together to create an evidence-based curriculum for physically active learning with an accompanying e-learning module. The e-learning modules were developed to help teachers integrate physically active learning into their lessons. Furthermore, research has been conducted in all six countries to identify the support the teachers require to develop their capabilities, opportunities and motivation to use PAL in their everyday teaching practice.
All sessions will be conducted in English.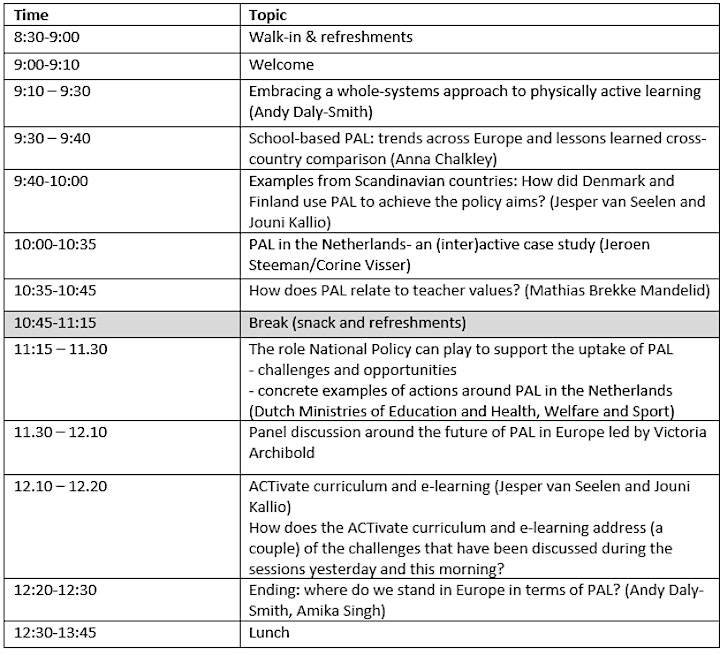 April 13th: Afternoon
An afternoon full of inspirational sessions and insight into the approach to physically active learning in different countries. During each session, participants will learn about the policies or laws in place that promote or hinder physically active learning and how institutions come up with ideas to stimulate physically active learning and the challenges they face. The afternoon will close with a discussion between professionals of various backgrounds (teachers, teacher educators, policy makers, researchers).

Hotels
There are two hotels situated near the congress venue, Hotel Fidder and the Bilderberg Hotel. Since we cannot guarantee accommodation, we strongly recommend booking a room on time, as there are limited hotels available in Zwolle.
Hotel Fidder
We have reserved a block of rooms for a reduced rate at Hotel Fidder. These rooms wil be available for the congress attendees .There are several room types available (prices are for single use and include breakfast, city tax and Wifi)
Single room: a room with a single bed, bathroom with a shower - € 87,20 per night
Twin room: A room with 2 single beds, bathroom with a shower - € 95,75 per night
Double room: These unique, more spacious rooms are all different. Some rooms have a balcony and or a four poster bed. Bathroom with a shower, few bathrooms are equipped with a bath- € 104,75 per night
Comfort room : This room offers a four-poster-bed, whirlpool and a balcony- € 113,75 per night
Please check the website www.hotelfidder.nl for additional information and a look at our rooms.
To reserve a room and for questions regarding this reservation, please contact Patrick and Danielle Fidder: danielle@hotelfidder.nl / patrick@hotelfidder.nl and mention that you want to book a room as an attendee of the ACTivate congress.
Bilderberg Hotel
It is also possible to reserve a room at the Bilderberg Hotel. We do not have rooms blocked at this hotel, but based on availability, you can book a room via their website: https://www.bilderberg.nl/zwolle/grand-hotel-wientjes/
Other options
If there are no rooms available at the Bilderberg or Fidder Hotel, you can try one of the hotels listed below. We are not personally familiar with these hotels, but they are well-reviewed.
City Lodge Stay A while
Hotel Lumen Zwolle
Mercure Hotel Zwolle
Hotel Oldenburg
De Pelsertoren
These hotels may be located further away from the congress venue. Some of the hotels may offer bikes you can use for active travel to the venue.
Ticket pricing
€185 for April 12-13th (whole congress). Price includes lunch, drinks and snacks.
Questions?
Please contact Maxine de Jonge, m.dejonge@mulierinstituut.nl with any questions regarding the congress.