Description
Aerotoxic Sydrome Presentation

Flying can result in severe health problems.
This evening is essential for those seeking to understand the aspects of Toxic Cabin Air and the implications on their health! Especially for those who want an update on the latest scientific and medical evidence and for those who are looking for solutions to improve their health after contamination.
4 Keynote Speakers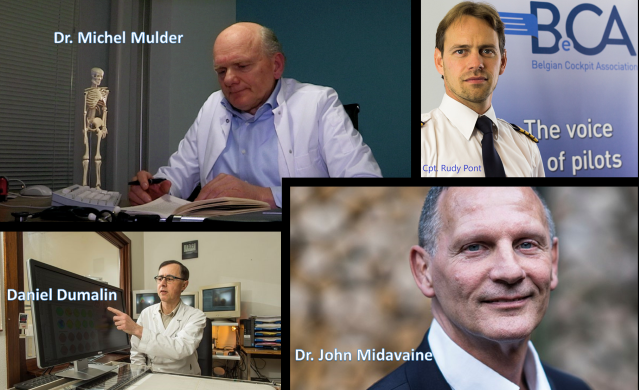 Dr. Michel Mulder, former Medical Examiner and airline pilot. Presently involved in diagnosis of severely affected airline crew. He participated in 15 post mortem studies of prematurely deceased airline personnel.
Daniel Dumalin, research psychologist specializing in neurophysiology with 28 years of clinical experience in qEEG (quantitative EEG) and ERP (Event Related Potentials) in the detection of functional disorders in neurological disorders. He also specializes in demonstrating the functional consequences of brain injuries.
Dr. John Midavaine – Head of clinic Lifemedic for Orthomolecular Medicine - being focussed on health improvement, came in contact with al lot of patients and frequent flyers with huge numbers of flying hours, who were lookinganswers to treat their neurological and other health problems.
Cpt. Rudy Pont – BeCA Air Safety Committee - is an active A320 captain with over 12 years experience in air safety and is a strong advocate for a standardised medical protocol after exposure to fume events. BeCA is a GCAQE Global Cabin Air Quality Executive) member and has been an active member on the CEN (European standards bureau) working group on CAQ for the last 3 years.