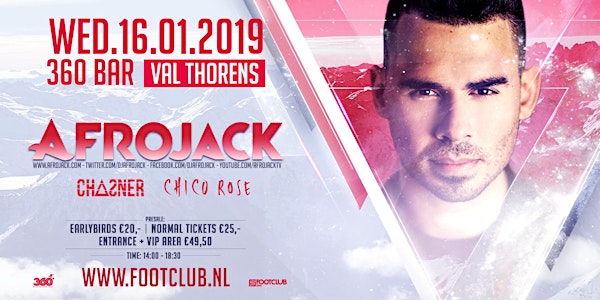 Afrojack at Val Thorens [show 2] January 16th 2019
When and where
Location
360 Bar Val Thorens Rue du Soleil 73440 Saint-Martin-de-Belleville Netherlands
Description
Time to announce show number 2: AFROJACK WILL BE BACK! Together with the organization of Footclub Events, there will be a second insane party on the top of the mountain in the world's best ski resort: Val Thorens at your favorite place to dance: 360 Bar! The date has been confirmed: Wednesday January the 16th!
The second legendary event of 2019 is kicking off on Wednesday January the 16th. From 14:00 hrs till 18:30 hrs Afrojack will be inside the place again at 360 Bar Val Thorens to tear these mountains apart like only he ca do. Expect a huge stage, the best sound system, crowd pleasing special effects and many, many more madness… Other performances next to the Dutch superstar will be Chasner and Chico Rose.
360 BAR VAL THORENS
The show on Wednesday the 16th of January 2019 will take place at 360 Bar. From 14.00 hrs until 18.30 hrs. Be sure to get on time!
The 360 bar is on the slopes and is part of the CHALET DU THORENS (Knife and Fork Restaurant in between the Moraine and Portett Chair lifts). Go to www.360-bar.com for the exact details and other information.
EARLYBIRD TICKETS
Presale for this show is online now, limited early bird tickets available now for only 20,- euro's (ex fee) and when all sold, regular tickets will be online for 25,- euro's (ex fee). Tickets can be purchased at www.footclubevents.nl
VIP TICKETS
Want to celebrate the party with Afrojack at 360 bar full in style? We got limited special VIP tickets available. With this ticket you get entrance at 360 bar AND acces to our exclusive VIP deck. Drinks are not included.
See you on Wednesday the 16nd of January 2019!