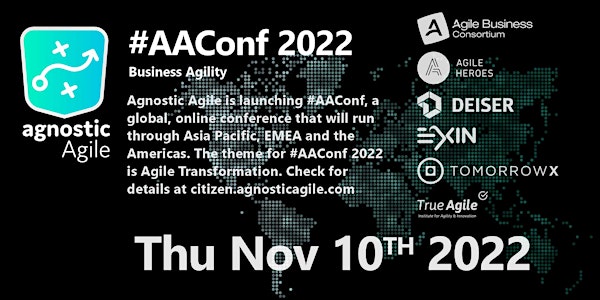 Agnostic Agile Conference 2022
Agile transformations After 20 years most still struggle, how to get it going and get the benefits!
About this event
Agnostic Agile is launching #AAConf, a global, online conference that will run through Asia Pacific, EMEA and the Americas. The theme for #AAConf 2022 is Agile Transformations.
Since its launch in 2017, Agnostic Agile has had an organic growth and became a community in 2020 with ~2500 signed people worldwide. We are at the tipping point in the Agile Industry, where employing an agnostic mindset towards agility is becoming more and more commonplace, and Business Agility is recognized as one of the most important facets of work.
Check the details in aaconf2022.agnosticagile.org!
Our conference
We are happy to announce the presence (in alphabetical order) of our International Speakers:
- Peter Coesmans, Chief Agility Officer (CAO) at Agile Business Consortium
- Lisa Duty, EPiC Agile Singapore Director
- Melanie Franklin, Founder at Change Community
- Robert Gaunt, Global Director and Executive Coach
- Jeff Gothelf, author of Lean UX and Forever Employable
- Pablo Ingrassia, CEO & Co-Founder @Aconcagua Software
- Leila Lipsky, Systemic Organizational Coach Universidad Di Tella, Cultural Hacker
- Fernando López, Product Manager & Innovation Coach @Bayer
- Guillermo Montoya, Owner & CoFounder of DEISER
- Marc Niemann, Management 3.0 facilitator
- Fernando Pinciroli, CEO Solus & Sparx Systems Argentina
- Dimitrios Siourthas, Agile Delivery & Coaching @TomorrowX
- Dave Snowden, Founder, Cognitive Edge
- Tao Xia, CCMP™, PMP™, Certified Agile Coach @ Wemanity, Certified Agile Coach @ EXIN
- Franklin Xu, Trainer and Consultant of DevOps / Business Agility / Digital Transformation
- Yating Yang, ToP Facilitator / ICF ACC Coach
Sessions will be facilitated by:
- Darren Gray, Enterprise Coach
- Khumo Mogopudi, Bcom Accounting @University Witwatersrand
- Geny Sandoval, Scrum Network, Customer Centered Facilitator
- Sun Zhenpeng, Director Asia EXIN