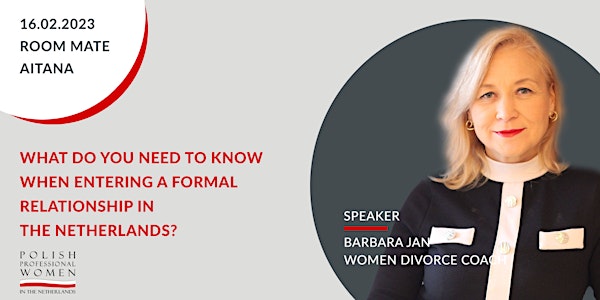 All you need to know when entering a formal relationship in The Netherlands
In this workshop we will learn how to seize this fantastic opportunity of living abroad
By Polish Professional Women in the Netherlands
Date and time
Thursday, February 16 · 9am - 1pm PST
Refund Policy
Contact the organizer to request a refund.
Eventbrite's fee is nonrefundable.
About this event
Barbara Jan is a global citizen with intercultural competence, originally from Slovenia but now settled long term in the Netherlands. Qualified coach who keeps calm and communicates clearly in a crisis. Working as a women's divorce coach since 2011.
"My main drive is to empower women (especially expats) to develop themselves to their full potential. It's my mission to support them finding their purpose, living it, serving the world with it and thrive."
In this workshop we will learn how to seize this fantastic opportunity of living abroad, whether you are new to the Netherlands or have been here a while. We will share tips on how to understand and assimilate with Dutch culture and how to deal with the unexpected obstacles that foreign culture can bring.
Overall, the goal is to make you more aware of the enrichment that expat life can offer and how to handle the pitfalls as well.
Based on my personal story and my book "Echtscheiden zo do je dat" I will take you through some practical steps what do you need to consider when making important decisions like getting married or/and having children, especially when you live abroad.
After this workshop you will:
know which are the key decisions that you must make before or during the marriage especially when leaving abroad. And which practical steps you can already take in advance to avoid difficulties in the future.
you will learn how to challenge your own believes about partnership and how to create a new ones if needed.
you will learn what the differences are between man's and women's way of thinking/functioning and how to use that knowledge to improve your relationship​.
You will be able to define how your soul made looks like and how YOU have to change in order to attract him/her into your life.
and of course in the Q&A session you will be able to ask all the burning questions. It will be interactive evening of the controversial ideas, brainstorm sessions and laughter. We will dive deep on the most important very basic human need: LOVE!
Overall, the goal is to make you more aware of the enrichment that expat life can offer and how to handle the pitfalls as well. In the interactive section of the workshop, you will be able to practice a new technique which will help you to always focus on the positive. So, bring along an open mind and let's learn together!
‌Event agenda:
18.00 - 18.30 Opening, registration
18.30 - 19.00 Business club, announcements
19.00 - 21.00 Workshop
21.00 - 22.00 Networking
More about the speaker:
LinkedIn: https://www.linkedin.com/in/barbara-jan-455a931a2/
Website: www.barbarajan.com
Barbara's book: https://www.bol.com/nl/nl/p/echtscheiden-zo-doe-je-dat/93000000
About the organizer
Polish Professional Women in the Netherlands (www.polishprofessionalwomen.com) is a platform uniting Polish female professionals and entrepreneurs living and working in the Netherlands.
Our goal is to gather together a group of active internationally minded women, so that our network of contacts is rich and diverse. Our members represent various professions and industries, have the experience of working in an international environment and are eager to share their knowledge. They come from world of business, culture, academic institutions and social organizations.
We want to be a platform for the exchange of knowledge, experience, and thus support the personal and professional development of our members.