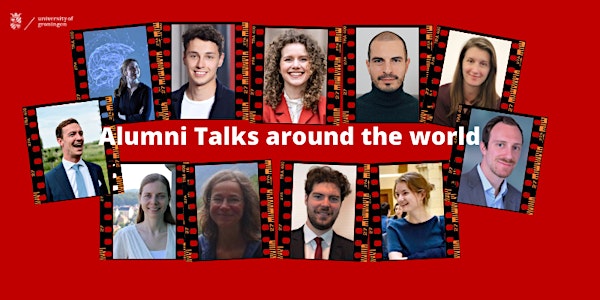 Alumni Talks around the world
For UG- students aspiring an international career
About this event
Learn from from Groningen alumni about starting an international career and join the Alumni Talks around the world.
Your first job at a company abroad? Approximately 20% of University of Groningen alumni live and work abroad and they are happy to share their experience with you to help you land your job abroad. The Alumni Office together with a group of 11 alumni hosts the third edition of Alumni Talks on 15 April. An online session that helps you connect with alumni in various countries to hear their career story, ask your questions and develop your professional network.
Reasons to join:
Be inspired for your future career.
Ask your questions to an alumnus who is working abroad.
Get tools for starting an international career.
Take concrete steps towards your dream.
Last but not least! Expand your network with alumni working abroad.
How?
During an informal online session you will talk to an alum and fellow students about working abroad. You can ask all your questions related to: skills required abroad, online jobboards, questions you have about living in a particular city, life/work balance et cetera. Just sign up to select the alum you would like to connect with.
Overview of the coaches 👇 You can see the broader profile when signing up for the session.
Petra Langendijk-Genevaux | Toulouse | CNRS - Université de Toulouse
Keshia Theobalt- van Gent | San Francisco | German Accelerator
Jonathan Tavella | London | Forrester
Mart Duitemeijer | Boston | Netherlands Innovation Network
Rossa Visscher | Zurich | ETH Zurich
Tobias Reiter | Rwanda | Viebeg
Kees Stiggelbout | Brussel | European Commision
Stephanie Kemna | Trondheim | MARITIME ROBOTICS
Arianne Sikken | Belgium | Council of the European Union
Jane van der Bor | Hamburg | Finc3 Commerce GmbH
Julian Watkinson | Bogota | United Nations OCHA
Programme
On 15 April there will be two sessions:
12 - 13.00 hrs
19 - 20.00 hrs
We look forward to seeing you online,
Elise Kamphuis, Alumni Office of the University of Groningen