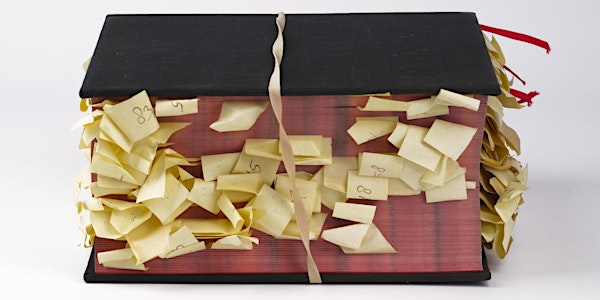 An evening with Irma Boom and Collecting Otherwise
An evening of books and moving images. Designer Irma Boom talks about her latest publication and we explore artistic interventions.
When and where
Location
Het Nieuwe Instituut 25 Museumpark 3015 CB Rotterdam Netherlands
About this event
Programme
​Create your own personal programme by booking tickets for the programme components.
5–7.30pm: Thursday Bite (€ 10)
Every Thursday, from 5pm, you can enjoy a tasty Thursday Bite for €10 at Het Nieuwe Café. The Thursday Bite is a light vegetarian or vegan meal from the kitchen of chef Manuela Gonçalves Tavares, plus a soft drink. You can order your bite at the bar on the evening itself.
7–8pm: Thursday Night Detour (Free, max 12 participants)
Every Thursday night a Detour Guide takes you on a free Detour through one of the exhibitions on display at Het Nieuwe Instituut. Discover design, digital culture and architecture from the perspective of your guide. Every Detour is different: you might end up working on a joint choreography or designing a space for insects.
7-9pm: Collecting Otherwise: Time-based Interventions in the Archive (Free)
We explore artistic interventions with film, projections, and other manifestations of the moving image, with Paoletta Holst, Paolo Patelli and Robin Hartanto Honggare, on behalf of the Resequencing the Tillema Collection project. This event is coupled with screening of other time-based archival interventions from Working Group members Janilda Bartolomeu, Joseph Steele, Hannah Dawn Henderson, Michael Karabinos and Yasmin Tri Aryani, as well as a pop-up exhibition in the Research Centre around Sourcebook, a film by curator Mandy El-Sayegh and Helena Hunter, curated by Renan Laruan.
8–9.30pm: In conversation with Irma Boom: Book Manifest (Free)
Irma Boom visits Het Nieuwe Instituut on the occasion of her new publication Irma Boom: Bookmanifest. Boom, who has several designs in MoMA, talks to a young Rotterdam bookmaker. They discuss the design process, the book as an object and the value of archiving your work.
​Create your own personal programme by booking tickets for the programme components.
Thursday Night Live!
Thursday Night Live! is a weekly evening devoted to burning questions in architecture, design and digital culture, featuring leading speakers from home and abroad. Het Nieuwe Café serves a meal, there's music from DJs or live performers, the museum is open for free and our Detour Guides (aka tour guides) show you around the exhibitions. Meet people, be inspired and join the discussion!