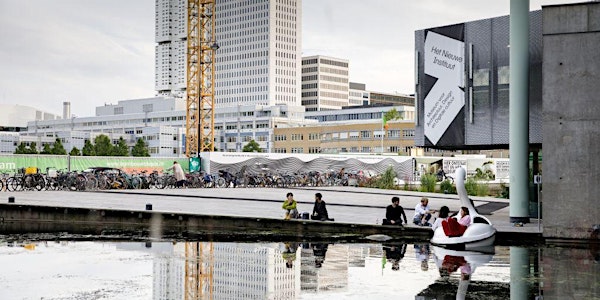 An Evening with Maike van Stiphout, Inclusief Groen, Collecting Otherwise..
Learn about the Zoöp, a new organisational model that prioritises all life, not just humans and bring all your plant-related questions.
When and where
Location
Het Nieuwe Instituut 25 Museumpark 3015 CB Rotterdam Netherlands
Refund Policy
Contact the organizer to request a refund.
Eventbrite's fee is nonrefundable.
About this event
5–7.30pm: Thursday Bite (€ 10)
Every Thursday, from 5pm, you can enjoy a tasty Thursday Bite for €10 at Het Nieuwe Café. The Thursday Bite is a light vegetarian or vegan meal from the kitchen of chef Manuela Gonçalves Tavares, plus a soft drink.
You can order the Thursday Bite from the bar on the evening itself.
5.30–6.30pm: Special Guests: Maike van Stiphout (Free)
Het Nieuwe Instituut became the world's first Zoöp in 2022. As a Zoöp, the collaboration between humans and not-humans comes first in order to safeguard all zoë (Greek for 'life'). Get to know Het Nieuwe Instituut's Speaker for the Living, Maike van Stiphout, to learn more.
6.30–7.30pm: Reinventing Cultural Architecture: A Radical Vision by OPEN, Book launch (Free)
Join us for the book launch Reinventing Cultural Architecture: A Radical Vision by OPEN (Rizzoli, 2022). The founders of OPEN Architecture, Li Hu and Huang Wenjing, will present recent public and cultural projects by the Beijing-based design practice, including those presented in the new book. Besides the struggles and breakthroughs associated with each of their projects, Li and Huang will share how they see architecture as the means to connect —with different people, with nature and, ultimately, with ourselves.
7–8pm: Thursday Night Detour (Free, max 12 participants)
CANCELLED: This programme component has been cancelled.
Every Thursday night a Detour Guide takes you on a free Detour through one of the exhibitions on display at Het Nieuwe Instituut. Discover design, digital culture and architecture from the perspective of your guide. Every Detour is different: you might end up working on a joint choreography or designing a space for insects.
7–9pm: Collecting Otherwise: Anarrangment (Free)
Collecting Otherwise welcomes Working Group Members Joseph Steele for a round table that brings together international curators, historians and artists for a conversation about the diverse unconventional angles they take in regards to curation. What is the role of a curator, if an artist takes over the curator's role? With guest speakers Vivian Ziherl, Jo-Lene Ong, and Dr. Thomas Berghuis. For more information about the round table, visit the webmagazine of Collecting Otherwise.
8–9.30pm: Inclusief Groen (Green Inclusivity), Clinic (€ 7,50/€ 3,75)
CANCELLED: This programme component has been cancelled.
Come by with all your questions regarding greenery! During this Thursday Night Live! we invite three organisations (Stichting Groengoed, Buro Walden and STEK) to teach us more about being green-inclusive and how to colour outside the lines. In what ways can we embrace green? What interventions could work for your garden, balcony or roof? This interactive evening will be filled with tips and tricks on how you and your community can contribute to a more green-inclusive living environment for humans and nature.
Image: Thursday Night Live! Summer Special: Cocktail Dînatoire. Photo Aad Hoogendoorn
Thursday Night Live!
Thursday Night Live! is a weekly evening devoted to burning questions in architecture, design and digital culture, featuring leading speakers from home and abroad. Het Nieuwe Café serves a meal, there's music from DJs or live performers, the museum is open for free and our Detour Guides (aka tour guides) show you around the exhibitions. Meet people, be inspired and join the discussion!
Become a Member
Become a Member of Het Nieuwe Instituut and get free access to exhibitions and members-only events. Find out new ways of looking at the world, make new connections and discover new perspectives on the intersections of design, architecture and digital culture.