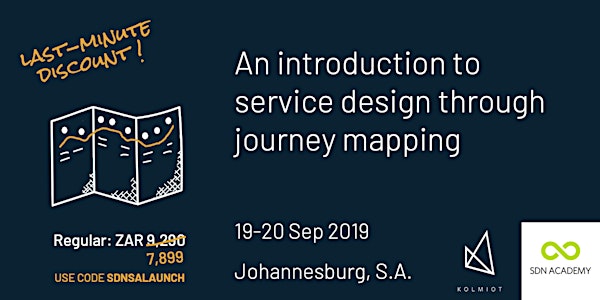 An Introduction to Service Design through Journey Mapping
A two-day course which gives participants an introduction to service design through the use of journey mapping as well as underlying theory.
When and where
Location
Accenture Interactive 74 Waterfall Drive Building 3 Midrand, 2090 South Africa
About this event
Looking for how to transition to service design? Or are you starting out in the field and in search of a boost for your skills? This two-day training will set you on the right course. Using journey mapping as versatile method that can form the basis for an entire service design trajectory, you'll get hands-on experience combined with a mix of theory.
** Until 13 Sep, a last-minute 15% discount is available. Please enter "SDNSALAUNCH" during checkout. Please note that the ticket price is based in Euro and may fluctuate with foreign exchange rates. **
An ideal introduction to service design
Journey maps and customer journeys are a cornerstone of service design. In an accessible and approachable manner, they are an ideal way of capturing and communicating customer experiences. They allow research findings and insights to be synthesized into a readable visualization, offer jumping-off points for ideation activities, build consensus and shared ownership of a vision for service experiences, and lay the groundwork for steps towards implementation.
By learning how to use journey maps as a basis for service design projects, you can also learn foundational knowledge of service design: The importance of research and a customer-centeredness, the value of multidisciplinary teams, how a holistic perspective allows service experiences to be strategically orchestrated. Furthermore, you'll touch on related, core service design activities, such as service ecosystem mapping and ideation techniques.
Why journey mapping?
Journey maps combine the most important aspects of service design thinking with one of the most recognized examples of service design doing. They offer a powerful yet accessible manner to apply service design, and can easily be created to capture both current service experiences (to generate new insights about current customers and users, as well as opportunities for innovation), and well as to visualize future, desired service experiences (for both incremental innovations to fundamental transformations or entirely new services).
Hands-on learning with a real world case
This c​ourse offers a tried-and-tested, engaging mix of both theory and hands-on "learning by doing". You'll work in teams on a real-world case, and have a chance to experience first-hand how to:
Plan and scope customer journey projects
Determine the necessary research to derive findings and insights
Create journey map visualizations
Apply ideation techniques to address identified opportunities and pain-points
Move from journey mapping towards implementation
You'll also learn a specific, multi-stage project approach that you can take back to your current work. It will allow you to put the power of journey mapping - as an element of service design - to work in your day-to-day job.
Topics covered
The value of customer journey thinking and its relation to service design
Scoping journey mapping projects
Research methods to inform journey maps
Service ecosystems
Creating 'as-is' and 'to-be' journey maps
Identifying opportunities and pain points
Using journey maps as a basis for ideation and brainstorming
Linking journey maps to service blueprints
Extending journey maps with alternative visualizations and adaptations
Who should attend
This course is ideal for those looking for an introduction to service design, within a two-day format. Whether you are looking to transition into service design as a career, are already working in the discipline, or want to learn how to apply key tenets of service design to your existing job, you'll leave this course with insights and methods you can apply right away.
Interaction and UX designers
Digital product designers
Product owners
Design researchers
Other design and design management roles
Project and product managers
Marketing roles
Customer service managers
Start-ups teams and entrepreneurs `
About the trainer
Jesse Grimes (kolmiot.com) has 12 years experience practicing service design and training others in its tools and techniques. He has worked in London, Düsseldorf and Sydney. He's now based in Amsterdam, and work for clients nationally and internationally.
Jesse is also Senior Vice President of the global Service Design Network, and Editor-in-Chief of its journal, Touchpoint. Additionally, he is co-founder and Head of Training for the SDN Academy, and accredited as a "Service Design Master Trainer".
Jesse regularly organizes and speaks at national and international events for the service design community, contributes to the development of the service design discipline through his writing and interviews. He runs a Meetup of 1,000 service designers across the Netherlands, and represented the entire discipline of service design at the 2017 World Design Summit and 2019 Design Declaration Summit, having established partnerships between the SDN and other international design organizations to elevate the role and recognition of design - and service design - world-wide.
Course prices
Earlybird (limited number of tickets available until 26 Aug): ZAR 8,350 (€491)
Regular: ZAR 9,290 (€545)
Please note that ticket prices are in Euros and the ZAR price is an indication only, and may fluctuate with foreign exchange rates.