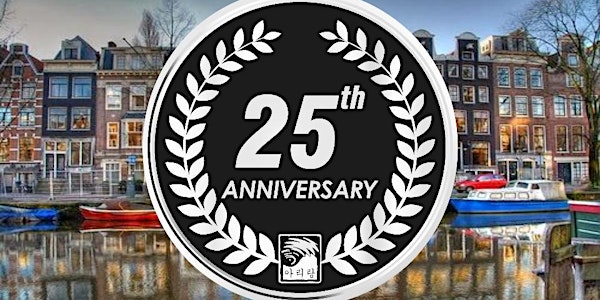 Arierang 25th Anniversary
When and where
Location
Woudschoten - Hotel & Conferentiecentrum Woudenbergseweg 54 3707 HX Zeist Netherlands
Description
We are very proud to announce that Arierang will celebrate its 25th anniversary this year! In 25 years, our association, like its members, has grown from rebellious teens to just as rebellious adults. What connects us are our mutual Korean roots, which often results in lifelong friendships.

We are looking forward to celebrating our 25th anniversary with YOU, our Arierang members, other Korean adoptees from all over the world and our contacts in the adoption field worldwide. For the past 25 years we have been an association that brings people together, increases knowledge, shares experiences and organizes adoption related and fun events while discovering our Korean roots. We are ready for the next 25 years!
FAQs
When & where is the event held?
23rd of September 2016 from 14:00 until the 25th of September 12:30
Hotel / Conference Center Woudschoten
Woudenbergseweg 54
3707 HX Zeist
The Netherlands
Telephone: 0031 343 492 492
How do I get the early bird discount?
The early bird discount is already included in the price if you book before the 15th of August 28 of August. After that date prices will go up by € 25,- per ticket. The early bird discount is not available for tickets for children.
Are there ID requirements or an age limit to enter the event?
Children are welcome and we do our best to cater some of the breakout sessions to them. Most of the programme however is geared towards adults. You pay for children between 3 and 16 years old. Younger children are free. Older children are adult price. Identification is needed to verify.
What is included/excluded in the ticket price?
We want you to feel like this really is a party so a lot of things are included.
Included is:
- during the entire event: coffee, tea, juice, fruit, cookies (from a special coffee corner)
- dinner and a few drinks on Friday
- lunch, dinner and a few drinks on Saturday
- most of the break out sessions on Saturday
Excluded is:
- your hotel room and anything you use from room service or the mini-bar (rooms are optional)
- extra food you buy at the food truck on Friday
- some excursions on Saturday (e.g. entrance fee/bike rental, if applicable)
- all activities after the closing ceremony on Sunday
- extra drinks you buy after you run out of tokens. You get 5 tokens for Friday night and 5 tokens for the party at Saturday. More tokens can be bought from the registration team.
- all things you buy at Woudschoten (or another place) that are not part of or included in the programme
Is my registration/ticket transferrable?
Yes, tickets are transferrable until September 1st. After that we cannot accept any changes. For each (name) change you'll be charged an administration fee of € 10-, which needs to be paid before September 15th. Your ticket is not valid if these fees have not been paid.
How to get to the event?
You can find information in Dutch available on the website of Woudschoten:
Route by car in Dutch: http://www.woudschoten.nl/contact-en-route/route
Public transportation in Dutch: http://www.woudschoten.nl/contact-en-route/openbaar-vervoer
International guests travelling from Schiphol Airport to Hotel Woudschoten need to go the nearest train station which is Driebergen-Zeist. From there you can take a bus to Woudschoten. There are two buses going and bus 81 is preferred!
Otherwise please use http://9292.nl or Google Maps to see the most convenient transportation options for your situation.

How can I book a room?
You can book a room directly through the website of Woudschoten http://www.woudschoten.nl/. When you book a room before 28 of August, you receive a 10% discount by entering a voucher code during booking. The voucher code can be requested by sending an email to events@arierang.nl
Where can I contact the organizer with any questions?
Please contact Arierang by email (events@arierang.nl) or leave a message on our Facebook page (https://www.facebook.com/arierang.nl/).
Can I get a refund?
We understand that sometimes things happen. A refund is possible until September 1st. We will deduct a € 35,- administration fee. After September 1st no refund is possible.