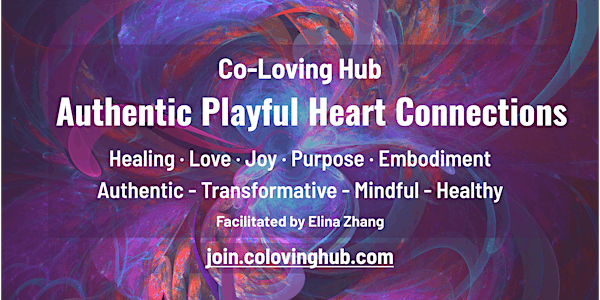 Authentic Playful Heart Connections
We gather in Amsterdam again to connect with authenticity, trust, playfulness & compassion. Let's share the love & joy that we are!
When and where
Location
Amsterdam java island 1019 PS Amsterdam Netherlands
About this event
In this time of rapid transformations, we need more than ever deep connections and support: to feel safe and love, to show our vulnerability and authenticity, to let go of stress, fear and limiting beliefs/patterns, to love all aspects of ourselves and others, to know that we are all going through this together. We surrender to what is and come home to our true nature which is love, joy, freedom and playfulness. We connect from our heart, from our being where everything flows. 😊✨
𝗪𝗵𝗮𝘁 𝘁𝗼 𝗲𝘅𝗽𝗲𝗰𝘁?
We invite you to feel safe and welcome, let go of judgements, projections and patterns, fully accept & love yourself with compassion, connect with others with presence, trust and playfulness and embrace whatever arises with openness. Say YES to life and discover unconditional happiness, peace, love and freedom right here in the present moment.🧡
𝗪𝗵𝗮𝘁 𝘄𝗶𝗹𝗹 𝘄𝗲 𝗱𝗼?
🔸Do some breathing and somatic movement exercises to get out of our mind and relax into our awareness
🔸Play an ice-breaking game, introduce ourselves, set intentions
🔸Create a safe container by consenting to workshop guidelines
🔸(Main part) Play some group and 1 on 1 connection games, Learn powerful tools from authentic relating, tantra, polyvagal, attachment theory, somatics, mindful compassion and wheel of consent to self-regulate and co-regulate, express our needs, desires, boundaries authentically, and connect with presence, trust, compassion and playfulness
🔸Share feedback and insights, feel the resonance and interconnectedness
🔸Closing, sharing gratitude, appreciation for each other and stay connected in our community afterwards
🔸(optional) feel free to stay a bit for cuddling and connecting 🧡
We also have an experienced space holder for emotional support.
𝗪𝗵𝗼 𝗮𝗿𝗲 𝘄𝗲?
Elina Zhang is the founder of Co-Loving Hub, Flowhack and Transform Awake who loves to bring people together to celebrate love & joy. She shares the wisdom & embodied practices of buddism, non-duality, tantra, transformation coaching, somatic healing, mindfulness and authentic healthy relating.
Co-Loving Hub is a community for conscious entrepreneurs, digital nomads, creators, freelancers and aspiring ones to connect, support each other through transformations, live fully in Love, Joy & freedom; step into Purpose and create Conscious Businesses to empower the collective. 😃
Connect with us at https://join.colovinghub.com/
𝗪𝗵𝗼 𝗶𝘀 𝗶𝘁 𝗳𝗼𝗿?
Anyone who loves authentic and playful connections in a safe space, whether you are single or have (a) partner(s)
𝗜𝗻𝗳𝗼:
The workshop will take place at a private venue near Amsterdam central station and you will receive the exact location and instructions after booking
Time: Aug.24th CEST 7:30PM
Duration: 2 hours
Cost: 15 euros or 13 euros if you bring a partner or friend. We appreciate your support so we can keep gathering, contact us at colovinghub@gmail.com if you have financial difficulty or want to pay on site
Look forward to connecting and playing with you! 🤗🧡