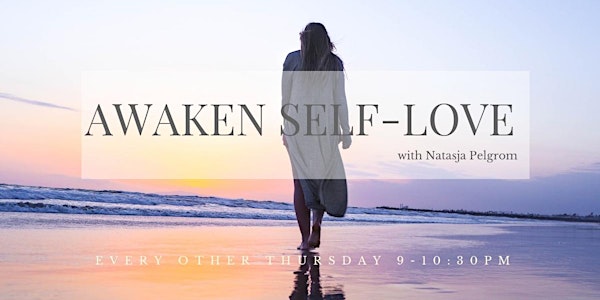 "Awaken Self-Love" Easy steps and practices for a more fulling life.
When and where
Location
De Bewustzijnschool 467 Keizersgracht 1017 DK Amsterdam Netherlands
Description
[ENGLISH] (Lees beneden voor Nederlands)
''Awaken Self-Love course isn't about becoming anything new. It's about remembering who you already are' – Natasja Pelgrom
Loving yourself takes time. You must start small and build a foundation that will last a lifetime. Ultimately, you will move deeper into your true self, better able to find your inner compass and move more freely in the direction that is abundant and satisfying for you. Even if you can only do a little, you will feel more love for the beautiful person you are right now.
My name is Natasja Pelgrom, and I am delighted to be your instructor for these bi-weekly teachings at the Bewustzijn School in Amsterdam, on the all-important topic of loving yourself.
This is a difficult topic and yet the repercussions of not loving yourself reverberate in so many ways.
~ How you love yourself affects how happy you allow yourself to be.
~ How you love yourself affects what opportunities you allow yourself to take on.
~ How you love yourself affects how others treat you.
~ How you love yourself affects how you allow others to treat you.
~ How you love yourself directly affects your work, your relationship with your family, your relationship with friends and your love life

A person who loves themselves fully is in direct control of their destiny. As we walk through this journey, we will explore so many facets of loving yourself. Each lesson we will dive into different topics, you are more than welcome to join one lesson or join them all!
- we will explore what it means to love yourself as well as the real life, real love impacts of loving and not loving yourself. As well, we will talk about why we struggle to love ourselves.
- we will talk about letting go of others. More specifically, we will explore how the judgments of others and our comparison of ourselves to others gets in the way of loving ourselves.
- we will go down the journey of understanding and identifying your needs; those non-negotiable physical, personality, and lifestyle traits that you must have in a partner and in a relationship in order for you to be happy. An important part of loving yourself is understanding and loving just what you need.
- we will explore the importance of teaching people how to treat you. A big part of loving yourself is accepting only that which you expect and deserve from a partner in a relationship.
- we will learn about your head and your heart and the importance of balancing them as an important step towards loving yourself. If you do not balance your head and your heart, you will make and lose connections just as fast as you find them. This does some real damage to your own self-confidence.
Before you join one or more of these lessons, I ask that you remember why you are signing up for this and what you want to get out of it. For me, teaching and coaching give me great joy because I love helping people, and I would not pick another profession in this beautiful world. Seeing a real shift in the head and the heart of you, a learner in this course, is why I signed up to be here.
Some practical points:
Experience meditation is not necessary

These lessons can be given in Dutch or English, depending on the group.

Bring a notebook/paper and pen
For questions feel free to connect with me here: hello@natasjapelgrom.com
Thank you and I wish you loving insights on your journey with us.
In-Love,
Natasja
[NEDERLANDS]
'Awaken Self-Love course isn't about becoming anything new. It's about remembering who you already are'
Van jezelf houden kost tijd. Je moet klein beginnen en een fundament bouwen dat een leven lang meegaat. Met deze opmaat gemaakte lessen kun je de eerste stap ervaren hoe je daadwerkelijk diepgang creëert met verbinding naar jezelf. Je zal beter in staat zijn om je innerlijke kompas te vinden en vrijer bewegen in de richting die overvloedig en bevredigend voor je is. Zelfs als je maar een beetje kunt doen, je meer liefde voelen voor de mooie persoon die je bent.
Mijn naam is Natasja Pelgrom en ik ben heel blij dat we samen deze Zelfliefde reis tegemoet gaan bij de Bewustzijn School in Amsterdam, over het allerbelangrijkste onderwerp van jezelf liefhebben.
Zelfliefde is groot onderwerp en de gevolgen van het niet liefhebben van jezelf kunnen op zoveel manieren in je leven effect hebben.
~ Hoe je van jezelf houdt, heeft invloed op hoe gelukkig je jezelf toestaat te zijn.
~ Hoe je van jezelf houdt, heeft invloed op de kansen die je jezelf toestaat.
~ Hoe je van jezelf houdt, heeft invloed op hoe anderen je behandelen.
~ Hoe je van jezelf houdt, heeft invloed op hoe je anderen toestaat je te behandelen.
~ Hoe je van jezelf houdt, heeft direct invloed op je werk, je relatie met je familie, je relatie met vrienden en je liefdesleven.
Een persoon die zichzelf volledig liefheeft, heeft directe controle over hun bestemming. Terwijl we deze reis doorlopen, zullen we zoveel mogelijk facetten van het liefhebben van jezelf verkennen. Gedurende de lessen zullen we verschillende thema's behandelen. Je bent meer dan welkom om deel te nemen aan één les of om ze allemaal bij te wonen!
- we onderzoeken wat het betekent om van jezelf te houden evenals van het leven, de liefdesimpact van liefhebben en niet van jezelf houden. Ook delen we over waarom we moeite hebben om van onszelf te houden.
- we delen over het loslaten van anderen. Meer specifiek onderzoeken we hoe de oordelen van anderen en onze vergelijking van onszelf met anderen onszelf in de weg staat.
- we maken de reis van begrip en je persoonlijke behoeften vaststellen; die niet-onderhandelbare fysieke, persoonlijkheids- en levensstijlkenmerken die je in een partner en in een relatie moet hebben om gelukkig te zijn. Een belangrijk onderdeel van jezelf houden is begrijpen en liefhebben precies wat je nodig hebt.
- we gaan onderzoeken hoe belangrijk het is mensen te leren hoe ze je moeten behandelen. Een groot deel van jezelf liefhebben is alleen datgene accepteren wat je verwacht en verdient van een partner in een relatie.
- we gaan leren over je hoofd en je hart en het belang van het balanceren ervan als een belangrijke stap om van jezelf te houden. Als je je hoofd en je hart niet in balans houdt, kan je net zo snel verbindingen maken en vervolgens weer verliezen. Dit is echt schadelijk voor je eigen zelfvertrouwen.
Voordat je deelneemt aan één of meer van deze lessen, vraag ik je te onthouden waarom je je hiervoor aanmeldt en wat je eruit wilt halen. Voor mij geeft lesgeven en coachen me veel vreugde omdat ik mensen graag ondersteun, en ik zou geen ander beroep kiezen in deze prachtige wereld. Het zien van een echte verschuiving in het hoofd en het hart van jou, is de reden waarom ik me heb aangemeld om hier te zijn.
Enkele praktische punten:
• Ervaring meditatie is niet nodig
• Deze lessen kunnen in het Nederlands of het Engels worden gegeven, afhankelijk van de groep.
• Breng een notitieblok/ papier en pen mee
Voor vragen kunt u hier contact met mij opnemen: hello@natasjapelgrom.com
Bedankt en ik wens je veel plezier en liefdes inzichten tijdens je reis met ons.
In-Liefde,
Natasja