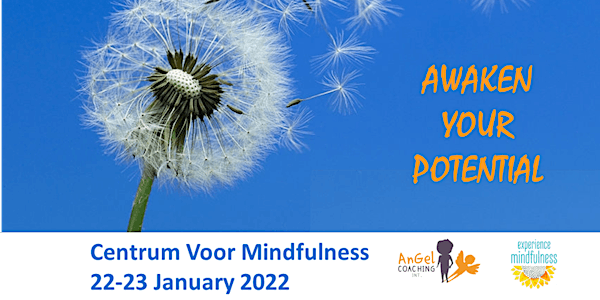 Awaken Your Potential
Do you want to awaken your potential and live a more fulfilling and purposeful life?
When and where
Location
Centrum voor Mindfulness. Training, opleiding, expertise 15 Raadhuisstraat 1016 DB Amsterdam Netherlands
Refund Policy
Contact the organizer to request a refund.
Eventbrite's fee is nonrefundable.
About this event
Through coaching and movement and a combination of mindfulness and self-compassion, become more aware and embrace who you are, clarify your life vision and take action towards it.
Join us for this 2-day unique experience to unleash your potential, spread your wings and move towards living your dreams.
We believe that through embracing fully body & mind we can thrive.
Anne from Angel Coaching Int. and Marjorie from Experience Mindfulness will be your guides during this 2-day unique experience.
Some of the things you'll learn in our time together:
- Gain more clarity on your life purpose and values
- Make a plan to align your actions with your vision
- Deepen self-awareness & presence through mindful practices
- Shift your mindset to invite greater well-being and happiness into your life
- Become conscious of your limiting beliefs and begin to move beyond them
- Embrace yourself as you are through powerful self-compassion practices
- Build resilience and learn to work with challenging situations
- Develop higher body awareness and embodied presence through movement (pilates, dance, etc.)
About us:
Anne is a Certified Life and Professional Coach with a strong business background mostly spent in multinationals across Europe. She helps people to better understand their values, unravel their limiting beliefs and grow their inner strengths to help them find their own balance, uncover the impact they want to have and achieve their goals. Anne is also a Pilates teacher. She believes that the body holds many answers to the questions that we ask ourselves.
www.angelcoachinginternational.com
Marjorie is a mindfulness and self-compassion coach and has been facilitating group trainings & workshops for the last 5 years in both private & professional settings. Before that, she worked 15+ years in multinational environments as a communication consultant and understands the needs and challenges of corporate environments. Marjorie is dedicated to supporting people to move from struggling to thriving, from overwhelm & stress to joy so that they can walk through life empowered, present and full of unfolding potential.
Schedule (please note this event is across 2 days)
Saturday 22nd January: Start - 9.30am - Finish - 6.30pm
Sunday 23rd January: Start - 10am - Finish - 5pm
Conditions of Participation
You can register by paying the amount in full. If you have any difficulties paying the full amount upfront, there is an option to pay in installments. Please contact us to inquire about this.
Note: If you are insured for mindfulness courses, it is possible to get the retreat costs partially or fully covered (in average 250 euros).
You will only be eligible to attend once the full payment towards the retreat has been received.
After you register, you will receive a registration form by e-mail asking you further information as well as personal details for further context which will be kept confidential.
Cancellation Policy
All cancellations must be made by e-mail explaining the reason of the cancellation.
If the retreat needs to be cancelled because of an emergency / "force majeure" (i.e. COVID-19) participants will have the option to receive a refund for the full amount OR attend the same retreat at a later time
If participant cancels because of personal reasons, we will provide a full refund if this is for medical or other type of emergency.
In other cases, for any cancellation made less than 8 weeks before the start date a deposit of 125 euros will be due. For cancellations prior to 8 weeks before the retreat start, 50 euros deposit will be due.
COVID policy
We will respect the measures advised by the Dutch government in relation to COVID.
Extra information
Group Size during the city retreat: maximum of 14 guests
Experience in mindfulness beneficial but all levels are welcome.
Lunch for Day 1&2 is included in the price. On Day 1 we plan do do some drinks / light dinner (depending on COVID measures), everyone will pay for their own consumption. We will send you a form upon registration to ask about any dietary requirements.