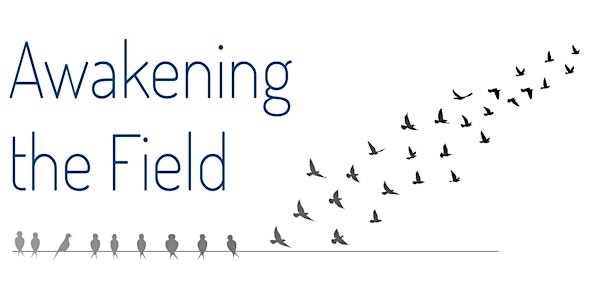 Awakening the Field - 2 day Global Online Congress - March 27 & 28
International Online Congress on Organizational constellations and Societal issues - RECONNECTING & INSPIRING!
About this event
AWAKENING THE FIELD
𝘼𝙬𝙖𝙠𝙚𝙣𝙞𝙣𝙜 𝙩𝙝𝙚 𝙁𝙞𝙚𝙡𝙙, a festival of systemic work, begins soon: Saturday 27th and Sunday 28th of March.
15 years of organizational constellations, 10 years of constellations on societal issues, where are we heading now?
It is a unique opportunity to reconnect, share, participate and contribute. We have two days of workshops lead by systemic practitioners from around the world where we explore a wealth of topics: societal, organizational and team topics. Even personal topics will be explored.
And: we have a great Awakening Connection Platform: here you can meet everyone who is attending, chat with (new) friends ánd schedule an appointment with someone and have a private conversation in a private virtual room. You get your personal login.
We really look forward to meeting you there!
When?
Saturday March 27 and Sunday March 28, 2021
Saturday March 27: Opening by Jan Jacob 6.30AM (CET). Workshops from 7.00AM (CET) until 22.30 (PM, CET)
Sunday March 28 workshops from 7.00AM (CEST Summer time) until 22.30 (PM, CEST). Closure from 22.45 - 23.00 (PM, CEST)
Organizer:
Jan Jacob Stam and team, in cooperation with 49 presenters who will deliver a workshop.
Cost of participation:
Only €60 (!) for the whole congress of 2 days, including all workshops and recordings during two weeks, until April 11.
No worries if you can't join: workshops will be recorded and are available for participants for two weeks after the congress, until April 11. This enables you to take the benefits of all workshops presented. Yes, you can have it all......
Workshops and inclusive participation
All workshops last 90 minutes and are spread widely throughout the weekend, to enable participation for people from many different time zones.
Meeting each other
Our intention is to reproduce the social benefits of a physical congress. For example by using Breakout rooms during the workshops, encouraging after workshop conversations and providing easy access possibilities to meet up spontaneously with other participants in our Awakening Connection Platform . This way we can really meet again across the globe, across cultures, across whatever boundaries there might have been.
Language
The language will be English. There might be some workshops presented in an other language like Spanish, Russian or Chinese, and these workshops will be translated into English during the workshop.
For whom?
For everybody who is interested in organizational and societal issues. In fact, for everyone. Although we have a systemic point of view, you can also attend without too much knowledge of systemic work. Just explore and experience!
Schedule?
Yes, there will be a schedule. Energy needs structure.
There will be workshops starting from 7:00AM (CET) until 21.00 (PM, CET and CEST) on both days. This way we hope many time zones can be present.
The opening on the first day will be at 6AM (CET). Every 2 hours a next round is starting of three parallel workshops. You will receive a schedule of the workshops prior to the congress, and all information cab be found on www.awakeningthefield.global
It's not necessary to register in advance for the workshops you want to attend. Let yourself be drawn by your inspiration in the moment to sense which workshop is attracting you. Your presence in any workshop is a contribution to this field. Workshop presenters are prepared to expect the unexpected.
Topics
There is space for 42 workshops. What are the topics? Best practices in systemic work and constellations. Think of new insights, new approaches, new forms of constellations, ways of working with teams, with societal issues etcetera. In short: all new ways that you gathered or came to you in the last year and the hibernation of the Covid era.
Let's see if we can generate a wave at the start of a new Spring! (at least this on the Northern hemisphere Spring starts)
Warm regards
Jan Jacob Stam & team
More information & contact
Website: www.awakeningthefield.global
Email: info@awakeningthefield.global
Instagram: @awakeningthefield