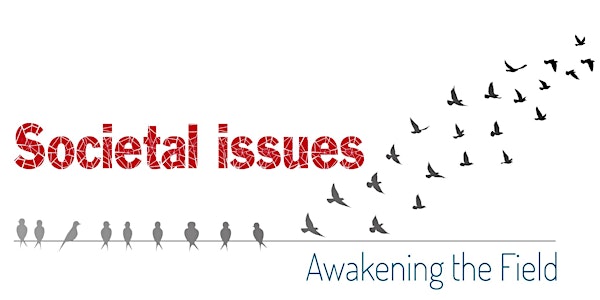 Awakening the Field, Societal Issues - Cuestiones Sociales
Awakening the Field Societal Issues - Cuestiones Sociales Online Systemic Congress
Refund Policy
Contact the organiser to request a refund.
Eventbrite's fee is nonrefundable.
About this event
Awakening the Field
Societal Issues / Cuestiones Sociales (Para el español, desplácese hacia abajo)
15 societal issues
15 constellations on these issues
Awakening ánd shifting the field……
One day on Societal Issues
Sat Feb 19, 2022 from 06.45am (CET) until 9.30pm (CET).
More then ever the field around us is shaped by societal issues. There are many societal issues in our context in the moment, coming very close to our daily life. Issues that unite us, issues that separate us. Issues that somehow impact us.
We can try to close our eyes for them, avoid them or face them.
What can the systemic perspective and systemic constellations contribute to the bigger and smaller, the more global and more local societal issues?
Many congresses on these themes are about talking, discussing, debating and sharing knowledge and information.
This congress is about doing. Doing and exploring. Taking care to be part. Experiencing and co-creating insights. It's not about miracles nor solutions. It's about exploring and maybe shifting perspectives. It's about our ancestors and history, about nowness and about the generations and future to come. It's about becoming aware of patterns and releasing life energy to flow in inspiration and maybe action.
For whom?
For everybody who is interested in exploring societal issues, for whatever reason. It's not necessary to be familiar with systemic work or constellations.
In every workshop, on all topics, at least one constellation will be done, followed by reflection and harvesting insights in smaller groups or plenaries. Constellations are a live image of a social system. Suddenly the dynamics and patterns come to light. Constellations enable us and all participants to get an additional or even different perspective on the social topic at hand. And it's for each of us to wonder what we will do with these gained perspectives.
When?
Saturday February 19, 2022, from 06.45am (CET) until 10.30pm (CET)
Costs of participation:
€90 for the whole congress including all workshops
Organizer:
Jan Jacob Stam and team, in cooperation with the presenters who will deliver a workshop on a societal issue
Workshops and inclusive participation:
All workshops last 2 hours with an integration time of one hour in between.We start at 6.45am (CET) with the opening. First workshops start at 7am (CET) and last until 10p, (CET), closure is from 10-10.30pm (CET).
This way we aim to enable people from many time zones to join.
Workshops will be recorded, edited and available for participants for three weeks until March 12, 2022. This way you can immerse yourself in all topics presented and worked on. Even if you are not able to participate, you can have it all via the recordings.
We, the organizing team, will find ways to hold space for the topics, workshops, workshopleaders, field and participants during the day. This might result in a slight adaptation of the schedule, making space for opening, plenaries, art and closure along the day.
Language:
Most workshops will be in English and simultaneously translated into Spanish. There might be some workshops presented in an other language. These workshops will be translated into English and Spanish.
Meeting each other
Just like in congresses where we meet in person, we want to enable meeting old friends or new strangers, having chats or withdraw in a corner with someone you want to know better.
Therefore we will work with breakout rooms during the workshops. And if you wish you can enter some minutes early and exchange already a bit with others. After a workshop closed you also can stay a little longer.
And there will be a great social network platform available where all participants can meet. We believe that in the light of societal issues, it might be helpful to meet across the globe, across cultures and whatever boundaries there might be between us. All info about the platform and how to connect will be sent seperately to all participants a few weeks before the congress starts.
After three days working in China it dawned to me: 'The only option we have as human beings is the will and willingness to understand other people. Even if this is hardly possible'. That was one of the seeds for this congress.
Jan Jacob Stam
Awakening the Field
Cuestiones Sociales
15 cuestiones sociales
15 constelaciones sobre esas cuestiones
Despertando y moviendo el campo…
Una jornada sobre cuestiones sociales
Sábado 19 de febrero de 2022, 06.45AM (CET) a 10.30PM (CET).
Ahora más que nunca, el campo que nos rodea está marcado por cuestiones sociales. Son muchas las cuestiones sociales presentes en nuestros contextos actuales, cuestiones muy cercanas en nuestra vida cotidiana. Cuestiones que nos unen, cuestiones que nos separan. Cuestiones que nos impactan de una forma u otra.
Ante ellas, podemos intentar cerrar los ojos, evitarlas, o podemos afrontarlas.
Qué pueden aportar la perspectiva sistémica y las constelaciones sistémicas a las más grandes cuestiones sociales y a las más pequeñas, a las más globales y a las más locales?
Muchos congresos tratan estas cuestiones hablando, discutiendo, debatiendo y compartiendo conocimiento e información.
En este congreso las trataremos haciendo. Haciendo y explorando. Cuidando el formar parte de ellas. Viviendo la experiencia y co-creando nuevas comprensiones e insights. No va de milagros ni de soluciones. Va de explorar y, tal vez, cambiar perspectivas. Va de nuestros ancestros y de la historia, del ahora y del futuro, y de las futuras generaciones. Va de tomar conciencia de los patrones y de liberar energía de vida para que fluya en forma de inspiración y, tal vez, de acción.
¿Para quién?
Para cualquier persona que, por cualquier motivo, esté interesada en explorar cuestiones sociales. No es necesario estar familiarizado con el trabajo sistémico o de constelaciones.
En cada taller, para cada cuestión, se realizará al menos una constelación, seguida de un tiempo para reflexionar y para recoger las nuevas comprensiones e insights, ya sea en pequeños grupos o de forma plenaria. Las constelaciones son una imagen viva de un sistema social. De repente las dinámicas y los patrones salen a la luz. Las constelaciones nos permiten obtener, a todos los que participan, una perspectiva adicional, e incluso diferente, sobre la cuestión social que se esté tratando. Y a cada uno y a cada una de nosotras nos corresponde preguntarnos qué vamos a hacer con esas nuevas perspectivas adquiridas.
¿Cuándo?
Sábado 19 de febrero de 2022, de 06.45AM (CET) a 10.30PM (CET)*
* Horarios zona CET
Coste de participación:
El coste del congreso es de 90 €, incluyendo todos los talleres.
Los participantes recibirán, una vez editados, el link a todos los talleres, que estarán disponibles durante tres semanas, hasta el 12 de marzo de 2022.
Organizador
Jan Jacob Stam y su equipo, en cooperación con los facilitadores y facilitadoras que ofrecerán un taller sobre una cuestión social.
Talleres y participación inclusiva:
Los talleres durarán 2 horas, con una 1 hora entre cada taller para su integración.
Empezaremos a las 06:45 AM* con la apertura del congreso. A las 07:00 AM* empezarán los primeros talleres, y los últimos finalizarán a las 10:00 PM*. La clausura, que contará con una actuación, se hará de 10:00 a 10:30 PM*.
De esta forma pretendemos posibilitar la participación de personas desde diversas zonas horarias.
* Horarios zona CET
Los talleres serán grabados, editados y estarán disponibles para los participantes durante las tres semanas siguientes al congreso, hasta el 12 de marzo de 2022. De esta forma podrás sumergirte en todas las cuestiones presentadas y trabajadas.
Nosotros, como equipo organizador, encontraremos la manera de dar espacio y cabida a los temas, a los talleres, a los facilitadores, al campo y a los participantes a lo largo de toda la jornada. Esto podría suponer alguna ligera adaptación en los horarios, modificando el espacio para la apertura, las sesiones plenarias, la actuación y la clausura.
Idioma
Inglés y español.
La mayoría de los talleres serán en inglés, traducidos simultáneamente al español. Podrá haber algunos talleres facilitados en otros idiomas. En este caso, estos talleres serán traducidos al inglés y al español.
Encontrarnos y conocernos
Al igual que en los congresos presenciales, queremos posibilitar los encuentros con viejos amigos o con nuevos desconocidos, para poder charlar o para poder retirarnos a un rincón con alguien a quien queramos conocer mejor.
Por tanto, durante los talleres trabajaremos en pequeñas salas de reuniones (breakout rooms). Si lo deseáis, podréis acceder a los talleres unos minutos antes para empezar a contactar con el resto de participantes. También, una vez finalizado el taller, habrá tiempo para poder quedarse un poco más.
Y también habrá una plataforma de networking en la que poder encontrarse con el resto de participantes. Esta plataforma se abrirá un par de semanas antes de que empiece el congreso. Pensamos que, a la luz de las cuestiones sociales, puede ser útil reunirse a lo largo y ancho del planeta, a través de las culturas y a través de cualquier frontera que pueda haber entre nosotros.
Jan Jacob Stam