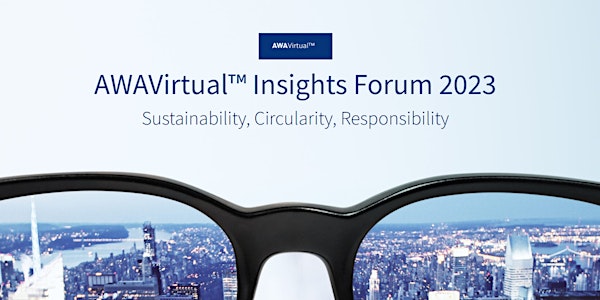 AWAVirtual Insights Forum 2023: Sustainability, Circularity, Responsibility
The AWAVirtual™ Insights Forum 2023 will take place on January 27th, 2023
By AWA Alexander Watson Associates
Date and time
Starts on Friday, January 27 · 6am PST
About this event
AWAVirtual™ Insights Forum 2023
Sustainability, Circularity, Responsibility
The AWAVirtual™ Insights Forum 2023 - Sustainability, Circularity, Responsibility, will take place on January 27th. Register now to attend for free!
This third edition will address the critical issues leaders and decision-makers are facing today regardless of the company or part of the value chain represented.
The AWAVirtual™ Insight Forum will provide insights and thought leadership from today's industry captains and change agents, bringing together CEOs, Executives, and Experts to address key issues, challenges, and opportunities for facing the industry, across the value chain and across the globe.
The AWAVirtual™ Insights Forum will feature Key Note presentations and panel discussions, designed to provide the deepest of insights and a glimpse into the future of the industry.
The AWAVirtual™ Insights Forum, which welcomed over thousand attendees worldwide in since inaguration in 2021, and will be available for free through the well-established AWAVirtual™ Platform.
Friday, January 27th 2023
3:00 p.m. CET (Central European Time)
8:00 a.m. CST (Central Standard Time)
We look forward to seeing you online at the AWAVirtual™ Insights Forum 2023.
Best regards,
The AWA Conference Team