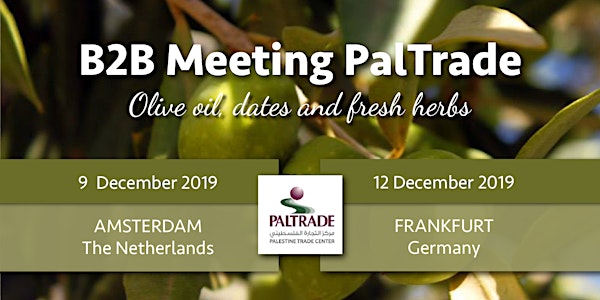 B2B meeting PalTrade, olive oil, dates and herbs, Frankfurt
B2B meeting in Frankfurt where producers of olive oil, dates and herbs from Palestine present themselves
When and where
Location
Hotel NH Frankfurt Airport West Kelsterbacher Straße 19-21 65479 Raunheim Germany
About this event
Are you interested in sourcing very good quality products from Palestine? Please feel invited to join the B2B meeting in Frankfurt on December 12th where suppliers present their products to you.
PalTrade has received a grant from the EU to implement a project titled "Creating a Business Enabling Environment for a Green Economy in Palestine" as part of European Union (EU), represented by the European Commission (EC), Support to Civil Society Organizations in Palestine – Economic Development and Local Authorities, the aim of project is creating enabling environment for Green Economy in Palestine , with specific focus on export of Green Products, through project implementation process three markets have been identified as the highest producers and consumers for green products , which are Netherlands , France and Germany , PalTrade conduct three market research in these countries and develop an export guide for each country to assist the Palestinian traders to promote their green products in the targeted markets.
The B2B will focus on agricultural products (olive oil, dates, and herbs). The destination for this B2B is the Netherlands, as it is the main hub for trade in fresh vegetables in Europe and has high market attractiveness index for the products selected, and Germany as the European country which is the largest consumer of organic products. Participants in the B2B are those companies that have already produced Green products (organic / fair trade).
Please contact us, when interested and we can send you the catalog with the info on the suppliers. There is a budget for those that have to travel a longer distance.
The program starts at 9.00 and ends after lunch at 14.30. More details will be send to you on demand.
Hope you can join this meeting!

List of the participating companies from Palestine:
Qitaf Dates www.qitafco.com
Nakheel Palestine Dates www.nakheelpal.com
Palestine dates Dates www.palestinedates.com
Pal Gardens Dates www.palgardens.ps
Alard Olive oil www.alard.ps
Arrabeh Oils Olive oil
New Farm Olive oil www.facebook.com/NewFarm2000
Pure Palestine Olive oil
Daraghmeh for fresh herbs Fresh Herbs www.facebook.com/DaraghmehCoForAgriAndHerbs/