Decentralized, autonomous and constantly evolving - that's how we describe ourselves. Join us and DISCOVER THE MOST AWESOME WORKPLACE!
About this event
Workplaces are changing. Staying relevant is the name of the game, and leaders across industries have made this their priority. The question is — How do we keep evolving to keep up with the times?
As blockchain technology increased trust, security, transparency, and traceability of data, it taught many how a strong focus on transparency and decentralized ways of working can deliver cost savings with new levels of efficiency.
So, if you can successfully run a global financial platform in this decentralized way, why not an organization? The Semco Style philosophy has its origins back in the 80s and was already considered to be the future of work back then. Ever since, we have been living, implementing, and improving this radically different way of working to shape the future of work. We have taken our philosophy across the globe, helping leaders break out of archaic models of working, and helping them move towards a system that does not rely on command and control hierarchies.
This event will help you learn more about our journey and how we stay relevant. Through this event, we will take you back to the future of work. We will show you how decentralized, autonomous structures, and putting people first, can and will help your organization become resilient, transparent, and as efficient as possible.
Together, we will rethink and re-imagine how you can organize your company to better enable impactful results.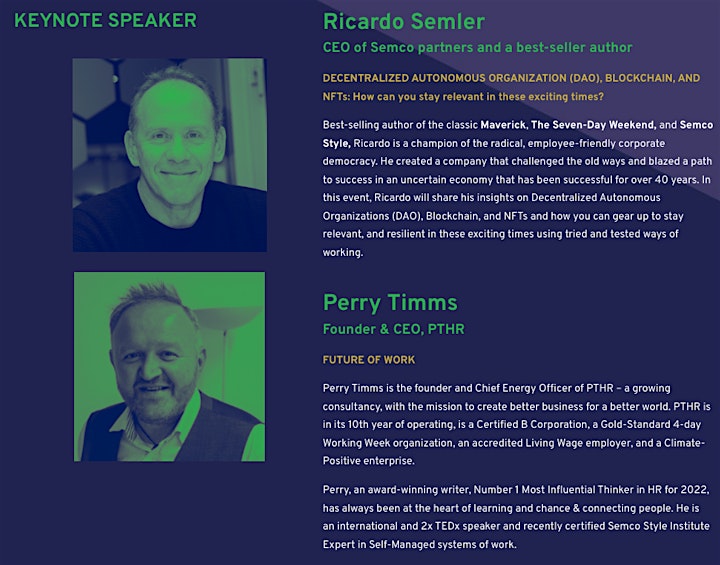 BACK TO THE FUTURE INSIDER
What else to expect at the Back to the Future event? We have a few more in store for you! Listen to our pool of experts and speakers at our workshops that will help you stay relevant in shaping the future of work. Avail of our Masterclasses for an in-depth learning experience to rethink and re-imagine how you can organize your company to better enable impactful results.
WORKSHOPS
Transforming towards a Decentralized Autonomous Organizations (DAO) with Semco Style form an Agile or Lean baseline
Digital Safari in the workplace of the future
Curiosity and Courage: New Skills for a New Day
Creating a culture of connection in a DAO
Wellbeing and personality in the New Now
Organization Design in a DAO
How developments impact Workplace 4.0
MASTERCLASSES
How do Agile, Lean, and Semco Style support a transformation to DAO
Maturing teams to be prepared for the New Now
Lego & serious gaming as drivers for innovation