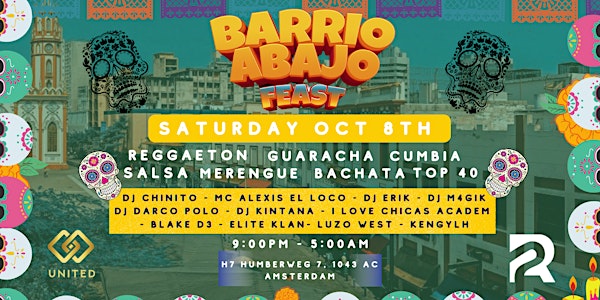 Barrio Abajo Feast
Barrio Abajo Feast Día de los Muertos edition
When and where
Location
H7 Warehouse 7 Humberweg 1043 AC Amsterdam Netherlands
Refund Policy
Contact the organizer to request a refund.
Eventbrite's fee is nonrefundable.
About this event
Welcome to the first edition of the Day of the Dead in Barrio Abajo.
Barrio Abajo will give you an experience of connecting with the culture and the way of celebrating in a typical neighborhood of the Colombian Caribbean.
You cannot miss this celabration and the joy! You will be taken on a trip without taking a flight, feeling the desire to relive this experience in our future editions.
It is time to get your tickets now.
LINE UP
Dj chinito - Mc Alexis el loco - Dj erik - Dj M4gik
Dj Darco Polo - Dj kintana - i love chicas academ -
Blake D3 - Elite klan- Luzo west - kengylh
Many people will wonder what is Barrio Bajo- the Neighborhood Below. What we know from the name it is a neighborhood that was founded in the lowest part of a city, separating it from other parts, the middle and the high. Whether due to the complicated geography where the city was founded or due to a social construction, the origin of the neighborhood will always be the foundation of the entire society.
From here an idiosyncrasy is born, joy is born, cultural shock of the immigrants who arrive, of the migrants who stay. An amalgamation of cultural, gastronomic, customs is formed, folklore is born, elite athletes, carnival is born. Mixing with the daily life, the sorrows, the gossip, the desire to improve and be able to have a bigger house or a latest model car or even leave the neighborhood, to a middle or high area, but even if you leave the neighborhood, you will know that the neighborhood will never leave you. That desire to dream of living, which has permeated each of its inhabitants, spreads throughout the city like a birthmark, where joy and uncomplicatedness are the factors that make its people unique.
In short, Barrio Bajo is not a party or a business model, it is the experience that we want to offer the public, who arrives, who wants to stay, that it returns, connects with reality, with the flavor, with the identity of people and that it is known that even if we do not have money and economic facilities, no one can steal our joy, smile, the desire to enjoy, dance, laugh, live life.
Barrio Bajo is the connection, the communication of its people, the ones who arrive and the ones that want to stay because they are welcome.
When they ask me if Barrio Bajo is just a neighborhood, just a party.. ? I tell them that it is an experience you have to come and live only then will you know that you are at home.
You feel the warmth of people, you know that your neighbors are aware of you, even if it's a gossip, you feel at peace, you feel connected to the earth and you roots.
Words cannot define what it feels like to be from the Barrio Bajo.