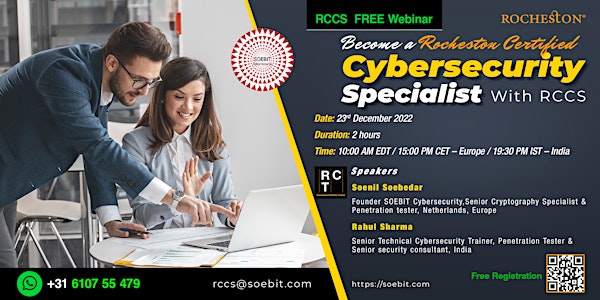 Become a Certified Cybersecurity Specialist with RCCS
Become a Certified Cybersecurity Specialist with RCCS
About this event
RCCS will primarily provide you with a working knowledge of all the fundamental threats to cybersecurity in our everyday life, and how to deal with them.
Every end user, that is almost every single one of us in today's world, who has a minimum digital footprint, is in need of being educated in the ways to secure their devices and systems. Within the next few years, the Cybersecurity Specialist will become one of the most coveted positions in every organization, small or big, in every corner of the world. This course is designed to meet the needs of this highly sought after job position, and to give individuals lacking technical expertise a solid foundation on cybersecurity.
RCCS® is for everybody!
What are the Roles/Responsibilities of a Rocheston Certified Cybersecurity Specialist (RCCS)?
A few years from now, the Cybersecurity Specialist will have one of the most vital roles to perform within an organization, or even to secure an individual user's system.
Some of his responsibilities include the following:
Assess security strategies for your networks
Put up defensive systems against unauthorized access
Configure security tools such as firewalls, anti-virus software etc
Define access privileges, vulnerabilities
Identify loopholes and enforce risk management
Conduct audits and routine security checks
Develop incidence response solutions in the event of a breach
Educate colleagues in security protocols and procedures
Recommend security updates and create sustained platforms for cybersecurity
Registration is required on : https://forms.gle/dYdMq9a3CydQ4T6K8 or here.
Contact : +31 6107 55 479 (whatsapp) - rccs@soebit.com – https://soebit.com
The RCCS Training will be a 21 hour Online Trainer batch on 14, 21 & 28 Jan 2023, to get more info and prices, fill the registration form : https://forms.gle/SmTMgsZqPFV6Eh3w5