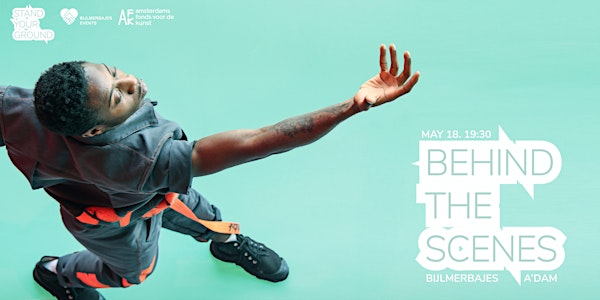 Behind the Scenes of Stand Your Ground
When and where
Location
Bijlmerbajes 48 H.J.E. Wenckebachweg 1096 AN Amsterdam Netherlands
Description
Always wondered what happens behind the scenes of a fashion show?
In our shows we intertwine fashion, dance, music and art into an interdisciplinary experience. We open up the boundaries between the backstage areas and the show to expose the fashion- and art-world. We'll guide you through our forbidden territory, staged at the formal prison of Amsterdam, the Bijlmerbajes.
Stand Your Ground leads you through the different stages of preparing for a performance. Peek into the Dressingroom, catch a glimpse in the House of Rehearsals and reflect on your own fashion awareness in the Studio. Become part of an innovative fashion and dance show, wherein all these backstage elements will be fused.
Stand Your Ground for an inclusive fashion and art industry.
Walk on forbidden territory.
Peek Behind the Scenes.
--------------------------------------------------------------------
Be there: May 18 - walk in at 19.00 - show starts 19.30 - show until 21.30 - stay for afterdrinks - Bijlmerbajes - Amsterdam
Artists: Fashion/creative directing: Nine Parre, Artistic direction: Raya van der Kroon, Soundscape: Cedric Wiegel, Dance choreography: Jinko Adams, Dance: Comfort Kondehson, Dylan Kuyper, Luc de Raad, Fiona Dekkers, Genaro Blanck, Joley Groeizaam