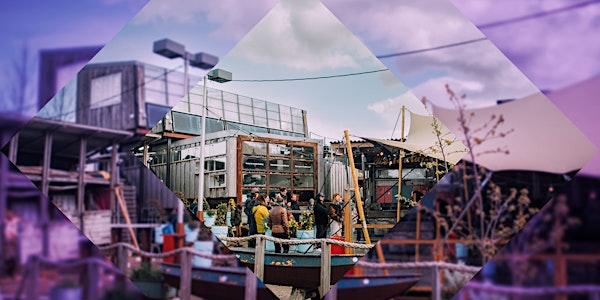 Better Future Now: de wandeltour
Het kan ook anders. Dat zie je tijdens de Better Future Now-tour, een wandeling langs inspirerende initiatieven in Amsterdam-Zuidoost.
When and where
Location
Groene Hub 44 Holendrechtplein 1106 LP Amsterdam Netherlands
About this event
Het kan ook anders. Dat zie je tijdens de Better Future Now-tour: een wandeling door Amsterdam-Zuidoost, waarin je langs inspirerende initiatieven loopt - elk met hun eigen kleine programma. In de luwte van de samenleving wordt al veel geëxperimenteerd met de regels van het spel, en het breken daarvan. Wat dat kan opleveren voor een meer eerlijke, open en inclusieve toekomst ontdek je tijdens deze tour. Onderweg hoor- en zie je de inspirerende verhalen van bewoners, ondernemers, jongeren en kunstenaars, die allemaal minstens één ding gemeen hebben: ze zijn veranderaars.
Trek goede stappers aan want de wandeling duurt ongeveer drie uur en voert ons langs de initiatieven Groene Hub, Community Land Trust (H-buurt), Heesterveld Creative Community en de artistieke interventie van Tessa Steenkamp over de energietransitie. De deelnemende locaties gooien hun deuren open en gunnen ons een kijkje in hun spreekwoordelijke keuken. Het zijn stuk voor stuk plekken waar op een andere manier met waarde wordt omgegaan: waar creativiteit en cultureel ondernemerschap centraal staat, of waar sociale en duurzame initiatieven uit de buurt ruim baan krijgen.
Wat als we niet langer de groei van de economie als einddoel nemen, maar solidariteit? Wat als we de verzekering dat we in 2090 nog zuurstof kunnen happen als uitgangspunt namen? Wat als we op een heel andere manier naar waarde kijken? Wat als we ons economisch systeem helemaal opnieuw zouden inrichten, met de gemeenschap en de natuur als middelpunt? Deze tour gidst je naar de 'nieuwe wereld' en laat zien hoe planet B eruit zou kunnen zien.
Start: 13:30 uur
Eind: 17:30 uur
Startlocatie: De Groene Hub, Holendrechtplein 44, 1106 LP Amsterdam (achter de pizzeria Amore Mio)
De wandeling maakt onderdeel uit van het Waagproject Atelier en is gemaakt in samenwerking met And The People.