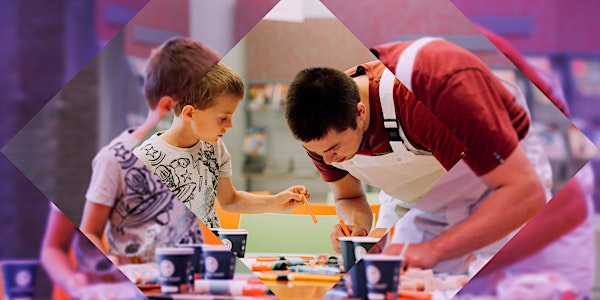 Better Future Now: Maak je eigen spel!
Waag daagt alle kinderen uit om hun eigen spel te ontwerpen. Jij bepaalt niet alleen het verhaal, maar ook de regels! (8-12 jaar)
When and where
Location
OBA Bijlmerplein 393 Bijlmerplein 1102 DK Amsterdam Netherlands
About this event
Tijdens deze workshop op zaterdag 24 september gaan we samen met jou de toekomst verkennen. Terwijl we nieuwe werelden in elkaar knutselen, denken we na over de (spel)regels in onze samenleving. Wie heeft die eigenlijk bedacht? Wie zijn de winnaars? En wat gebeurt er met de verliezers?
Van welke planeet droom jij, stel dat je helemaal opnieuw zou kunnen beginnen?
Programma
1. Dans de stoelendans!
Tijdens deze dans is er geen tekort aan stoelen. Toch buitelt iedereen over elkaar heen om een stoel te pakken te krijgen. Werkt het zo ook in onze economie? Er is genoeg voor iedereen, maar sommigen hebben heel veel en anderen niets. Dat moet toch anders kunnen? Met de stoelendans verkennen we hoe we omgaan met geld, waarde, schaarste en overvloed. Hij werd bedacht door kunstenaar Arne Hendriks en Waag.
2. Doe-het-zelf spel
In deze workshop maak je zelf een bordspel. Jij bepaalt de regels en het verhaal. Draait jouw spel om concurrentie of gaat het om samenwerking? Krijgt iedereen gelijke kansen? En zo ja, hoe ziet dat eruit? Moet je zoveel mogelijk geld en goederen verzamelen of geef je al je bezit weg? En wanneer heb je eigenlijk gewonnen? De regels bepaal je deze keer zelf!
Na het programma presenteren de kids hun werk en volgt een fotomomentje (je foto wordt niet gemaakt of gedeeld zonder jouw uitdrukkelijke toestemming). De workshop is het meest geschikt voor kinderen van 8 tot 12 jaar oud.
Locatie: OBA Bijlmerplein
Tijd: 11:00-13:00 uur
Gratis
De workshop maakt deel uit van het Better Future Now Festival van Waag.