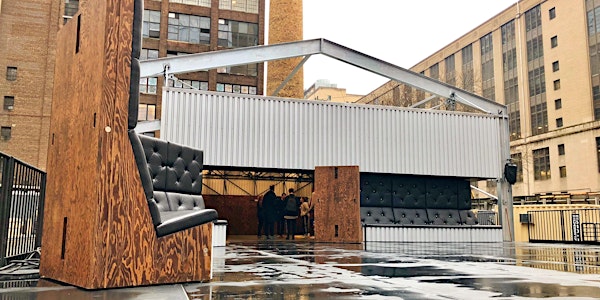 Book Launch: Museums for the Future, Futures for Museums
What will the art museum look and feel like in five, ten, fifty years?
Date and time
Sat, 11 Feb 2023 19:30 - 21:00 CET
Location
Het Nieuwe Instituut 25 Museumpark 3015 CB Rotterdam Netherlands
About this event
To mark the publication of his latest interview collection, Imagining the Future Museum: 21 Dialogues with Architects, cultural strategist András Szántó will lead a panel discussion featuring the architects Kunlé Adeyemi (NLÉ), Ma Yansong (MAD Architects) and Winy Maas (MVRDV). Together with Anne Kremers (director of the FENIX Museum of Migration), they will envisage the architecture of future museums.
After talking to museum directors about how museum 'software' changes with social and technological developments in his widely read book, The Future of the Museum: 28 Dialogues, Szántó now explores the 'hardware' of the museum with architects. In his latest publication, he talks to both established names behind world-famous museum buildings and the up-and-coming talents who will help to shape the museum of the future. If these designers get their way, how will museums look in 10, 20 or 50 years' time? How will they function, and how will they make their visitors feel?
Guest speakers at the book launch at Het Nieuwe Instituut include three designers interviewed by Szántó for the book who have a direct relationship with the city of Rotterdam: Kunlé Adeyemi (NLÉ), Ma Yansong (MAD Architects) and Winy Maas (MVRDV). Museums for the Future, Futures for Museums will consider MVRDV's design for the Depot Boijmans Van Beuningen, which opened in 2021, Adeyemi's plans for the floating pavilions set to appear in Het Nieuwe Instituut's ponds in summer 2023, and Ma's spectacular panorama deck atop the historic Katendrecht warehouse where the Droom en Daad initiative FENIX Museum of Migration will open its doors in 2024. FENIX director Anne Kremers completes the panel. András Szántó will talk to the panellists about creating these current museum designs in the Netherlands and about imagining future museums worldwide.
Speakers
Anne Kremers, Kunlé Adeyemi, Winy Maas and Ma Yansong. This evening will be moderated by András Szántó.
Programme
19:00: Doors open
19:30: Begin programme
21:00: End programme, followed by drinks in Het Nieuwe Café
Museum for the Future, Future for Museums is a collaboration between Het Nieuwe Instituut, NAi Booksellers and Stichting Droom en Daad.

Book Launch
This evening is part of the Book Launch series, begun at the beginning of 2023, in which Het Nieuwe Instituut and NAi Booksellers invite authors and editors to showcase their latest titles in a festive yet in-depth manner.
About the organiser
Nieuwe Instituut is het nationale museum voor architectuur, design en digitale cultuur. Nieuwe Instituut houdt zich bezig met de grote ontwikkelingen in de maatschappij, zoals de krapte op de woningmarkt, de energietransitie, de opkomst van kunstmatige intelligentie, mobiliteit of het gebruik van de publieke ruimte. Ontwerpers, waaronder architecten en digitale makers, kunnen aan die ontwikkelingen een belangrijke bijdrage leveren. Nieuwe Instituut toont het werk van ontwerpers, brengt mensen met elkaar in contact, verzamelt, ontwikkelt en deelt kennis.