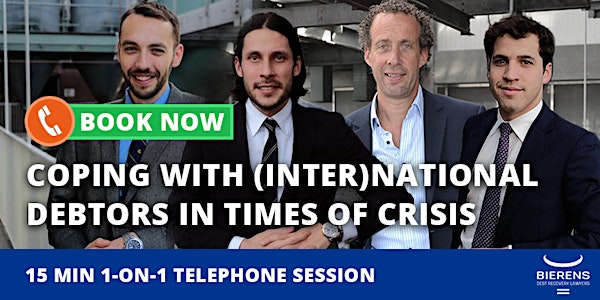 Book Now - ✆ 15 min - Coping with (Inter)national Debtors during Crisis
Book Now - ✆ 15 min - Coping with (inter)national debtors in times of crisis.
About this event
The impact of the coronavirus on our lives can no longer be ignored. Rigorous measures are being taken around the world with a potentially major impact - not just on our personal lives.
We, the specialists of Bierens Debt Recovery Lawyers, expect that these measures will also have an impact on your company or business operations. This is why we gladly put our help at your disposal without any obligation.
Do you need a brainstorm partner who can support you in debtor management in times of crisis?
Do you want to prevent or remedy problems with suppliers or customers as a result of the corona crisis?
Bierens Debt Recovery Lawyers supports you free of charge and with free advice that will strengthen your position. Read on.
The most reliable partner - Even in times of crisis
Due to continuing uncertainty and a declining economy, we are already seeing an increase in the number of cancellations, dissolutions and cancellations of contracts. You, as an entrepreneur, will undoubtedly encounter this as well.
As a reliable partner of business SMEs and large companies in the Netherlands, we specialise in providing support in the field of global accounts receivable management and debt collection. With our help you will be better prepared for the impact of the coronavirus on your business and operations.
How can our experts support you?
During a personal one-on-one telephone conversation, we will discuss your business situation and offer you tailored advice, which will help you to be better prepared for the upcoming crisis. Discuss your problem with us so that we can help you further.
Do you want quick help and advice?
Can you use the free and no-obligation support of our experts? Then book your personal, one-on-one session by phone today so that we can serve you quickly.
Choose the date on which you want to be phoned and in which time slot. We will contact you for your 15 minute session in your chosen time slot.
Please note that the number of sessions per hour is limited.
We'll talk to you soon.