Second Edition: The Impact of the Highly Improbable
About this event
In this event, you'll learn
How dogmas keep us from learning
Why you hold on stronger to your false beliefs when presented with countering evidence
What our brain structure does that makes us determine the wrong causes for events
How we fail to distinguish between scalable and non-scalable information
What you can do to find out what you don't know
Why you should be wary every time someone says "because"
About the Author
Nassim Nicholas Taleb has devoted his life to problems of uncertainty, probability, and knowledge. He spent nearly two decades as a businessman and quantitative trader before becoming a full-time philosophical essayist and academic researcher in 2006. Although he spends most of his time in the intense seclusion of his study, or as a flâneur meditating in cafés, he is currently Distinguished Professor of Risk Engineering at New York University's Polytechnic Institute. His main subject matter is "decision making under opacity"—that is, a map and a protocol on how we should live in a world we don't understand.
Overview
Nassim Taleb looks at the impact and human psychology of extreme events. Broadly, it shows that humans tend to create environments where extreme events are more likely and then underestimate their probability. This results in everything from World Wars to major market meltdowns.
It is impossible to avoid black swans, but it is possible to become robust to negative swans and get exposure to positive ones.
he Black Swan is about understanding unpredictable extreme events like the 9/11 attacks, rise of the internet, and stock market crashes. Nassim Taleb says we are unprepared for the next big event like this because we rely too much on incomplete theories, limited models and flimsy historical narratives.
ideas in this book
"Black Swans" are events thought to lie outside the realm of possibility, and yet happen anyway.
Black Swan events can have earth-shattering consequences for those who are blind to them.
We are very easily fooled by even the most basic of logical fallacies.
The way that our brains categorize information makes accurate predictions extremely difficult.
We don't easily distinguish between scalable and non-scalable information.
We are far too confident in what we believe we know.
Taking an inventory of what you don't know will help you to assess risks better.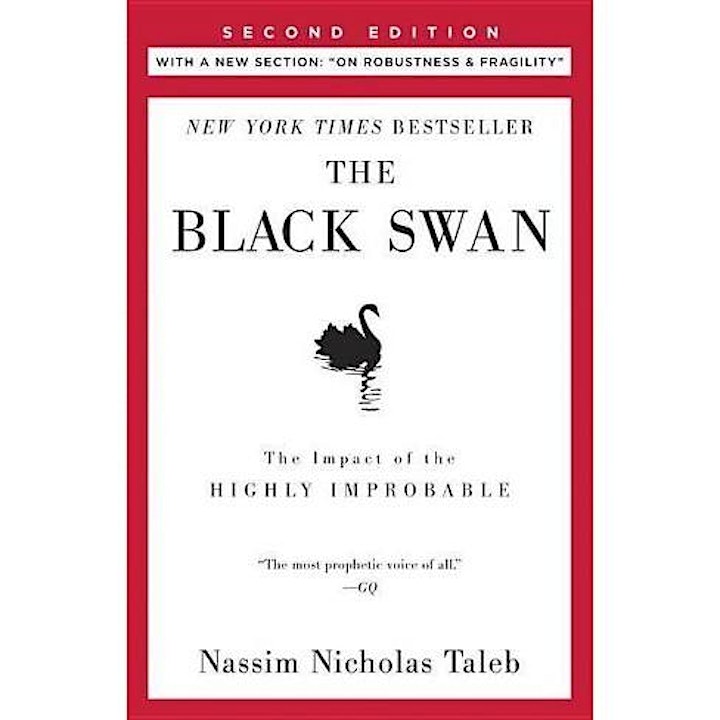 Organiser of Book Review & Discussion : The Black Swan