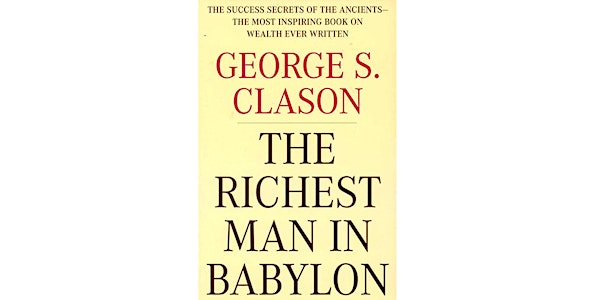 Book Review & Discussion : The Richest Man in Babylon
Now Revised and Updated for the 21st Century
About this event
In this event, you'll learn
To bring your dreams and desires to fulfillment, you must be successful with money.
The laws of money are like the laws of gravity: assured and unchanging.
Money is plentiful for those who understand the simple laws of making money.
Babylon was the wealthiest city in the world at the time of its height because its people appreciated the value of money.
You must constantly have an income that keeps your purse full.
"It costs nothing to ask wise advice from a good friend."
About the Author
George Samuel Clason was born in Louisiana, Missouri, on November 7th, 1874. He attended the University of Nebraska and served in the United States Army during the Spanish-American War. A successful businessman, he founded the Clason Map Company of Denver, Colorado and published the first road atlas of the United States and Canada. In 1926, he issued the first of a famous series of pamphlets on thrift and financial success, using parables set in ancient Babylon to make each of his points. These were distributed in large quantities by banks and insurance companies and became familiar to millions, the most famous being "The Richest Man in Babylon," the parable from which the present volume takes its title. These "Babylonian parables" have become a modern inspirational classic.
Overview
The Richest Man in Babylon by George S Clason, discusses the secrets of wealth used by the ancient civilisations of the world. The book deals with different areas of finances including how to plan financially for your life, how to deal with your personal wealth and finally how this impacts your life.
Chapter 1 – The Man Who Desired Gold
This chapter tells the story of Kobbi and Bansir. Bansir is complaining that he works so hard yet never has any riches to show for it. They talk about how much gold they had earned over the years, yet they had nothing left to show after all their years of labour as they had spent the gold to live. Kobbi and Bansir discuss how they had both hoped that they may one day become rich, but it never happened to them. They decide to approach one of their childhood friends, Arkad, who was known as 'The Richest Man in Babylon.'
Chapter 2 – The Richest Man In Babylon
In this chapter, Kobbi and Bansir meet up with Arkad. Arkad tells Kobbi and Bansir that the reason they have failed to accumulate wealth may be because they have failed to observe the laws that govern wealth. Arkad found his road to wealth when he decided that a 10th of all he earned was his to keep. It's not about how much you earn, it's about how much you keep. Always pay yourself first. Every money you earn is a slave to work for you. No matter how much or how little you earn always pay yourself first.
3 Laws of handling wealth from Algamish the original richest man In Babylon
1) Live on less than you earn
2) Seek advice from those that are competent through their experiences to give it
3) Learn how to make money work for you