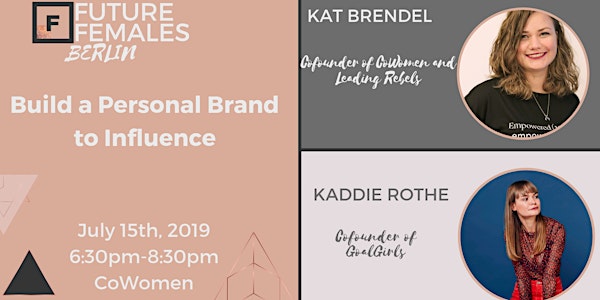 Build a Personal Brand to Influence l Future Females l Berlin
When and where
Location
CoWomen Am Krögel 2 10179 Berlin Germany
Description
In a world that is becoming increasingly digitalised, an on-point personal brand is an absolute must. It can be the difference between success and failure. But it's so easy to slip from effective personal brand to oversharing your personal life.

How do we find that balance?

This month we will be exploring how to build your authentic personal brand in line with your business to give you the best possible success.

Join us on Thursday July 11th as we hear and learn from our expert speakers, in the amazing CoWomen work space.

Our first speaker is Kaddie Rothe, co-founder of goalgirls / Co-Creagency by goalgirls. Based in Berlin, goalgirls have recently opened their first 'co-creagency' - a symbiosis of coworking and creative agency. Its holacratic structure empowers the female creative force to disrupt the archaic structures of the industry. Before she founded goalgirls, Kaddie lived in London and had 13,5 lives like Captain Bluebear. Moving from conservative advertising to Soho House events management makes her career path unpredictable. (And turns her into an expert in everything and nothing in particular.) We are stoked to learn all her tips!

Our second speaker is the co-founder of our stunning venue (CoWomen) - Kat Brendel! Growing up surrounded by kickass women around the world – from South America and the US to Europe – Kat saw the incredible value women bring to any table. With a background in journalism and marketing, today Kat is a storyteller passionate about amplifying women's voices. She co-founded CoWomen, the community club & coworking space for women, hosts the Leading Rebels podcast where she interviews inspiring women and shares actionable advice, and helps people and organizations find, own, and share their story as a marketing & content consultant.
____________________________________________________

What is Future Females?

Future Females is a global community of female entrepreneurs, intrapreneurs and aspiring entrepreneurs who are taking their career into their lives, learning the hard skills to grow in business and the soft skills to drive it. Our mission is to accelerate the success of aspiring and existing female entrepreneurs – to provide an environment where females can connect, and access the key resources (mentorship, funding, education) needed to succeed!

We are pro women, not anti-men. Men are always welcome! This is an inclusive event.

Join the movement: www.futurefemales.co