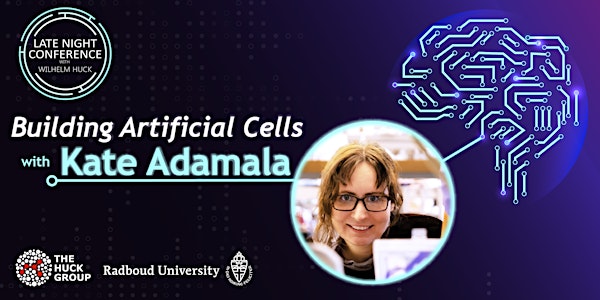 Building Artificial Cells with Kate Adamala|Late Night ConferenceWithWH2X05
Location
Theaterzaal C | Radboud Universiteit
141 Heyendaalseweg
6525 AJ Nijmegen
Netherlands
Get your free ticket now for LIVE event at Theatrezaal C, Elinor Ostromgebouw in Radboud University*!
About this event
This fifth episode of season 2 of the Late Night Conference with Wilhelm Huck will be streamed live on our YouTube channel Late Night Conference with WH (don't forget to subscribe!) from Theatrezaal C, where we are excited to have you in our audience!! Please pay attention - no ticket is needed if you only want to watch the stream on YouTube!
With us will be Kate Adamala, Professor of Genetics at University of Minnesota, who will be guiding us through her fantastic research on Building Artificial Cells!
Kate Adamala wants to make life from scratch! As Professor at University of Minnesota working on the origins of life and building a synthetic cell, Kate's work touches on astrobiology, synthetic cell engineering, and biocomputing. Kate and her team create tiny bioreactors. These have applications in synthetic biology, drug development and biosensing. Join us at Theatrezaal C while we interview Kate on the big screen & get your questions ready for the live Q&A!
In attending the LIVE event in Theatrezaal C, every attendee agrees to be filmed and/or photographed during the event. This audiovisual material can later be published by the organiser in media promoting the Late Night Conference.
*Corona rules permitting