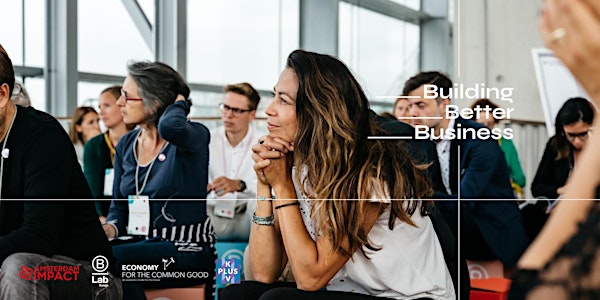 Building Better Business Event 2022
Accelerating impact-minded business in the greater Amsterdam region
When and where
Date and time
Tue, 22 Mar 2022 01:30 - 03:30 PDT
About this event
Click here to join the Zoom meeting.
Does your business want to find the right balance between purpose and profit? Are you looking for a framework to improve and measure your company's impact on people and the planet?
Join the Building Better Business (BBB) programme to explore how you can be part of a more sustainable and inclusive economy, and pursue a B Corp or Economy for the Common Good certification! And sign up for this event to hear from new economy leaders, connect with other impact-minded companies, and learn the ins and outs of the BBB tracks.
What is BBB?
Amsterdam wants to play a key role in the transition to a new economy and become the number one city for companies that create both financial and social value. To achieve this goal, the City of Amsterdam has co-created the Building Better Business (BBB) programme to help profitable companies accelerate their social and environmental impact, and get certified for their performance.
The programme has two different tracks participants can choose from: B Corp and ECG. Both tracks will help your business become a change agent and will provide the foundation for certification if you decide to take that step.
BBB event speakers
🎤 Keynote by Michael Weatherhead - New Opportunities and Finance Lead for the Wellbeing Economy Alliance
🎤 Christian Felber - Founder of the Economy for the Common Good
🎤 Katie Hill - Executive Director of B Lab Europe
🎤 Robin Foolen - Impact Manager of SECRID (B Corp)
🎤 Joost Broeders - Technical Director of Baril Coatings (ECG company)
Who is the BBB event for?
The BBB programme and its inspiration event are geared towards Amsterdam Metropolitan Area-based companies that want to formalise their social impact ambitions and make the transition to a sustainable business model.
BBB programme partners

Amsterdam Impact is an initiative and four-year programme by the City of Amsterdam to support and strengthen the ecosystem for all impact enterprises – from social enterprises to socially responsible businesses – that create both financial and social value. The programme also pays special attention to enterprises that improve the quality of life in Amsterdam's neighbourhoods.
B Lab is the nonprofit network transforming the global economy to benefit all people, communities, and the planet. B Lab, a global organisation with European headquarters in Amsterdam, creates standards, policies, tools, and programs for companies to drive their social and environmental agenda, and create positive social impact.
Economy for the Common Good is an economic model and global movement, which makes the Common Good – a good life for everyone on a healthy planet – its primary goal and purpose.
KplusV is a consultancy firm that strives towards a more sustainable and inclusive future by empowering innovators and building strong ecosystems for change together with SMEs, corporates and governmental organisations.
About the organiser
Amsterdam Impact, an initiative by the City of Amsterdam, is here to strengthen the ecosystem for all companies that tackle societal challenges through entrepreneurship. We will guide you through the ecosystem, support you, and offer you the tools you need to make a bigger impact.