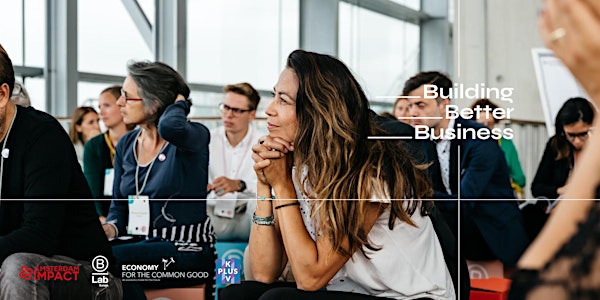 Building Better Business | Introduction event
Join the Building Better Business introduction event and find out how to get certified as a B Corp or Economy for the Common Good company!
When and where
Date and time
Wed, 12 May 2021 00:30 - 03:00 PDT
About this event
Does your business want to find the right balance between purpose and profit, and contribute to a more inclusive and sustainable economy? Are you looking for a framework to improve and measure your impact on people and the planet?
Building Better Business (BBB), a collaboration of Amsterdam Impact, B Lab Benelux, and Economy for the Common Good (ECG), is a unique opportunity to find inspiration, guidance, and support to transition from a mainly profit-based company to a pioneer of creating change through business.
Event schedule
09:30 - 09:35 | Welcome: Creating a value-based economy | Ellen Oetelmans (Amsterdam Impact)
09:35 - 09:50 | Keynote by Alice Steenland, Chief Sustainability Officer of Dassault Systèmes
09:50 - 10:20 | Breakout rooms: Meet impact-minded organisations
10:20 - 11:00 | Introductions to the B Corp and ECG programme tracks | Christian Felber (ECG) and Maria Correa (B Lab Europe)
11:10 - 11:50 | Best practices with Dr Antje von Dewitz (CEO, Vaude) and Morten Lund Petersen (Director Innovation and Sustainabiliy, Auping)
11:50 - 12:00 | Next steps: Join the Building Better Business programme
Who is this for?
The BBB programme and its introduction event are geared towards companies based in the Amsterdam Metropolitan Area that want to make the transition to a sustainable and inclusive business model.
BBB programme partners
Amsterdam Impact is an initiative and four-year programme by the City of Amsterdam to support and strengthen the ecosystem for all impact enterprises – from social enterprises to socially responsible businesses – that create both financial and social value.
B Lab Benelux is part of the European B Corp movement. Today, 130+ Benelux B Corps represent a community of leaders, driving a global movement of people using business as a force for good.
Economy for the Common Good is an economic model and global movement, which makes the Common Good – a good life for everyone on a healthy planet – its primary goal and purpose.
KplusV is a consultancy firm that strives towards a more sustainable and inclusive future by empowering innovators and building strong ecosystems for change together with SMEs, corporates and governmental organisations.

About the organiser
Amsterdam Impact, an initiative by the City of Amsterdam, is here to strengthen the ecosystem for all companies that tackle societal challenges through entrepreneurship. We will guide you through the ecosystem, support you, and offer you the tools you need to make a bigger impact.