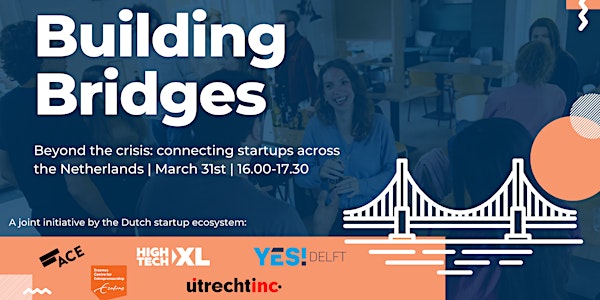 Building Bridges
Building Bridges Beyond the crisis: connecting startups across the Netherlands
About this event
Dutch incubators and startup ecosystems ACE, ECE, HighTech XL, UtrechtInc and YES!Delft have joined forces. We are introducing the first edition of Building Bridges.
Together we want to build bridges and connect startup communities.
On Wednesday, March 31: 4 - 5.30 PM, we host Building Bridges: connecting startups across the Netherlands in which we will talk about entrepreneurship during a crisis.
Is a crisis like the one we are currently in the worst nightmare of an entrepreneur or an opportunity? How do you stay agile in times like this and how to team build while working from home. These are topics we will challenge you to think and talk about.
Learn from the inspirational and relevant startups who will share their story and connect with other startups in the breakout sessions following each presentation. Get inspired, build your own bridges and expand your network!
After three talks + breakout sessions you will get the chance to share your contact information to nourish your new connections later.
This event will be held ONLINE in ENGLISH and is free for everyone to join. The zoom link will be shared via email.
SPEAKER ANNOUNCEMENTS!
Our first speaker is Leonard Moonen of Praxa Sense. Praxa Sense are developing a heart rhythm disorder measuring device which has now been developed into a monitoring device for COVID-19 patients in their home situation.
Besides Leonard, Joost van de Griendt (co-founder Dynaxion) will join us as our second speaker of Building Bridges: Connecting startups across the Netherlands. Joost will be talking about how to keep the team together, inspired and motivated in an almost 100% virtual world. This is specifically challenging for a growing startup with complex technical challenges.
Keep an eye on our socials to see who our last speaker is!
https://us02web.zoom.us/j/86791607047?pwd=bDNaaVpDZ2dDdVkrNmt1WHBQb09EUT09#success
... Be there and build your next bridges!