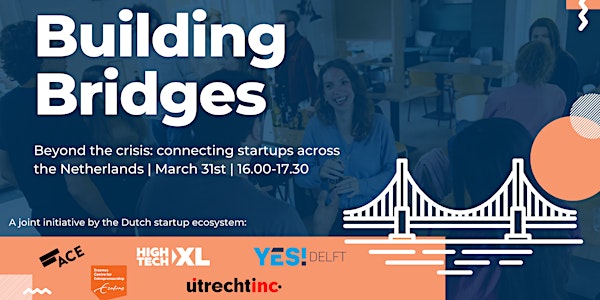 Building Bridges
Building Bridges Beyond the crisis: connecting startups across the Netherlands
By 10+ Dutch startup incubators & startup ecosystems
Date and time
Starts on Wednesday, March 31, 2021 · 7am PDT
About this event
Dutch incubators and startup ecosystems ACE, ECE, HighTech XL, UtrechtInc and YES!Delft have joined forces. We are introducing the first edition of Building Bridges.
Together we want to build bridges and connect startup communities.
On Wednesday, March 31: 4 - 5.30 PM, we host Building Bridges: connecting startups across the Netherlands in which we will talk about entrepreneurship during a crisis.
Is a crisis like the one we are currently in the worst nightmare of an entrepreneur or an opportunity? How do you stay agile in times like this and how to team build while working from home. These are topics we will challenge you to think and talk about.
Learn from the inspirational and relevant startups who will share their story and connect with other startups in the breakout sessions following each presentation. Get inspired, build your own bridges and expand your network!
After three talks + breakout sessions you will get the chance to share your contact information to nourish your new connections later.
This event will be held ONLINE in ENGLISH and is free for everyone to join. The zoom link will be shared via email.
SPEAKER ANNOUNCEMENTS!
Our first speaker is Leonard Moonen of Praxa Sense. Praxa Sense are developing a heart rhythm disorder measuring device which has now been developed into a monitoring device for COVID-19 patients in their home situation.
Besides Leonard, Joost van de Griendt (co-founder Dynaxion) will join us as our second speaker of Building Bridges: Connecting startups across the Netherlands. Joost will be talking about how to keep the team together, inspired and motivated in an almost 100% virtual world. This is specifically challenging for a growing startup with complex technical challenges.
Keep an eye on our socials to see who our last speaker is!
https://us02web.zoom.us/j/86791607047?pwd=bDNaaVpDZ2dDdVkrNmt1WHBQb09EUT09#success
... Be there and build your next bridges!
About the organizer
This joint inititiative consists of several startup incubators and ecosystems. If you want to get in touch with us, please find us through our websites
Amsterdam Center for Entrepreneurship (ACE)- The university incubator of UvA, VU, HvA and AUMC
Braventure - Braventure helps startups from Noord-Brabant with capital, knowledge, experience and facilities.
Brightlands - The open innovative community in Limburg of 29.000 innovative entrepreneurs, scientists and students
Erasmus Centre for Entrepreneurship - Supporting entrepreneurs from all walks of life, based in Rotterdam
Founded in Friesland - Guiding talent, startups and scaleups through the Frysian ecosystem
Founded in Groningen - Promoting, supporting and connecting entrepreneurs and initiatives from Groningen
Global School for Entrepreneurship - Start your own business while getting your bachelor degree
HighTechXL - The deep-tech venture builder of Eindhoven region
Ik Ben Drents Ondernemer - Adding value to the maintenance and growth of the employment opportunities in Drenthe region
Novel T - Helping innovative companies shape the future in the region of Enschede
StartLife - The Wageningen-based agrifoodtech accelerator.
The Hague Tech - The Hague Tech is a hub with a diverse and forward-thinking Community and a platform for innovation
UtrechtInc - Startup support for scientist and entrepreneurs in Utrecht
Techleap.nl - A non-profit publicly funded organisation helping to build a thriving startup ecosystem in the Netherlands
YES!Delft - helps entrepreneurs to build and growleading technology companies