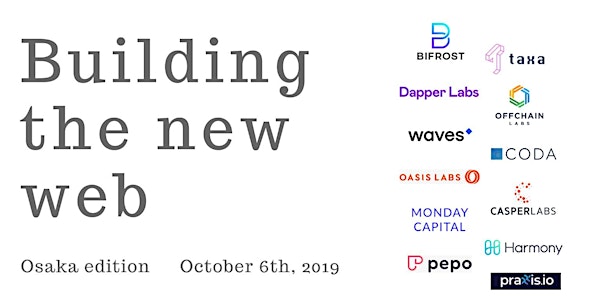 Building The New Web - Osaka: with Elixxir, Dapper Labs, Taxa Network, Coda...
Location
Fabbit (Osaka Honmachi)
1-4-1 nishihonmachi Nishi-ku
4F Orix honmachi building
Osaka, Osaka 550-0005
Japan
Description
Proudly co-sponsored by Fortmatic (https://fortmatic.com) and Monday Capital (https://www.monday.capital)
Building the new web. Osaka edition.
A technical exploration of a decentralised world.
Previous editions included showcases from projects like Mainframe, NuCypher, Solana, The Graph, Chromia, Quarkchain, Tomochain, Dfinity, Elrond Network, iExec, Hedera Hashgraph, Dusk Network, AVA Labs, Matic Network, Infura, Algorand, Beam, ThunderCore, Qtum, Loopring & more.
Program:
1200 - 1300 Walk in & socializing for main event
1300 - 1330 Showcase #1: Nikhil Sharma, Software Engineer at Oasis Labs on 'Using Confidential Smart Contracts to build DApps with built-in privacy. Nikhil will outline some of the current problems that exist around data privacy technology today and explain how confidential smart contracts -- and other secure computing techniques -- can be used to solve these issues and ensure your next app keeps data confidential. In addition to sharing use case examples, Nikhil will also give a live demo of how to use smart contracts in your next DApp' (https://www.oasislabs.com)
1330 - 1400 Showcase #2: Dohyun Pak, CEO - Co-founder on ''BIFROST provides flexibility for DApps'' (https://thebifrost.io/)
1400 - 1430 Showcase #3: Mrinal Manohar, CEO of CasperLabs (https://casperlabs.io/)
1430 - 1500 BREAK & FOOD/DRINKS
1500 - 1530 Showcase #4: Ed Felten, Co-Founder and Chief Scientist at Offchain Labs on "State channels are fundamentally limited by their inefficient handling of unavailable or malicious participants; Arbitrum solves these issues enabling much more powerful offchain contracts. (https://offchainlabs.com)
1530 - 1600 Showcase #5: Inal Kardanov, Waves Developer Advocate on ''Waves' approach for building Web3: creating innovative tools, managing scalability and interoperability & providing space for experiments'' (https://wavesplatform.com)
1600 - 1630 Showcase #6: Evan Shapiro, CEO and co-founder, O(1) Labs, the team building Coda Protocol on 'Building Coda Protocol: The First Succinct Blockchain' (https://codaprotocol.com)
1630 - 1700 Showcase #7: John Whitton, Harmony Ecosystem Architect on "Harmony's approach to transcending the blockchain trilemma" (https://harmony.one)
1700 - 1730 SOCIALIZING & FOOD/DRINKS
1730 - 1800 Evening showcase #1: TF Guo, co-founder of Taxa Network on 'Taxa Network: Build Web 3 Applications in a Layered Blockchain Architecture' (https://taxa.network)
1800 - 1830 Evening showcase #2: Jason Goldberg & Benjamin Bollen, Co-Founders Pepo by Ost on 'Designing Ethereum User Experiences for Humans - and the web3 stack to enable it - a live mainnet example' (https://pepo.com & https://ost.com)
1830 - 1900 Evening showcase #3: Dieter Shirley, CTO of Dapper Labs, the creator of CryptoKitties, Cheeze Wizards, on 'Flow - Sharding from a Dapp Developer's Perspective' (https://www.dapperlabs.com)
1900 - 1930 Evening showcase #4: David Chaum, CEO Praxxis/Elixxir on 'Quantum Resistance, MetaData & Data Privacy (https://elixxir.io)
1930 - 2000 Mingling and drinks
Event outline:
The web as we know it has proven to be reminiscent of Pandora's Box. An unprecedented experiment of human faith with outcomes we had yet to discover. The discussions on privacy, security, trust, personal data and governance are becoming fiercer by the day. The loudest critics believe the foundations of the internet were flawed to begin with.
But things are changing.
Cryptographers, protocol designers and distributed systems engineers have been doing R&D for decades on how computer science could liberate our world, the web and financial systems. With the inception of Bitcoin and Ethereum a larger part of the world is witnessing the first steps into a decentralised world.
What are the next steps? Which teams are working on the cutting edge of blockchain and distributed ledger technology and are solving unprecedented challenges in the field of cryptography, consensus mechanisms, protocol design, scalability, security and on-chain governance?
During this event we will witness technical showcases from CTO's or technical leads from several different projects. After each showcase there is room for a Q&A. There will be enough time for socializing and one on ones with the projects. And yes, there is plenty of food available.
------------------------------------------------------------------------------------------------------
The technical threshold to enjoy this event will be high. We encourage IT & blockchain developers, distributed systems engineers, cryptographers, security experts, protocol designers, peer to peer developers and tech savvy enthusiasts to join this event.
Until October 6th in Osaka, Japan
The Innovation Department
For an impression of the atmosphere and lineup of previous 'Building the new web' events:
https://twitter.com/faridrached/status/1061937644341551104?s=21
Proudly co-sponsored by Fortmatic (https://fortmatic.com) and Monday Capital (https://www.monday.capital)
Fortmatic: Build web3 dApps without extensions or downloads.
Monday Capital: The fund that builds web3.