Event Information
Refund Policy
Refunds up to 30 days before event
Kickstart your platform success. Deep dive into platform business model innovation and adapt your business model within 3 training sessions.
About this Event
Platform Shift
We have all heard of companies such as Alibaba, Apple or LinkedIn, so what do they have in common? Well, they all embraced the platform shift.
Throughout history, the biggest companies used pipeline business models. Firms build products or craft services, push them out & sell them to customers. Value is produced upstream and consumed downstream, creating a linear flow of value, much like water flowing through a pipe.
The problem is, when you have a long, convoluted chain involving lots of parties, everyone wants a piece of the cake. Producer-customer relationships barely have any chance to exist. Every relationship is transaction-focused: up and down the chain's length and breadth…
So why push when you can create pull? The Platform Shift is a business model strategy that aims to connect people who need something with people who have something, for the benefit of both parties.
How might you change from being just one of the cogs in a complicated value chain to a transparent and energetic marketplace where producers and customers thrive? What steps need to be taken?
Get 3 training sessions from our experts to help you design a platform business model. We will teach you to make the business shift to maximize customer value creation and unlock a new path to growth.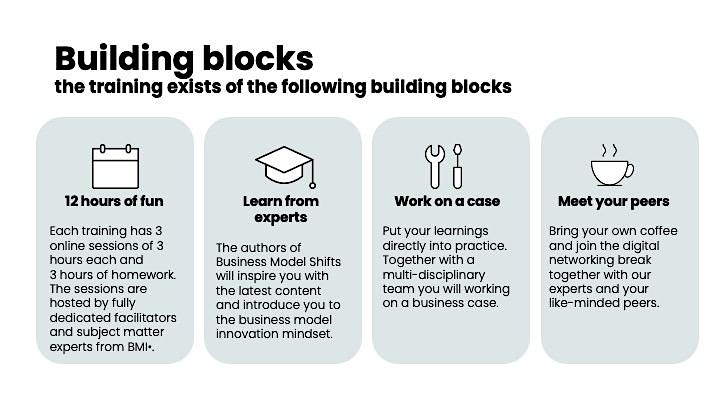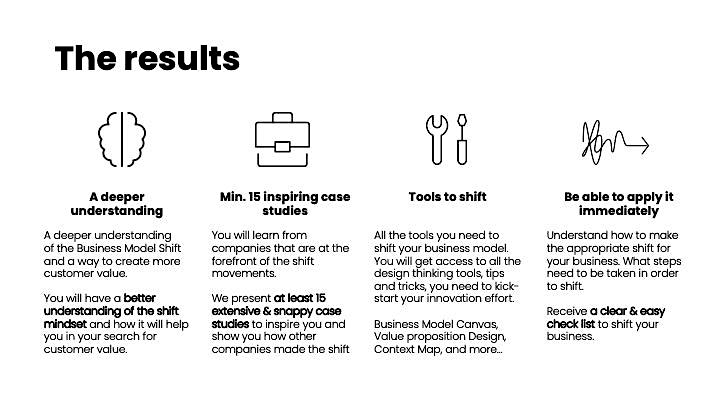 Are you ready to make the Platform Shift to maximize customer value creation?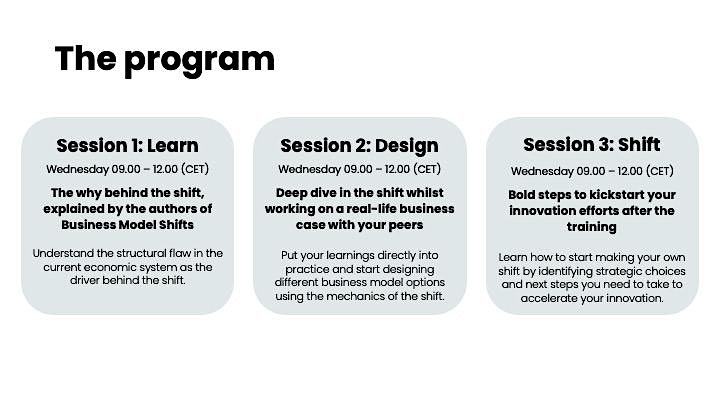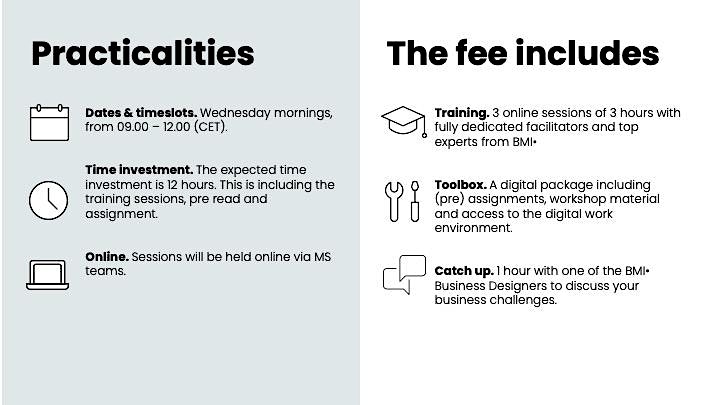 "Amazing company! All very enthusiastic, talented, and innovative people. I participated in the training, it was extremely inspiring!"
What you can expect
Decided to be one of the 30 people to join this training? Book a seat at our training and get started!
You'll receive a confirmation email from us, Business Models Inc, including detailed information on the program
One week before the first day of the training you will get a pre-assignment to warm up your innovation muscles.
Enjoy the ride!
Not sure if this training meets your expectations? Reach out to Moniek (moniek.tiel.groenestege@businessmodelsinc.com).
Please keep in mind...
This experience will only take place with a minimum of 12 participants. This means that BMI could cancel the training.
If you have any questions, send an email to info@businessmodelsinc.com or reach out to us at +31 20 505 0600.
Date and Time
Location
Refund Policy
Refunds up to 30 days before event