Event Information
Refund policy
Refunds up to 30 days before event
Kick-start your innovation effort and find out where is value next. Learn what steps you need to take to shift your business model.
About this event
As business leaders, decision-makers and change agents, it's up to you to shift your organization's business model. In this online training you will learn why you need to move away from traditional, outdated, business models to increase value for your customers.
6 ways to create new value for your customers
Every organization, including yours, is being forced to question and rethink its busines model. So today is as good day as any to ask yourself; what's truly relevant for your customers and stakeholders, now and in the future?
We have identified six business model shifts that allow you the opportunity to kick-start your innovation effort and that will help you to find out where there is value next. Curious to find out more about each shift and see how it can be relevant to your organization? Check out all six here.
So, where do you shift? Learn from business models inside and outside your industry. What urges you to apply those learnings to make your own shift?
Join one of our trainings and learn all about the shift that is relevant for your organization.
Services Shift, edition #6
This last edition of these series, but definitely not the least, is #serviceshift.
Moving from offering products to providing services in business is one of those deceptively simple ideas. Conceptually, it makes perfect sense. But put into practice? That's a whole different kettle of fish.
Most of us may be drawn to certain products due to their newness, feature, and perceived quality. We tend to praise these products, perhaps even knowing deep down that our praise is not about the products but the benefits that they provide.
The advantage services have over products is that services deliver those benefits to customers directly, getting the job done without the hassle of owning and maintaining one or several products.
The growth of the digital economy, a greater awareness of customers needs, and better connected communities – on a local and global level – has led more and more companies to focus their attention on understanding needs and not just selling products.
In this episode of our Business model shifts training we'll discover the influence of creating an experience for your customer. How can we help customers get their jobs done? And how can we at the same time increase the relationship and provide a lifetime value? What pains are we addressing of our consumers? Do you still need a product, or should you offer purely service?
What can we learn and apply from companies that are making the Services shift or that already have? We will dive into failures and success stories. We'll share what steps need to be taken in order to make this shift. And, you'll be provided with the right set of skills and capabilities in order to make this shift.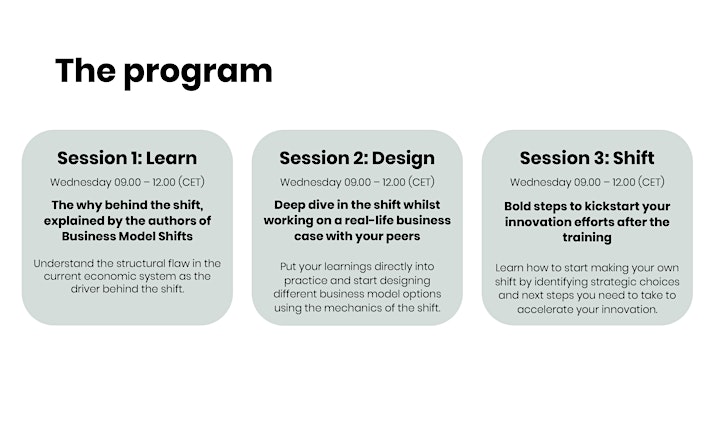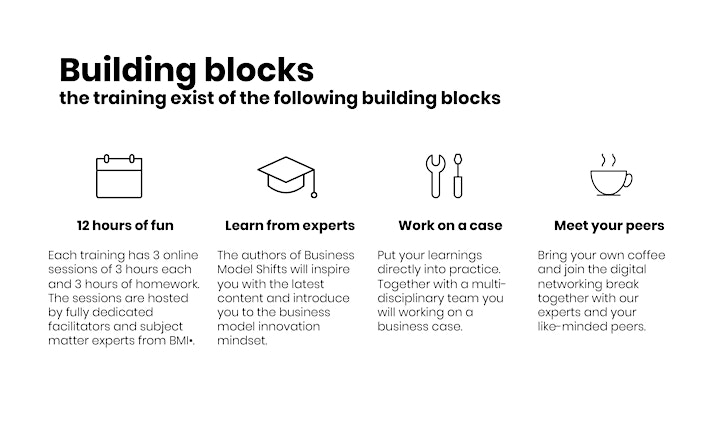 The results
A deeper understanding of one of the Business Model Shifts and customer value You will have a better understanding of the shift mindset and how it will help you in your search for customer value
A backpack full of innovation tools and inspiring cases. You will learn from companies that are at the forefront of the shift movements.
All the tools you need to shift your business model. You will get access to all the design thinking tools, tips and tricks, you need to kick-start your innovation effort.
Ready to explore your
opportunities?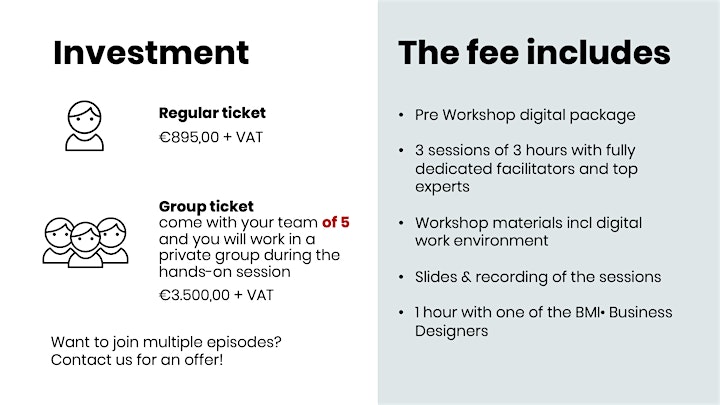 Date and time
Location
Refund policy
Refunds up to 30 days before event