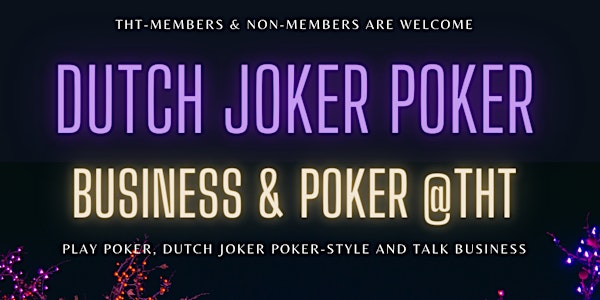 Business & Poker @THT
Play poker, Dutch Joker Poker-style and talk business.
When and where
Location
The Hague Tech 35 Wilhelmina van Pruisenweg 2595 AN Den Haag Netherlands
Refund Policy
Contact the organizer to request a refund.
Eventbrite's fee is nonrefundable.
About this event
The Business & Poker @THT events are co-organized by the person who devised and initiated Dutch Joker Poker, Alvin Leito and The Hague Tech (THT), the largest tech community in The Hague. Alvin is an activist ecopreneur and founder of a (pre)seed social venture.
These nights are all about business & poker, literally. No other talks allowed during the event! So did you just break up with your partner and want some listening ears, this is the wrong event for you, buddy.
However, feel free to join us if you haven't started your own business yet, but you are interested and maybe thinking of starting your own business (someday) and you want to play poker and network with people who could give you advice or introduce you to people who could help you!
Something you might want to know:
The type of poker we play is Texas Holdem, but we play it Dutch Joker Poker-style. In Dutch Joker Poker, you play poker with a twist. Where there are normally two jokers in a game of joker poker, Dutch Joker Poker has three to six.
You can play Dutch Joker Poker with the DJP - Carbon Neutral Premium Playing Cards. `However, currently there is only one official Dutch Joker Poker card deck in existance, so for this event only about 11 people can participate.
Before we start playing there's going to be an introduction to how to play poker Dutch Joker Poker style. If you can't wait to learn on that day, check the DJP website for more info: www.dutchjokerpoker.com (password: DJP 🤫)
The game night schedule and game play for the night:
1. From 17:15 to 17:30 walk-in time.
2. From 17:30:-17:45 there's an introduction on the gameplay and rules of Dutch Joker Poker for the ones who don't know how to play it yet.
3. We start the first round of playing from 17:45 to 19:45. 
4. Players can leave before 19:45, however the eventual chips they leave behind will be counted when the game stops at 19:45. Also, for the duration of the first round the dealer will keep putting the small blind and big blind for the player(s) that left.
5. During those 2 hours players who lose all chips can rebuy for € 10,- if they want. 
6. From 19:45 to 20:15 you can have some drinks, snacks and pizza (only vegetarian and vegan options available)
7. From 20:15 - 21:15 if two or more players want to continue playing an "all or nothing"* round, the game continues for 1 more hour, but without possibilities for rebuy if they lose all chips. No rebuy even if during the first 2 hours the max of 5 rebuys hasn't been used. (Of course) Players who don't want to continue playing and/or just want to watch the game or continue networking are free to do this too during the eventual second round. 
8. The equivalent worth of the eventual chips players end the game with gets deposited on their bankaccount, or paid through the Tikkie they send afterwards before days end.
9. *"All or nothing" doesn't mean that at the end of the 1 hour one player needs to have all chips and the other none. It only means that if you go all-in in this round and you lose, there are no more chances for you to get back in the game to try to win your chips back. However, if you decide to leave before the second round ends, the dealer will also need to play your small blind and big blind rounds for you.
Costs for the event
€ 20,- on Eventbrite, excluding Eventbrite fee
There is also the option to pay with tikkie or cash before event
What do you get?
€ 10,- goes into the general pot and € 10,- is goes for covering the drinks, snacks & pizza.