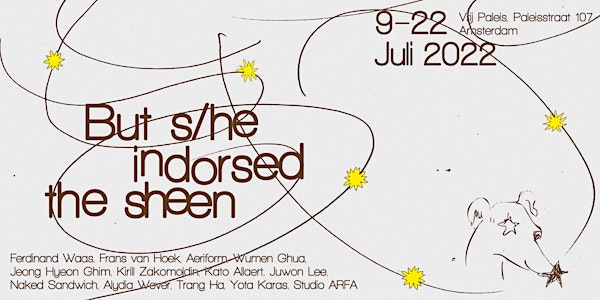 But, S/He Indorsed the Sheen
But, S/He Indorsed the Sheen
When and where
Location
Vrij Paleis 107 Paleisstraat 1012 ZL Amsterdam Netherlands
About this event
The artists and designers in the exhibition but, s/he indorsed the sheen present their urgent need for action, healing, and togetherness. Collected, the artworks fearlessly respond to the potential consequences of heatwave attacks caused by climate change and appeal for real action and a shift in mentality.
But, s/he indorsed the sheen invites you to follow the various traces to the exhibition's core, the fearless search for HOPE. By working with VR therapy, immersive video installation, post-climate dining experience, and other various media, the artists explore and offer new ways of living together in the post-climate time. Their multidisciplinary practices move between virtual and physical environments, draw on non-linear narratives, and integrate elements of future world-making while facing climate change risks.
More information on the extensive program involving building a self-cooling green roof and bringing a climate change educational course to a school in Athens will follow here soon.
This exhibition is co-created and co-curated by the whole team of artists; the co-creation process manifests togetherness as the HOPE we are looking for and building on.
Participating artists:
Aeriform, Alydia Wever, Ferdinand Waas, Frans van Hoek, Jeong Hyeon Ghim, Juwon Lee, Kato Allaert, Kirill Zakomoldin, Naked Sandwich (Bo Wielders and Natalia Irena Nikoniuk), Selina Landis, Studio ARFA (Courteney Reitz and Ebru Güner), Trang Ha, Wumen Ghua, Yota Karas. Graphic Design: Selina Landis
Exhibtion Public Program:
9th of July (18:00-23:00)
18:00-18:45 Public opening performance by Alydia Wever
18:45-19:30 TDCS Hyperchnage: Virtual Reality Therapy for climate change-related anxiety.
19:30-20:30 Cuisine Terroir: the making of suppressive flesh, post-carbon climatic dining event.
20:30-21:00 But,s/he indorsed the sheen: immersive video of future world-making through Goddess' gaze.
21:00-23:00 Live DJ and opening party.
16th of July (18:00-23:00)
18:00-19:00 Artis book launching for Catelijn Boele
21:00-23:00 Live DJ Performance
22nd of July (18:00-23:00)
19:00-20:00 Live performance by Rêverie
20:00-23:00 Live DJ and Closing Party
About Sirius Initiative
What we do: We bring disruptive gentle force to re-sculpt cultural landscapes in both the physical and virtual worlds. We initiate real action to mitigate climate risk, empowering vulnerable communities to become resilient through innovative technologies and art practices.
About us: Sirius Initiative is a collaborative platform for future thinking that places art, technology, and social entrepreneurship at the core of its activities to catalyze climate-conscious social change.
Our Website: https://www.sirius-initiative.com/
Our Instagram: https://www.instagram.com/sirius_initiative/