Event Information
Location
Buurtkeuken Eindhoven
De Jonghlaan 30A
5616 LB Eindhoven
Netherlands
Sharing is Caring; for everyone who wants to make an impact on this world!
About this event
Time for some food for thought!
Part One - Social Dinner
Young Impact Makers (YIM) will organize the 'sharing is caring' event'. A great opportunity for everyone who wants to do 'something good' for society. We will show you that making impact doesn't mean you have to save the world, but is also about caring for other people!
Join 'Buurtkeuken' dinner' together with other young impactmakers. At this event, a chef from Buurtkeuken will tell you about their drive to make an impact by cooking affordable food and bringing people together with their delicious meals.
Part Two - Swap Party
New year new you? After having finished our delicious meal, we invite you to swap your old books and clothing which deserve a second life! Let's swap together and we are off to a great start for 2022 with 'Sharing is Caring'.
Please note:
- Please only order when you are able to join on time. We don't like to waste food.
- Let us know if you have any allergies or dietary wishes.
- For the swap party, make sure that your clothes/books you want to swap are from good quality.
- Please be sure to be there before 6:00 PM
See you then!
Cheers from Team Eindhoven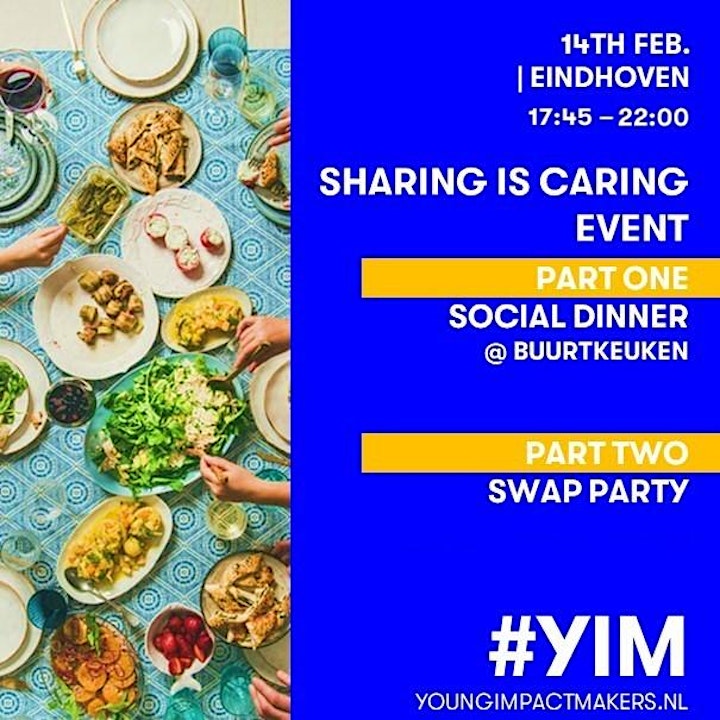 Date and time
Location
Buurtkeuken Eindhoven
De Jonghlaan 30A
5616 LB Eindhoven
Netherlands